Ranging from 4,90€ to 15€, be careful where you choose to sit for your Aperol Spritz on Ostuni's main piazza! Around the square Italy's favourite aperitivo is served with a small 'tris' – a selection of 3+ small bowls from the following: olives, crisps (US chips), taralli, savoury crackers and peanuts.
Prices as at June 2023.
Read this post and save up 80€ on your first day in Ostuni!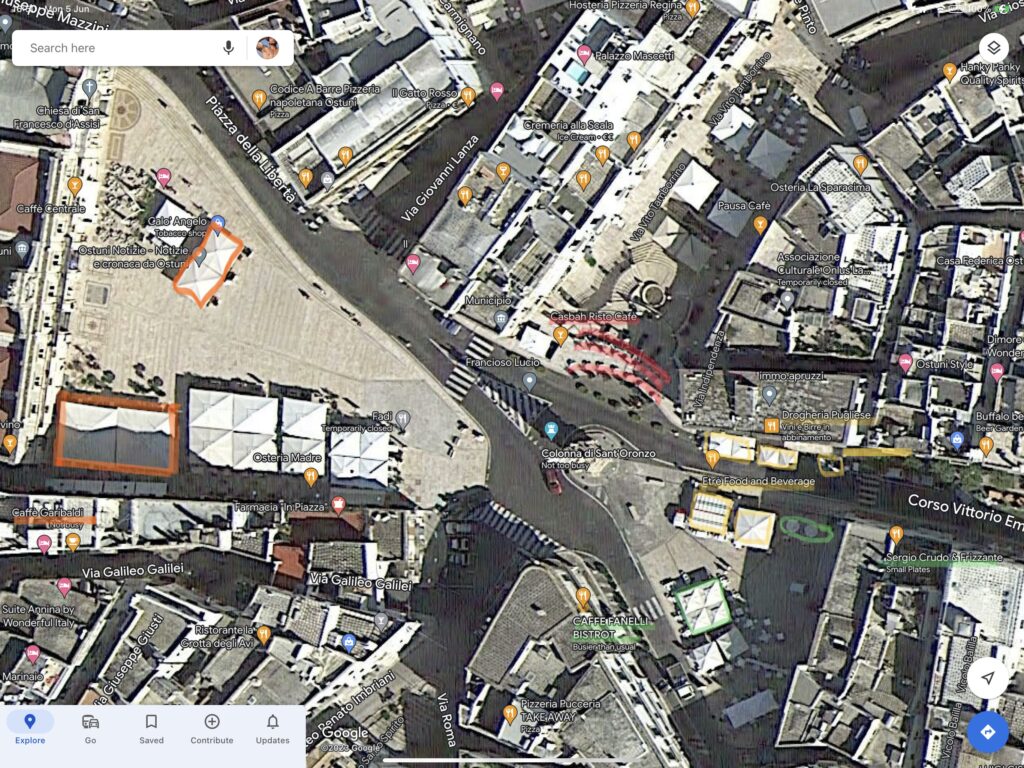 Green is go for the best value Aperol Spritz. Red, at the Casbah, well, that's up to you! But a round of four will cost 40€ more. So choose carefully, especially if you slip into a 2nd round!
Caffè Fanelli Bistrot | 4,90€
Our default bar. We usually go here for a morning coffee, if we are in the mood for lasagne at lunchtime, and for apertivi.
As of June 2023 the cost of an Aperol Spritz is 4,90€. It is usually served with a small 'tris' selection.
Casbah Risto Cafè | 15€
Approximately 10 metres away from Fanelli, diagonally opposite on the other side of Sant Oronzo's column you will find the most expensive Aperol Spritz on the piazza. We do not know if it is made with a premium Prosecco as its price might suggest. But even if it is, any difference in taste is masked by the bitter Aperol and diluted by the ice.
The Spritz is served in a bigger glass, but in reality the bigger glass holds more ice.
There is often live music (ironically too loud to enjoy if you are sitting at Casbah's tables and easier on the ears elsewhere on the piazza).
If you are a group of four, that means a 60€ bill of a bill of 120€ for a second round. You're welcome. We have just saved you 80€ on your first day in Ostuni.
There may be cool sofas to lounge on and sexy mood lighting at night. But we'd rather use the €€€ saving to be made for something else!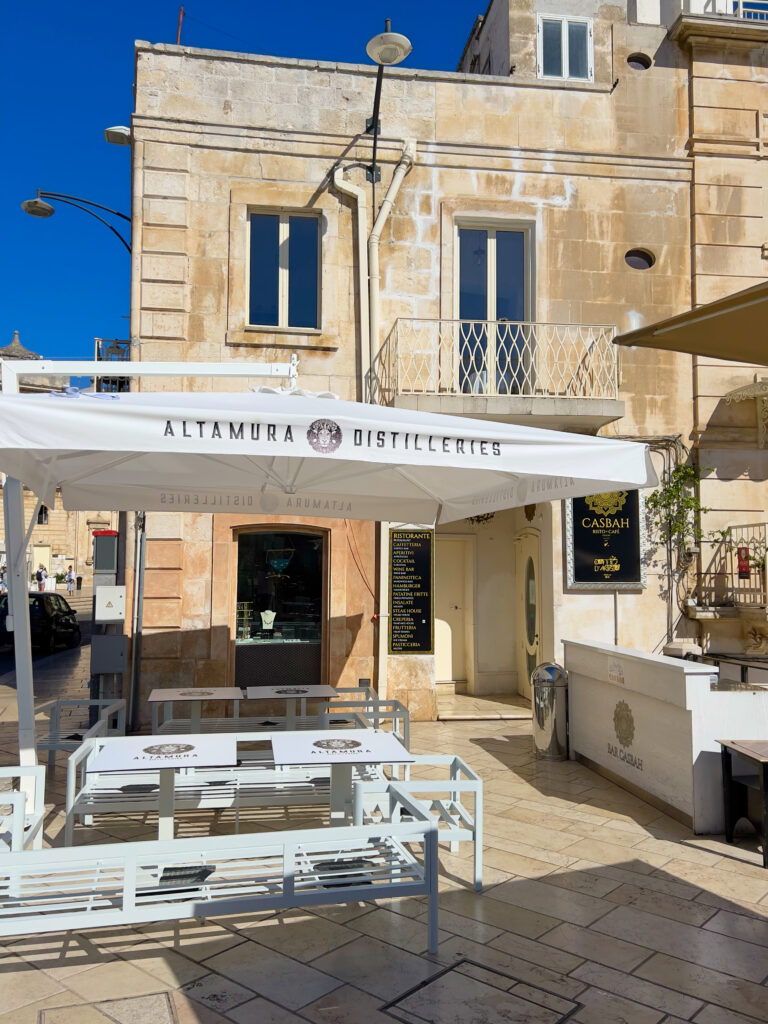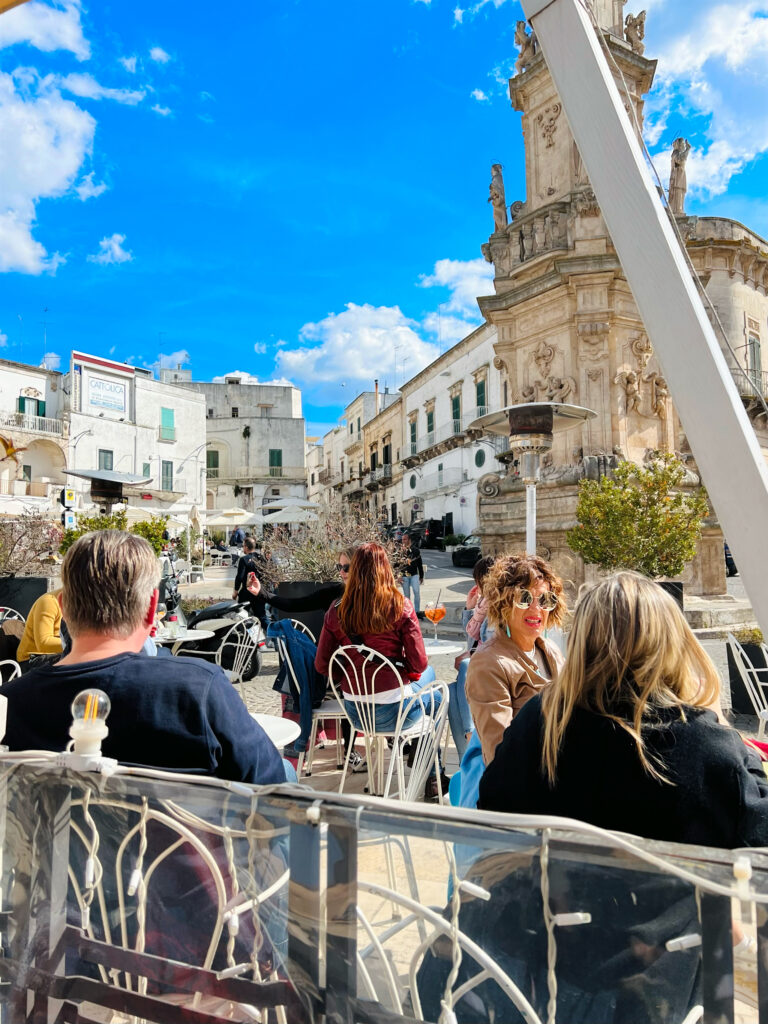 Ostuni Bistrot | 8€
At our favourite restaurant on the Piazza della Libertà a Spritz costs 8€.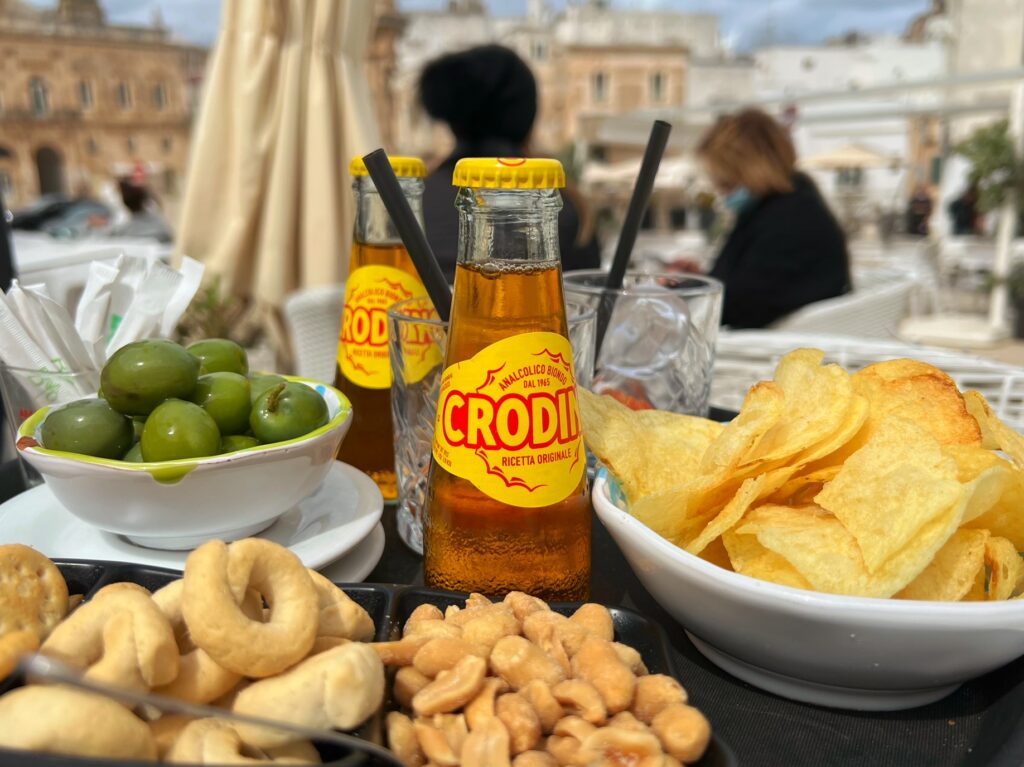 Etrè | 6€
Directly opposite Casbah on the other side of the steps leading down to Via Vito Tamburrino. Their Aperol Spritz comes in at 6€.
Drogheria Pugliese | 6€
Next door to Etrè, their Spritz costs the same.
Cicinedda fruit bistrot | 6€
And next door to the Drogheria is Cicinedda where unsurprisingly the Spritz costs the same as its immediate neighbours!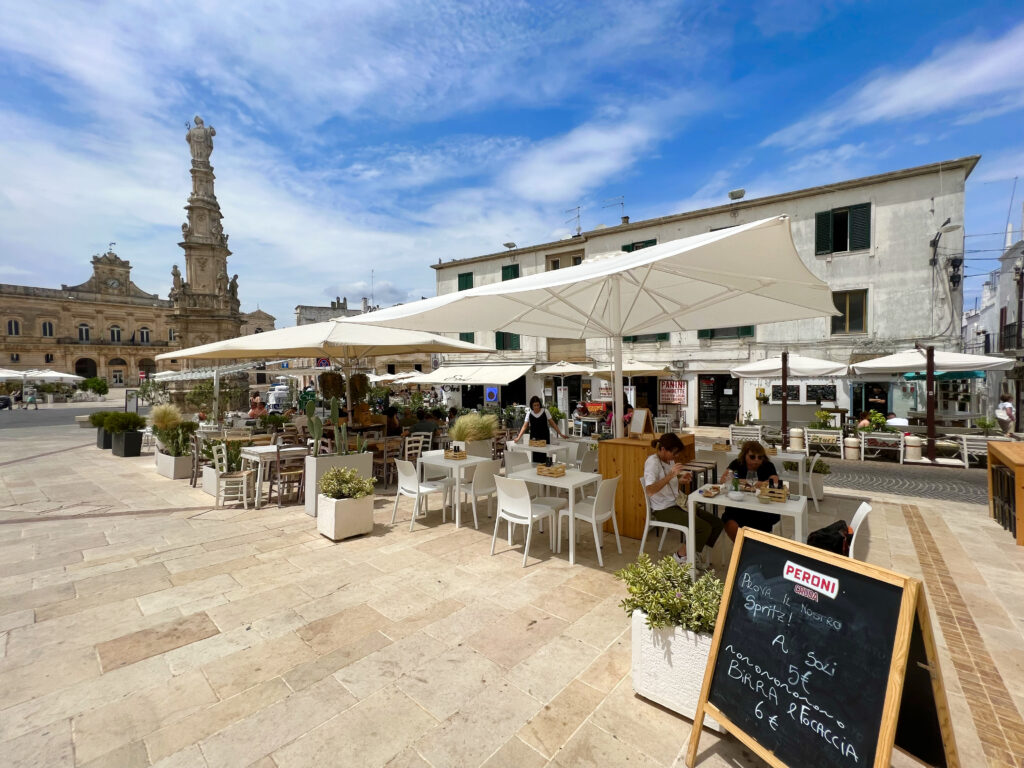 Sergio Crudo & Frizzante | 5€
Opposite Cicinedda across the street, coming in at 5€.
Garibaldi Cafè & Bistrot | 8€
Along the back of the Piazza, where we find some of our favourite ice cream. Don't confuse it with Osteria Madre next door, which is owned by the same group and has similar branding (and happens to be a much more upmarket restaurant where a bottle of Perry's Pomerol 2017 will set you back 5200,00€ (and they still charge a 5€ coperto). This is one of Ostuni's more expensive restaurants for fine dining.
More | check out our Puglia by city guide to Puglia's must visit destinations | visiting la città bianca? You'll need our insider guide to Ostuni with recommendations for Ostuni's best restaurants.