Polpo in Umido is not just a dish; it's a representation of Puglia's identity, history, and connection to the sea. Cooking this dish at home is the equivalent of taking a gastronomic journey through the charming coastal towns and rustic landscapes of Puglia, making it a culinary adventure worth embarking upon for any food enthusiast.
The basics:
Preparation time | 20 mins
Cooking time | up to 4 hours+
Serves | 4
Ingredients:
800g (1 3/4 lbs) fresh octopus, cleaned (beak, eyes and ink sac removed) and cut into bite-sized pieces
3 tablespoons olive oil
1 clove garlic, roughly crushed
3 tablespoons dry white wine
400g (14 oz) canned chopped tomatoes (do not use canned with added herbs)
3 anchovy fillets
salt and black pepper qb
Fresh parsley, chopped, for garnish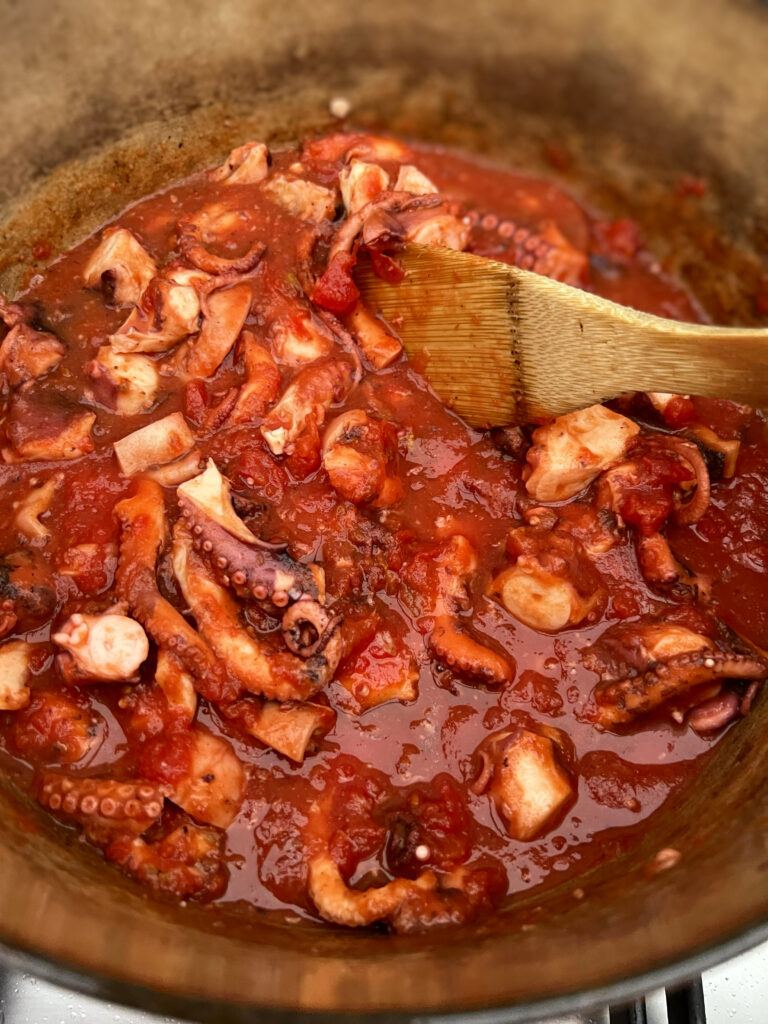 Our method:
Wash the octopus under running water to thoroughly clean the fresh octopus. Fresh octopus from Puglia is a true delicacy and undergoes a brutal death during the curling process, so treat it with respect to make sure it remains the star of this dish.
In a large, heavy-bottomed pot, heat the olive oil over medium heat. Add the crushed garlic, and fry until brown. Discard the garlic then add the polpo. Fry in the oil to flavour it for just a few minutes before adding the wine. Keep the heat going until the alcohol has evaporated, though the wine will draw out more juice. Let it simmer for 3 minutes before adding the tomatoes, anchovies and seasoning.
Stir, cover and simmer on a low heat (leaving a gap). Let the sauce dry around the polpo, than dilute with some water to rehydrate the sauce. Once the sauce has thickebìned and the popolo is tender, cooking is done. The sauce will get duller, but that is good as the flavour is growing.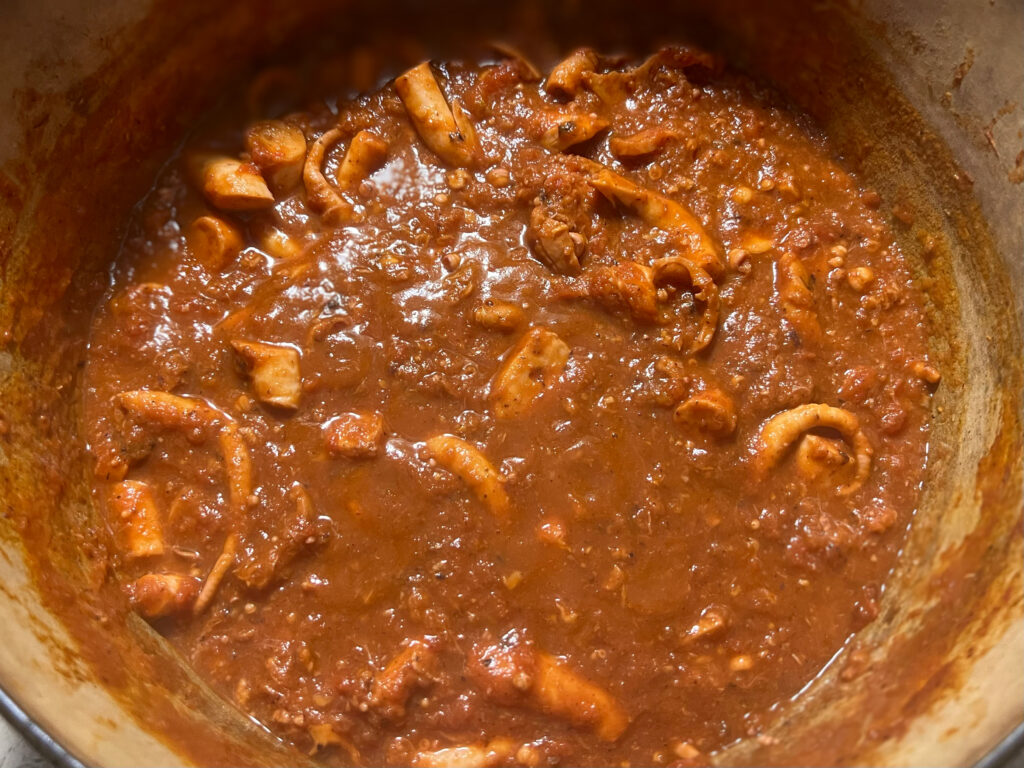 Cooking time
There's the rub. At least 2 hours, but the origins of the recipe mean it is cooked slow and gentle in a pignata on the hearth. We cook it gently, with respect (given the gruesome death of the sentient and intelligent octopus). We cook it less often, but for a minimum of 4 hours. Add more water when the sauce dries. The test is the tenderness of the polpo.
More | spaghett all'assassina – Bari's must eat authentic pasta? Yes please! Eat Puglia? Yes please – Puglia's top 20 dishes to try on vacation in Puglia.