Welcome to Carovigno. While its more renowned neighbour Ostuni steals the limelight, Carovigno stands proudly as a testament to the charm of the lesser-known destinations.
With a treasure trove of excellent bars and restaurants Carovovigno punches well above its weight given its modest size. Located only 8 kilometres away, Carovigno emerges as a better-value alternative compared with accommodation costs commanded by Ostuni. It is has a less busy main piazza of an evening out, but is no less vibrant for it.
Carovigno is known for its good food. It may have a Michelin starred restaurant on its main piazza but the town sparkles with restaurants serving simple home cooked dishes in Puglia's cucina povera tradition. Simple, unfussy, made with local ingredients and consistently delicious.
Carovigno is also conveniently located for the beach. Torre Santa Sabina is also 8 kilometres from town.
History:
The origins of the town's name is uncertain. The name Carovigno could be derived from the Latin words carus and vinea ("beloved vineyard") based on the historical presence of vineyards in the area or from carabina meaning "prosperous". Alternatively an earlier Greek origin could be from karos meaning "hut" or "shelter" referring to the presence of huts or shelters in the area, or from kapa ("head") and oinos ("wine") once again referring to the vineyards.
Carovigno's Messapic origin is acknowledged. Some consider the towns foundations go back earlier to the 12th century BC as a Japigia village (the name given to proto-Puglia made up of the territories of Daunia (northern Puglia) Peucezia (Central Puglia) and the Messapia (Antico Salento) populated by both Illyrian and Greek people).
Festivals and celebrations:
The 'Nzegna: Carovigno's most important celebration is the annual flag throwing festival in honour of the Virgin Mary of Belvedere. This includes flag throwing displays take place on Eater Monday at Largo Machiavelli, on the Tuesday in Piazza Municipio with a procession on the first Saturday following Easter from Carovigno to the Sanctuary of Belvedere a few kilometers away.
Legend tells us that a vision of a Madonna dressed in stars came to a seriously ill noble of Conversano in a dream. In his vision he was promised a full recovery should he go to Carovigno's Belvedere district where he would find a painted image of the Madonna in the cave. After a long search it was a herdsman, looking for a lost heifer, who discovered the painting. He found his heifer "on its knees" inside this cave in front of a fresco of the Madonna. Overtaken by emotion and joy he attracted the attention of neighbouring villagers to share the good news by tying a coloured handkerchief to his crook and throwing it in the air.
Behind the legend, the fresco of the Madonna di Belvedere of Byzantine origin, was painted by followers of the prohibited cult of Christianity. Following an edict of 726 AD made by the Byzantine Emperor Leo III the Iconoclast, the veneration of religious images and icons was forbidden. The Christians were forced to take refuge in crypts and hidden places where they could worship in secret.
Carovigno is known for its good food in the traditions of la cucina povera. Simple but inventive dishes using seasonal, locally produced, fresh and flavourful ingredients. Most dishes use only a few ingredients and very little goes to waste. Humble and frugal, the end result is much more than the sum of its ingredients. Here traditional dishes are made with passion, respect and love: orecchiette with tomato sauce and ricotta, meatballs, stuffed aubergine, bombette…
Eat (and Drink) Carovigno:
Trattoria "La Cantina" | 95/97, Corso Vittorio Emanuele II, 95 | +39 338 4596846 | trattorialacantina@hotmail.it | family run home cooking at its absolute best. Service can be stretched when the covers are maxed out, which they usually are. But understand our culture: food should be celebrated and not rushed. Eating out is a pleasure to savor. When the meal is over, its time for a digestivo and appreciation. We don't rush to pay the check and leave immediately. The food is worth the wait. Exceptional value. Booking recommended, especially from July – September | €€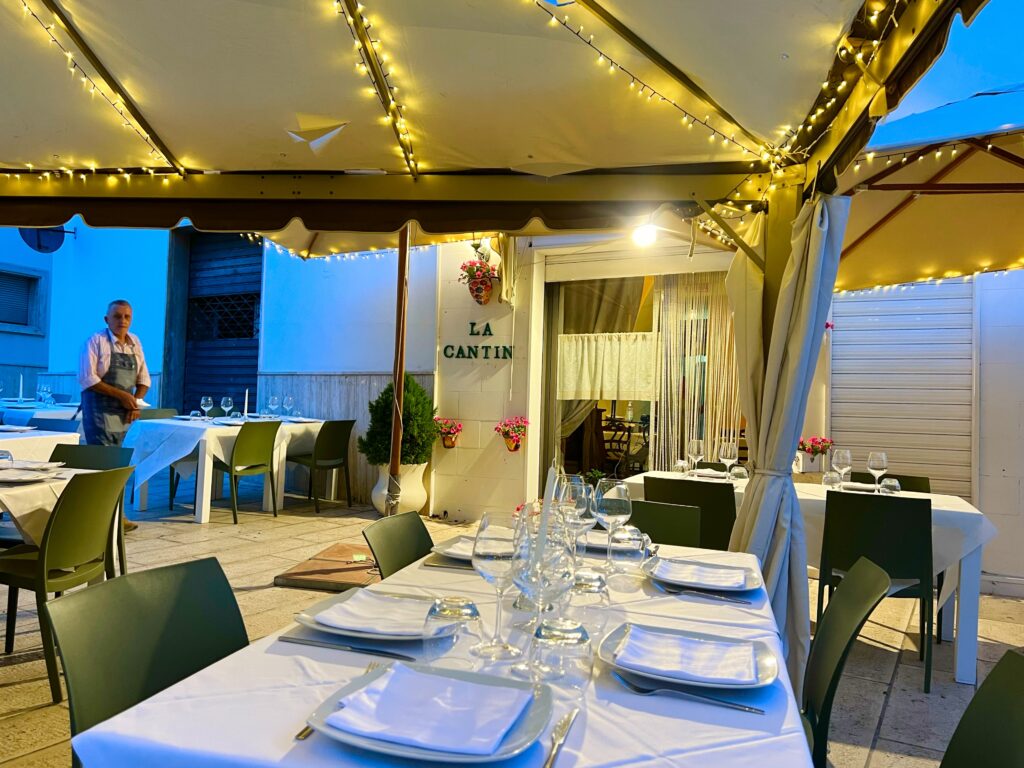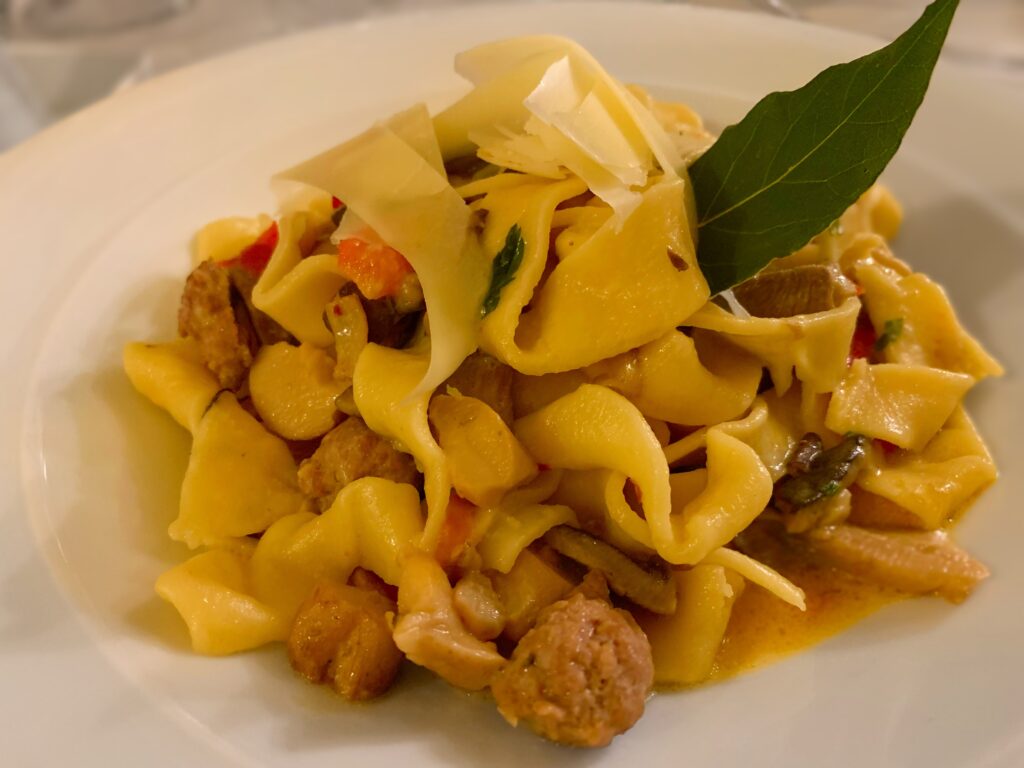 Braceria Pomodoro | Corso Vittorio Emanuele II, 103 | +39 0831 211734 | Eating at a braceria is a Puglia tradition, and this is one of our favourites. Originally these were butcher shops, where food was cooked and served while you wait. Select your meat from the counter (pay by weight). It is flame grilled to perfection. Bombette are a must-eat Puglian dish. Little meat "bombs", stuffed with cured meats, cheese, vegetable, succulent and delicious. The sides (ordered at your table) are exceptional and sufficient as a stand-alone meal for those not eating meat. Booking recommended, especially from mid-July through September | facebook.com/braceriapomodoro | we eat at Carovigno's Braceria Pomodoro | €€€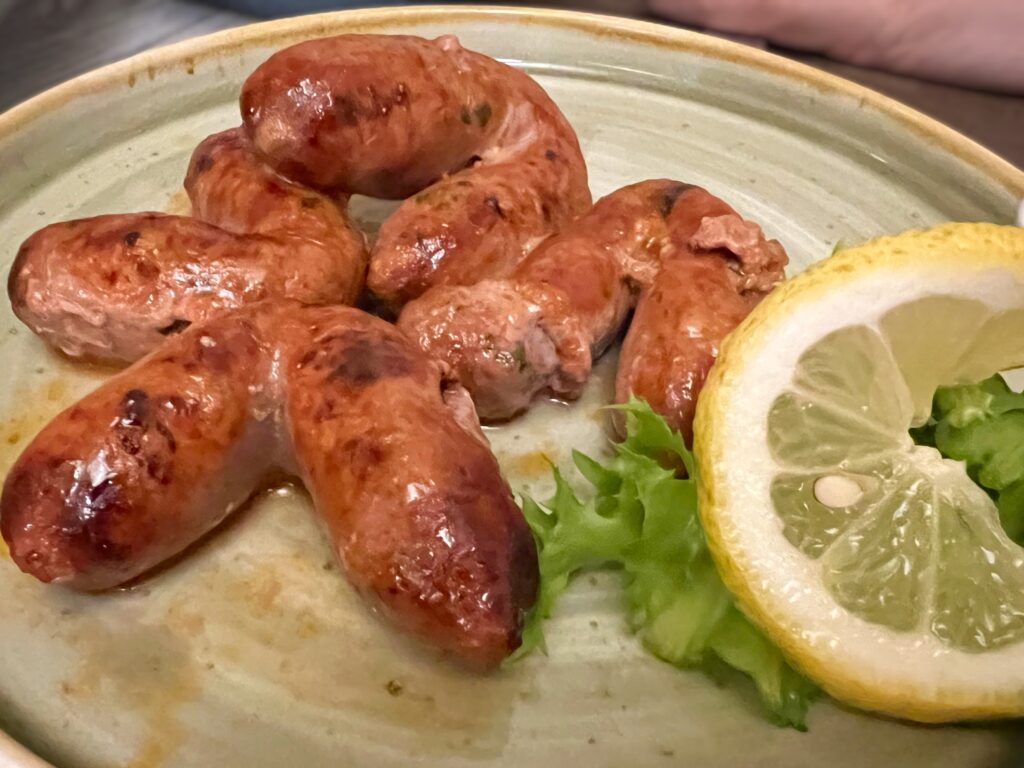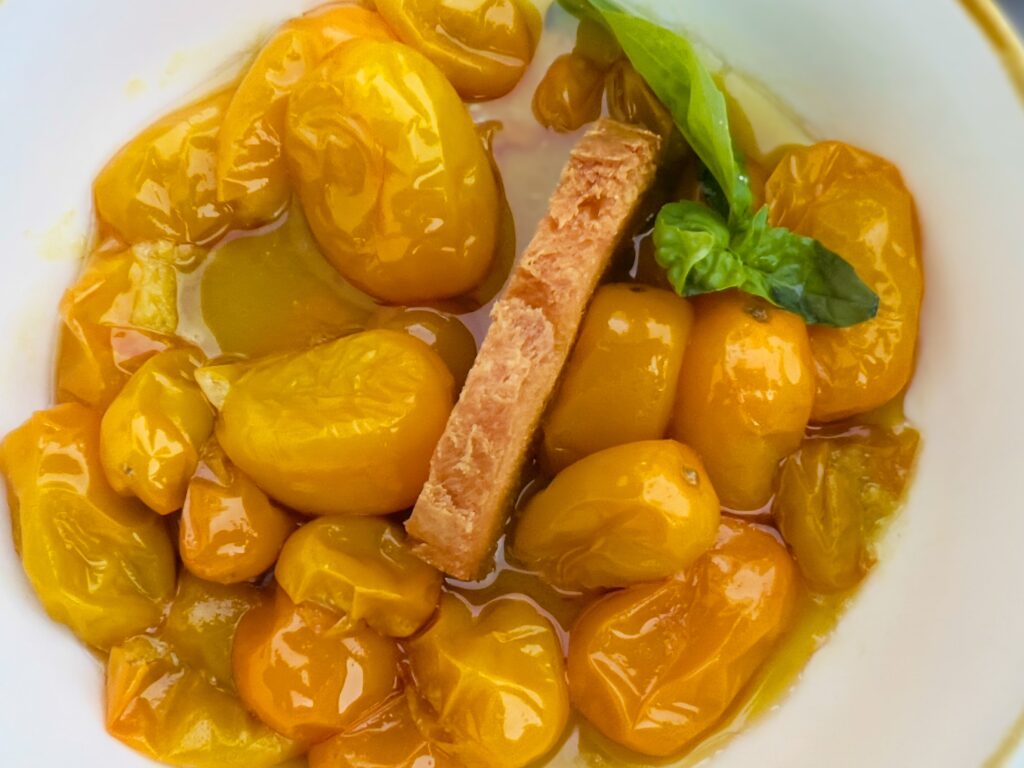 Pizzeria La Piccola Napoli | Corso Vittorio Emanuele II, 111 | +39 389 5759292 | Great pizza, good value. An extensive menu makes the choice a tough one. The pizze come in two sizes. Piccola and gigante. Piccola are the usual size, sufficient for a hungry diner. Gigante are just that | facebook.com/p/Pizzeria-Piccola-Napoli-100063508272472/ | €€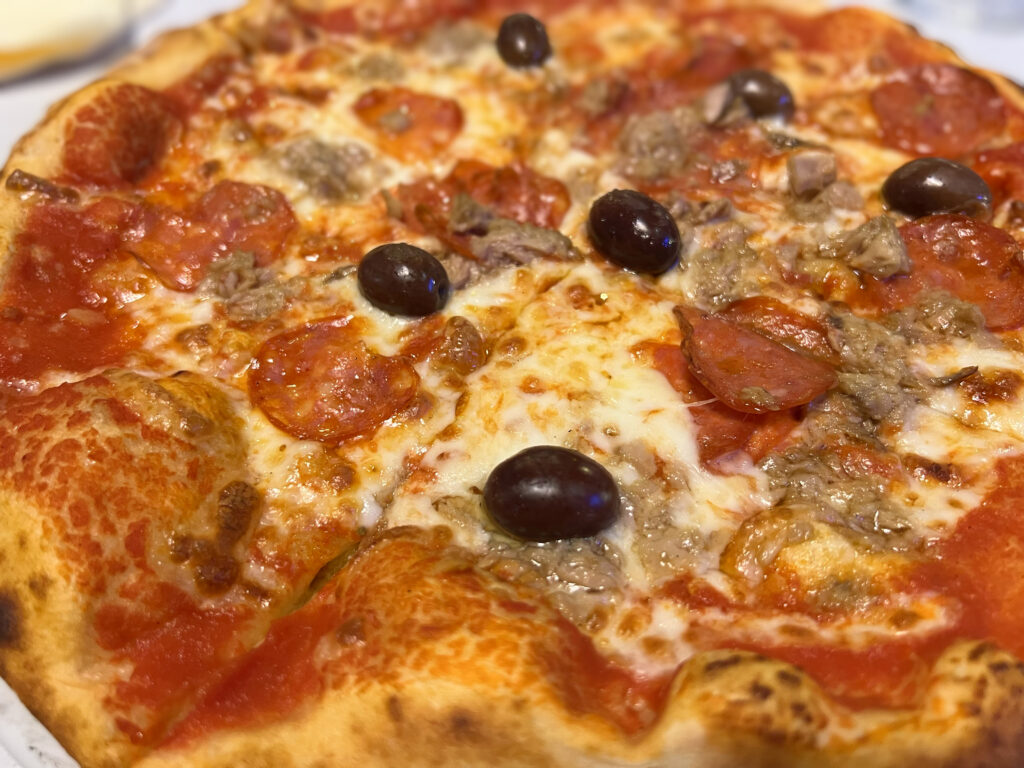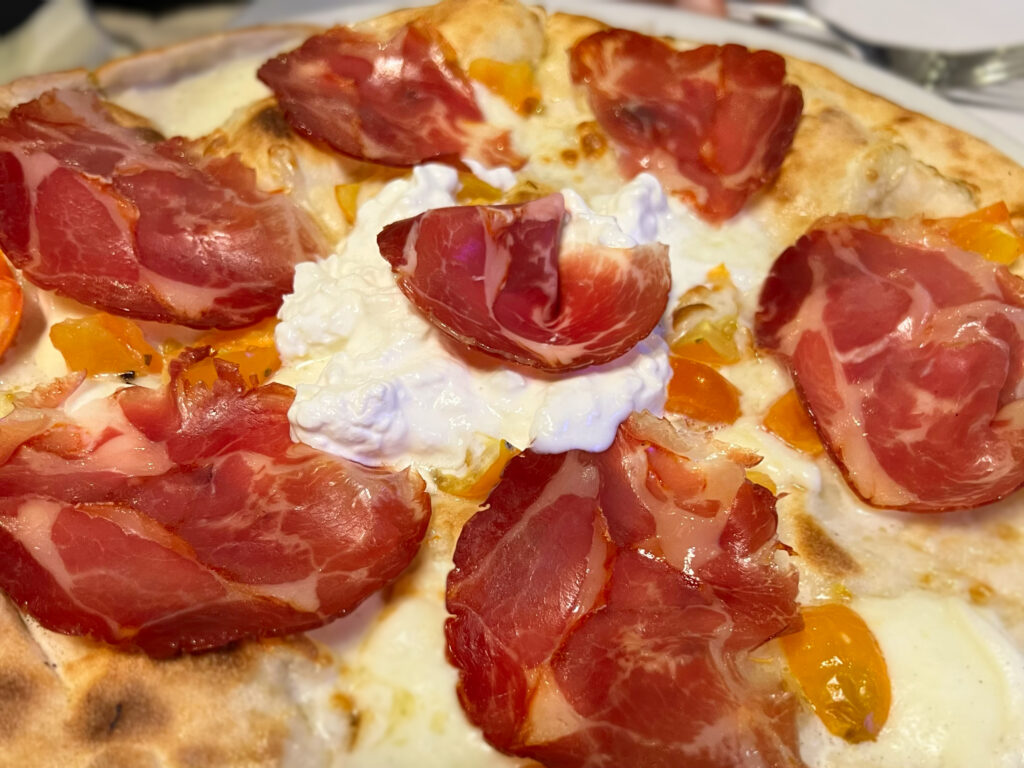 Osteria Già Sotto Larco | Corso Vittorio Emanuele II, 71 | +39 0831 996286 | Carovigno's Michelin starred restaurant (since 2000) serving up elegant and exceptional food. Dishes are inspired by tradition and creativity: spaghettoni with white butter, smoked sturgeon, caviar and burnt lemon powder. The challenge for fine dining in Puglia is that traditional home cooking is so good and so inexpensive that there has to be an extra special reason to eat at a restaurant like this. But if you have one, eat here. We appreciate it even more for its chef Teresa Galeone | giasottolarco.it/en/ | €€€€€
Sommarco Wine Bar & Grocery | Via Cattedrale 7 | +39 340 1272773 | Trendy wine bar serving a fancy finger food bar menu aperitivi using produce from their own vegetable garden. The grocery is inspired by proprietor Marco Lanzilotti's time spent in San Francisco, California. Marco has an outstanding knowledge of local wine, let him inspire you | sommarco.it/ | €€+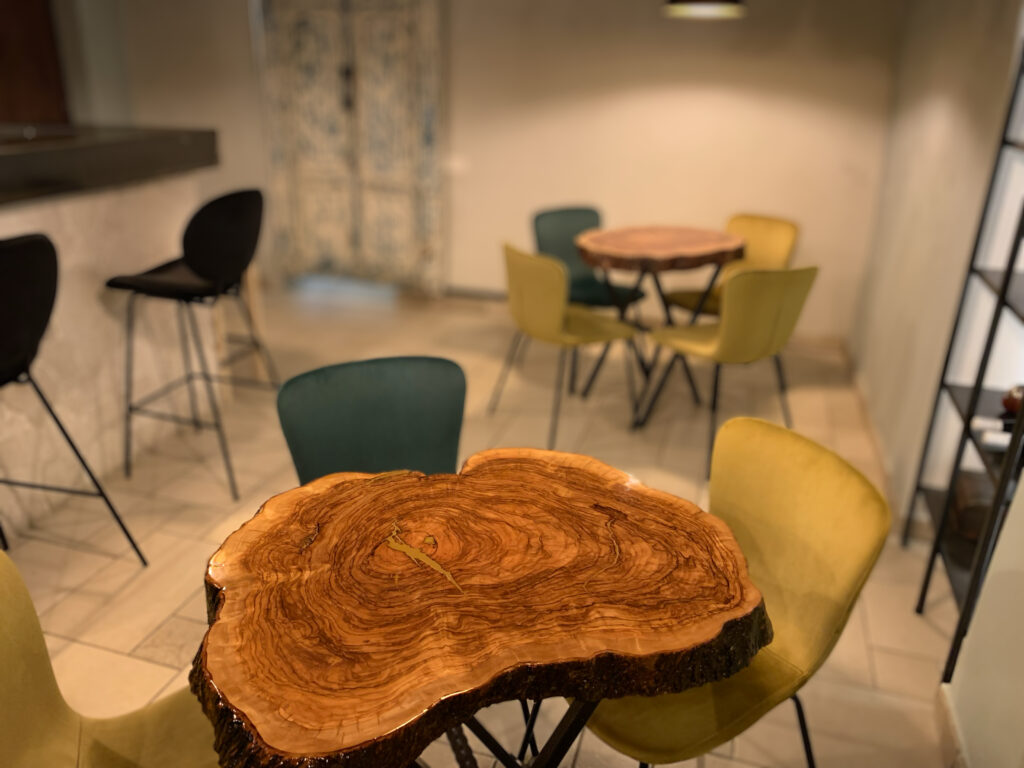 Picci Bar | Corso Vittorio Emanuele II, 39 | +39 331 9832378 | Cool bar with strong symbolic cultural and political references on display. The inside room is an amazing collection of iconic Italian brands and decor. The perfect setting for aperitivi on the piazza | facebook.com/ilpiccibar | €€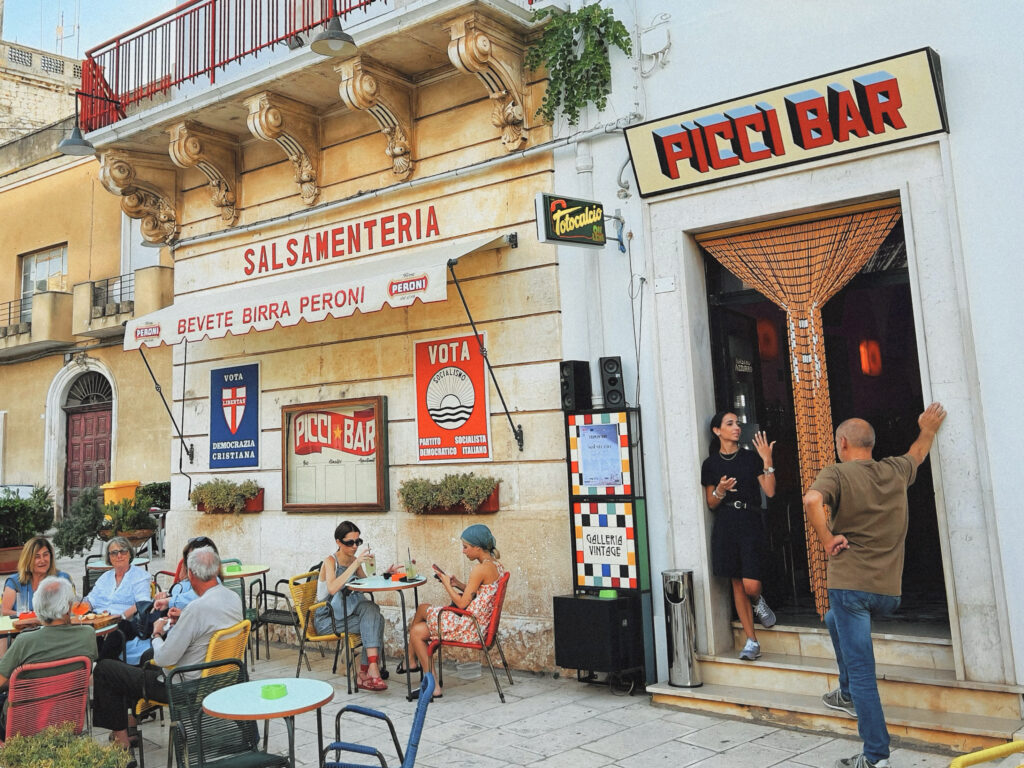 In August 2023 La Repubblica reported that Carovigno's Picci Bar is Puglia's most Instagrammed summer 2023 spot.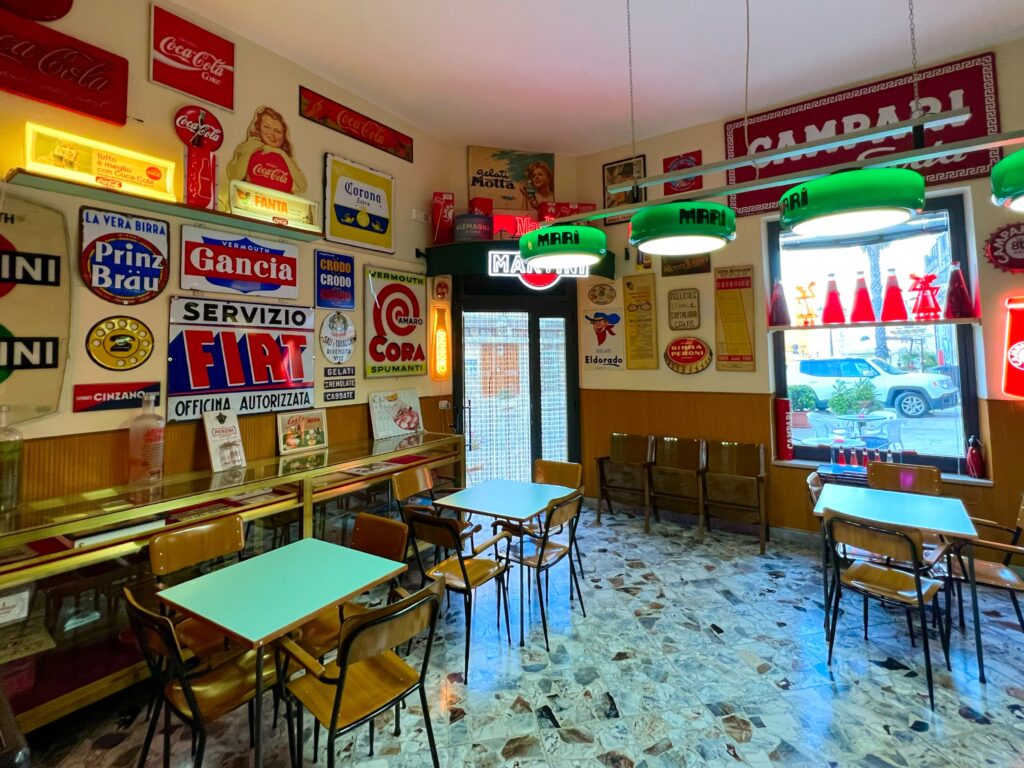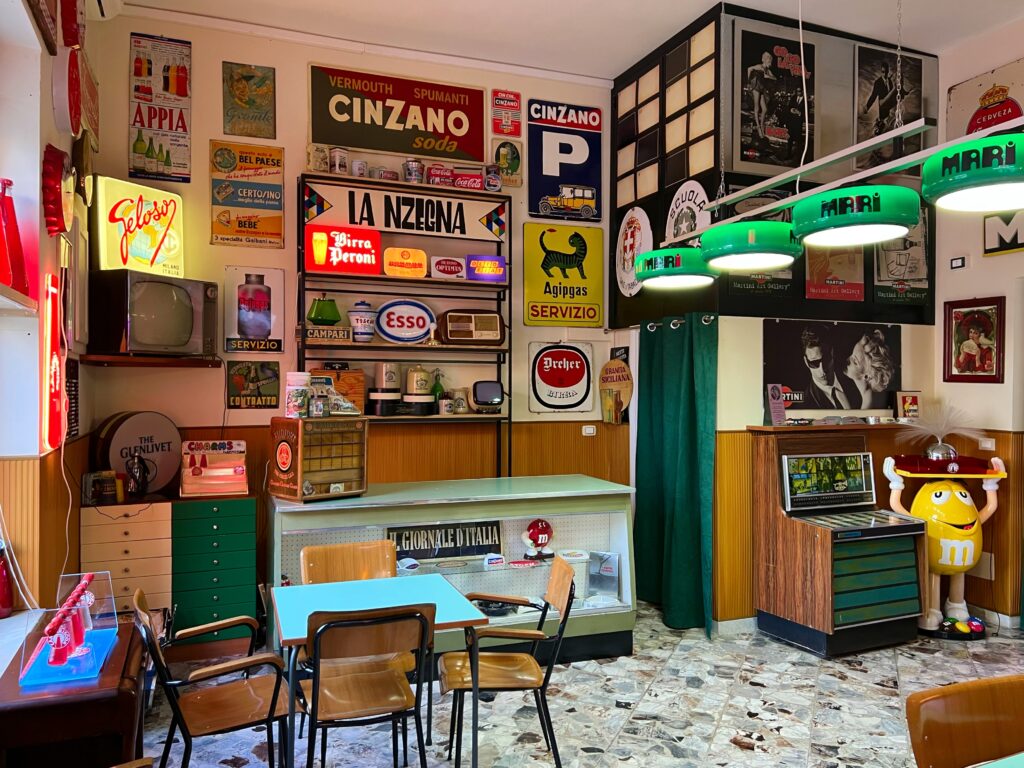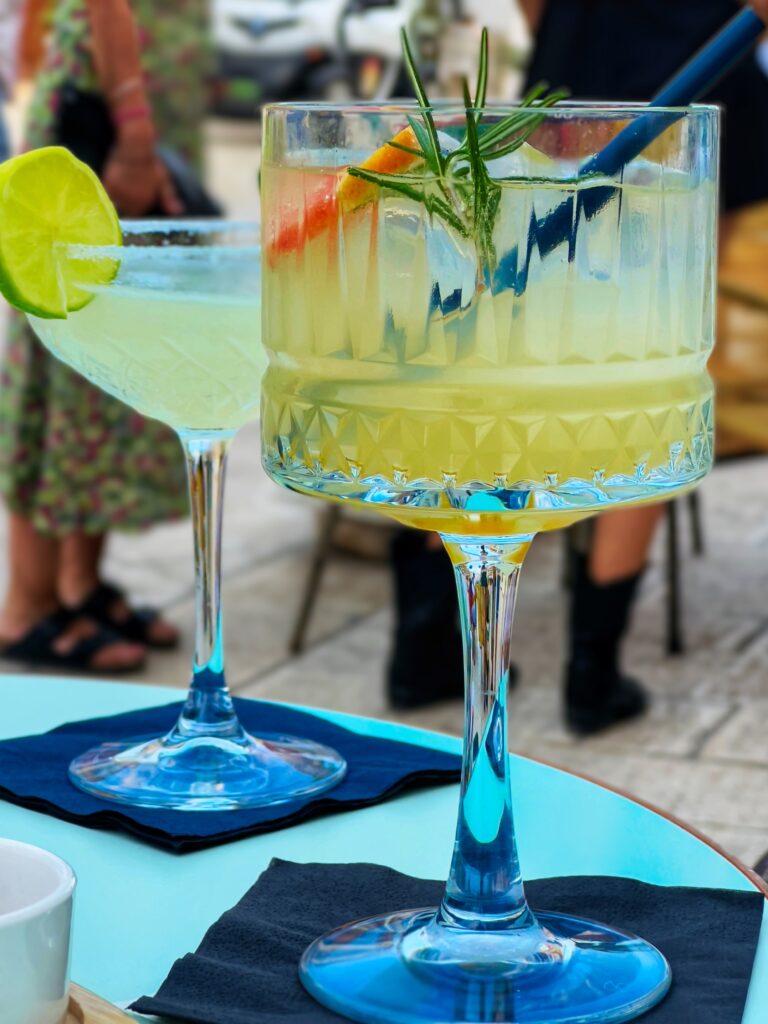 Caffetteria Centrale | Corso Vittorio Emanuele II, 72 | our go to coffee bar for a pasticciotto and caffè leccese | €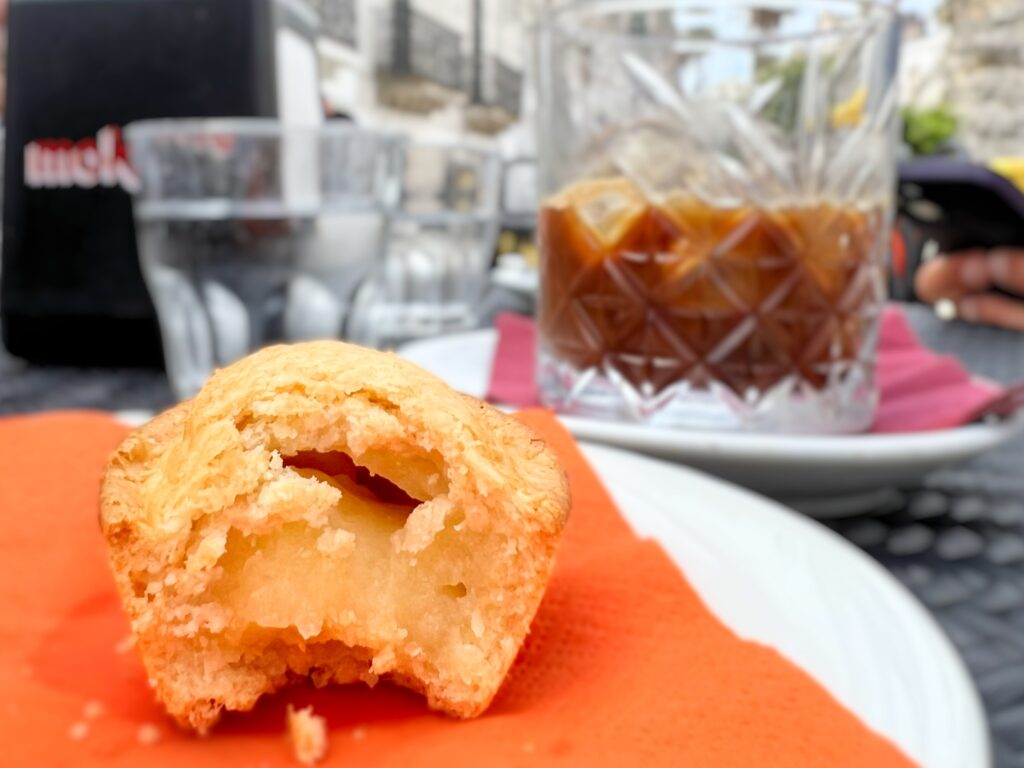 Shopping:
I Buongiorno | wine olive oil & ceramics | Corso Vittorio Emanuele II, 75 | below Osteria Già Sotto Larco. We usually never recommend anywhere other than Grottaglie for ceramics, but we do buy ceramics from here. They have a small but tasteful range at good value | ibuongiorno.com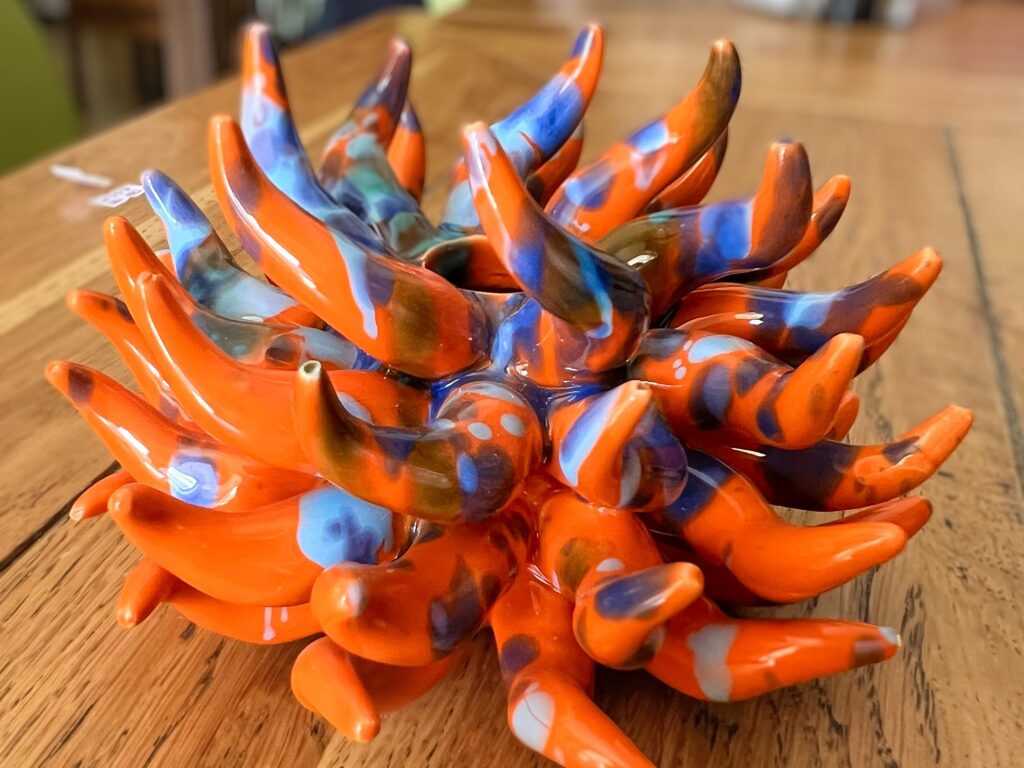 Out of town:
Torre Santa Sabina on the coast, some 8 kilometers from town, still falls within the Carovigno comune and is loved by the whole of Carovigno. With good reason. Here, as the town punches above its weight, so too do the seafood restaurants serving fresh catch of the day.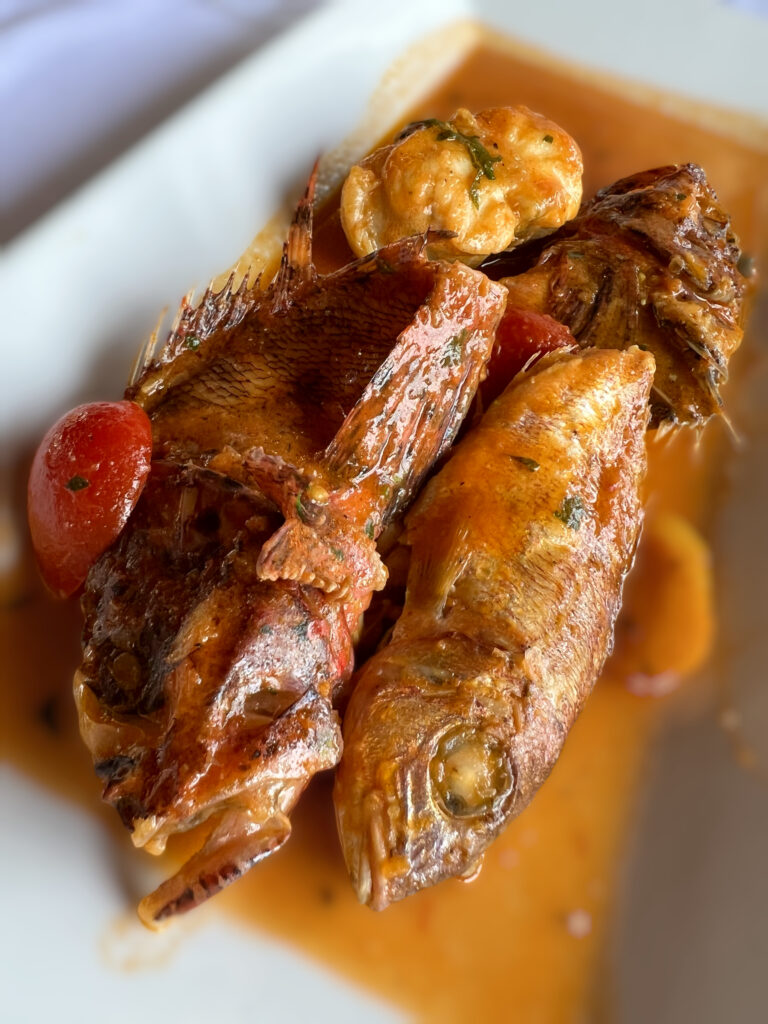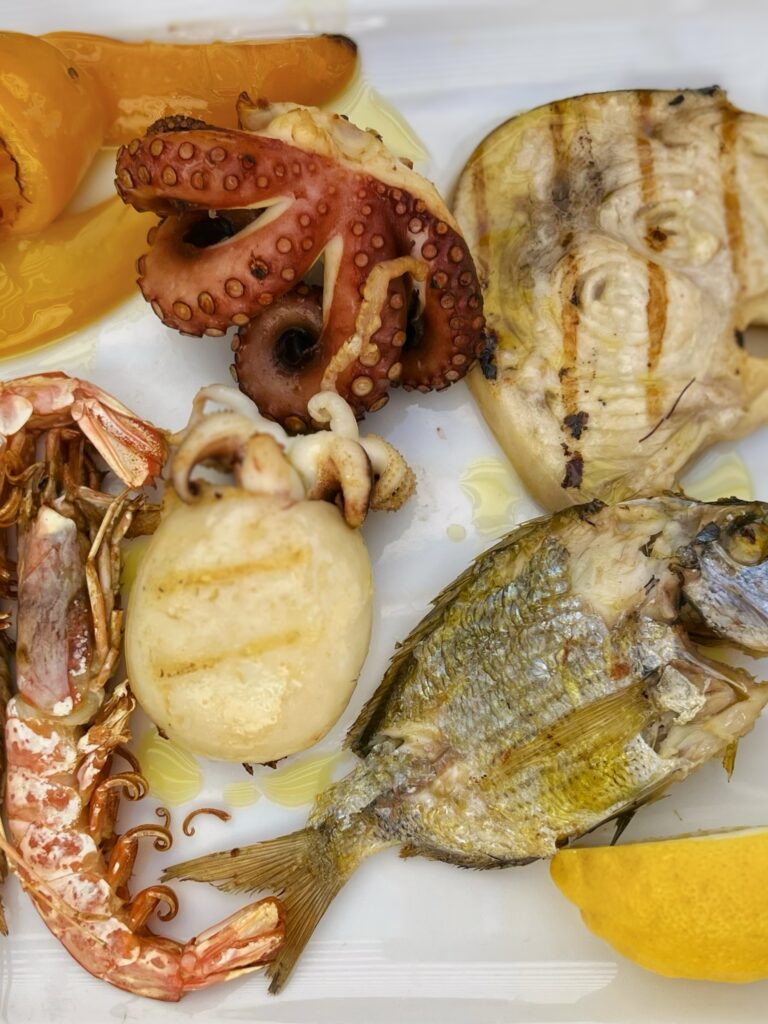 Our longtime favourite is Ristorante Miramare da Michele | Via della Torre 3, 72012 Torre Santa Sabina | +39 338 2430001 | absolutely fabulous seafood restaurant. Catch of the day? You might just see it being landed.
Getting There:
The nearest airport is Brindisi Airport (Salento Airport), approximately 25 kilometers away. From the airport, you can easily reach Carovigno by renting a car, taking a taxi, or using public transportation (Carovigno's railways station is located 5 kilometers from the centre of town).
By the way:
Castello Dentice di Frasso: Explore the historic heart of Carovigno by visiting the imposing Dentice di Frasso Castle. This well-preserved fortress offers panoramic views of the surrounding countryside and the Adriatic Sea. Don't miss the chance to walk along its walls and learn about the castle's intriguing history.