Italy told to prepare for most intense heatwave 'of all time'
As the scorching sun takes center stage during the southern Italian summer, you might find yourself seeking refuge from the intense heatwave. Caronte is the second heat wave to hit southern Europe in a week with Italian weather service il meteo.it predicting our very first "hot storm". A severe heat storm that will engulf the whole of Italy bringing with it new record heat temperatures, peaking around Wednesday this week.
For those on vacation it might seem like the perfect time to hit any of the 50 best beaches in Puglia. But you need to get there first, and even once you are there you still need to stay safe in the extreme heat and intense sun. Alternatively if you feel like exploring, the cool interior of dark churches has never seemed more inviting!
The Puglia Guys have got you covered with essential tips to stay cool, comfortable and safe:
Hydrate Regularly: Drink plenty of water and other hydrating fluids to prevent dehydration.
Stay in Shade or Air-Conditioned Areas: Seek shelter in shaded spots or air-conditioned spaces during the hottest parts of the day.
Dress Appropriately: Wear light-colored, loose-fitting clothing made from breathable fabrics.
Use Cooling Accessories: Utilize fans, umbrellas, and cooling towels to stay comfortable.
Avoid Strenuous Activities: Limit physical exertion during peak heat hours to avoid overheating.
Eat Light and Fresh Foods: Opt for refreshing fruits and vegetables to help maintain body hydration.
Take Cool Showers or Baths: Cool down your body with a refreshing shower or bath.
1. Stay Hydrated: Sip on Refreshing Beverages
Hydration is key during a heatwave. Keep a reusable water bottle with you at all times and drink plenty of water throughout the day. Civic fountains dispensing drinking water can be found in most towns and cities. Local fresh fruit juices (we prefer ours slightly diluted) are excellent options to quench your thirst. Be mindful of alcohol and caffeinated beverages, as they can lead to dehydration in the scorching temperatures.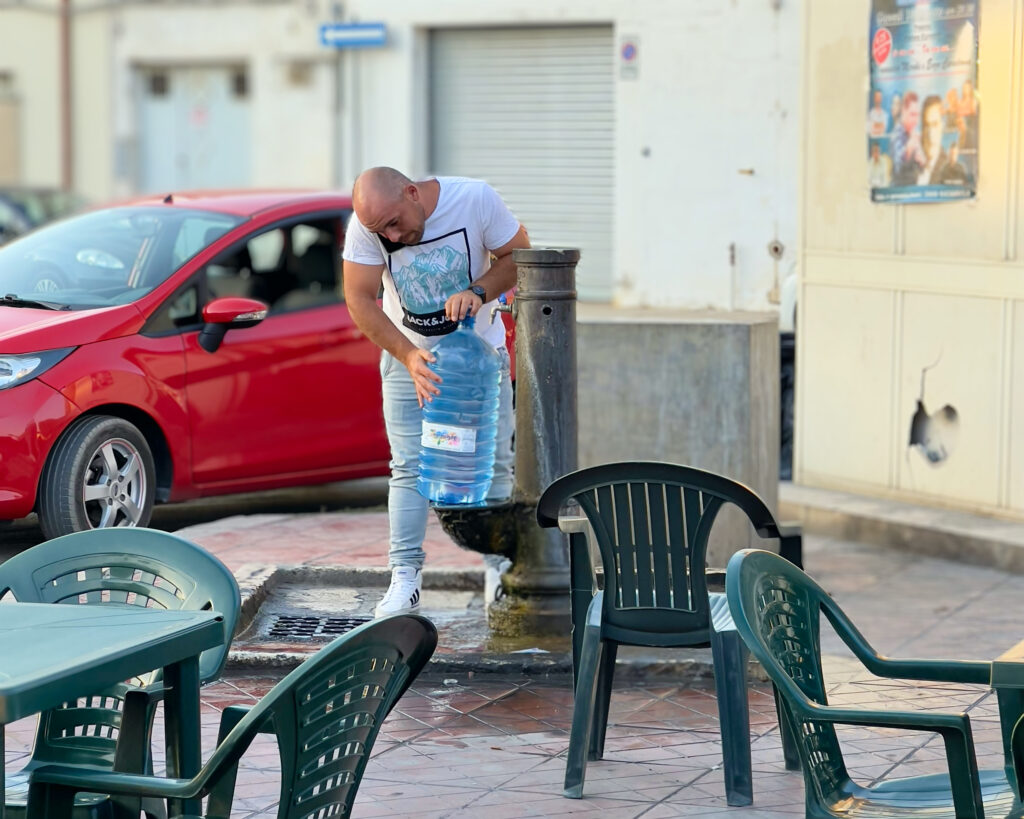 2. Seek Shade: Embrace 'La Pausa' and Stay Indoors
The southern Italian heatwave typically peaks during the midday hours. Embrace Puglia's local siesta culture during "la pausa" by taking a break indoors during this time. Explore the enchanting architecture and captivating history within the cool walls of ancient churches or museums. Alternatively, head to a charming local trattoria and savor a leisurely lunch in the shade.
3. Dress Smart: Embrace Light Fabrics and Breathable Clothing
One of the simplest and most effective ways to beat the heat is to dress smartly. Opt for light-colored and loose-fitting clothing made from breathable fabrics like cotton or linen. These materials allow better airflow, keeping your body cool and comfortable as you wander through the streets of Barivecchia or soak up the sun on any one of the 50 best beaches in Puglia. Wear a bandana tied around your wrist to mop your brow. Don't forget a wide-brimmed hat or baseball cap to make your own shade and a pair of sunglasses to shield yourself from the intense sunlight.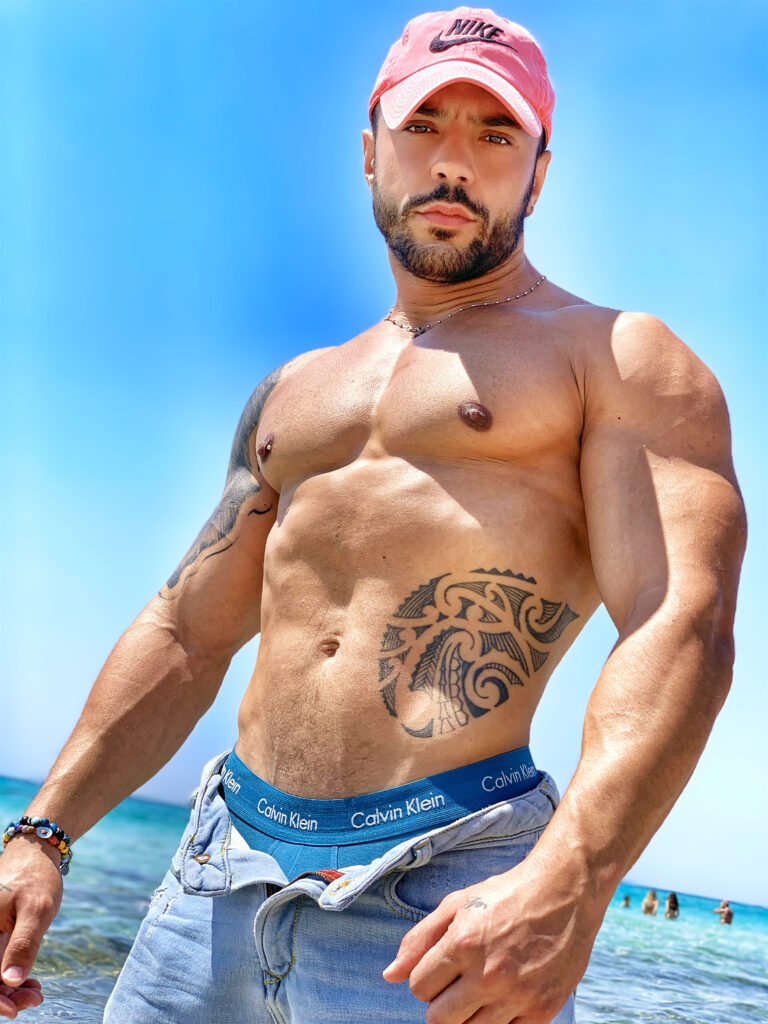 4. Cool Off in the Sea: Enjoy Coastal Delights
Puglia's coast offer a refreshing respite from the blazing sun. Spend your mornings swimming in the azure waters of the Ionian Sea. Ample beaches and hidden coves are waiting to offer you moments of pure bliss as you cool off and enjoy the panoramic views. We hit the beach early and leave before midday. Even with the sea the beach can get too hot. At a public beach bring your umbrella or beach tent for shade. You will need it! Bring water too.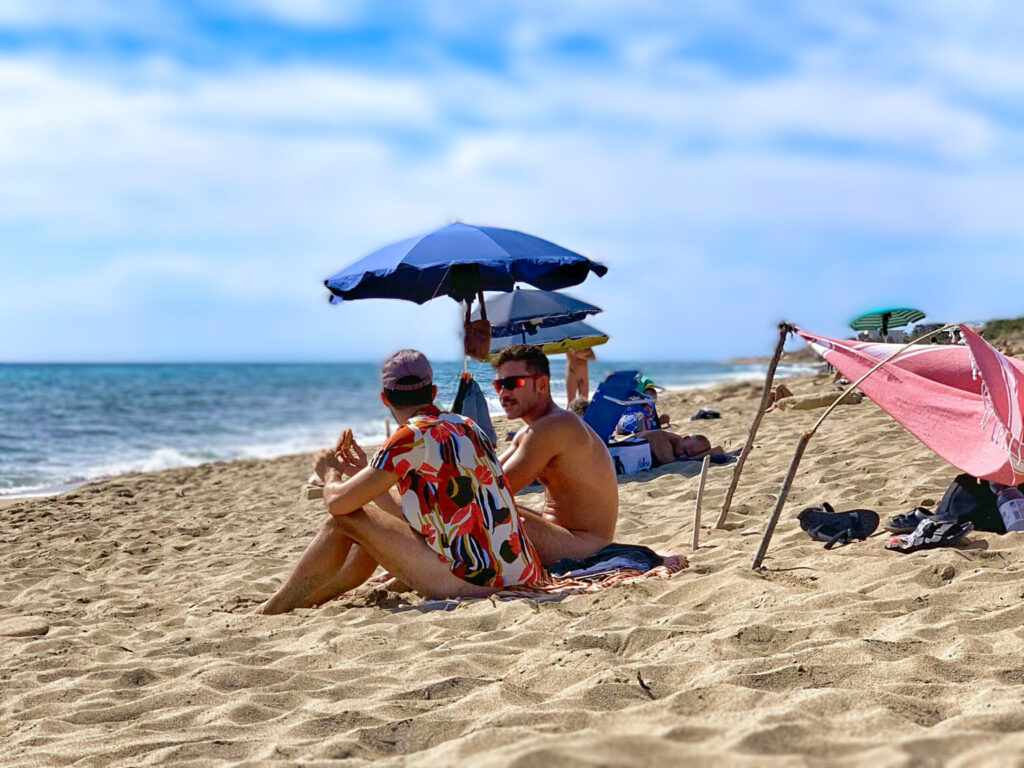 5. Embrace Local Customs: Discover Traditional Cooling Techniques
Local residents have mastered the art of staying cool during the summer heatwaves. Take cues from them and discover traditional cooling techniques. Treat yourself to a refreshing gelato, a timeless Italian delight available in various flavors at every corner. Engage in the evening "passeggiata," a leisurely stroll along the waterfront promenades or town squares when the temperature starts to drop, creating a soothing ambiance.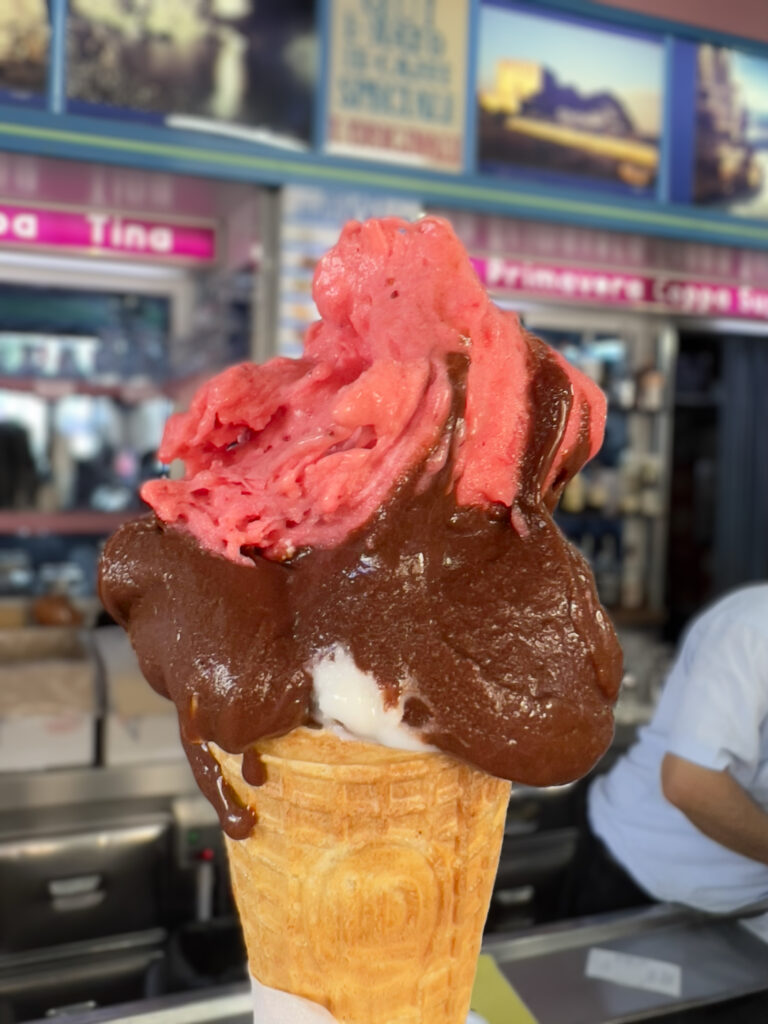 6. Plan Wisely: Explore Indoor Attractions and Evening Entertainment
When the heat is at its peak, plan your activities wisely. Reserve outdoor sightseeing for the early morning or late afternoon, when the temperatures are more manageable. Save indoor attractions, such as ancient ruins, museums, and historical landmarks, for the hotter hours. Additionally, embrace the lively southern Italian evening culture, where you can relish delicious dinners and engage in outdoor entertainment once the sun sets.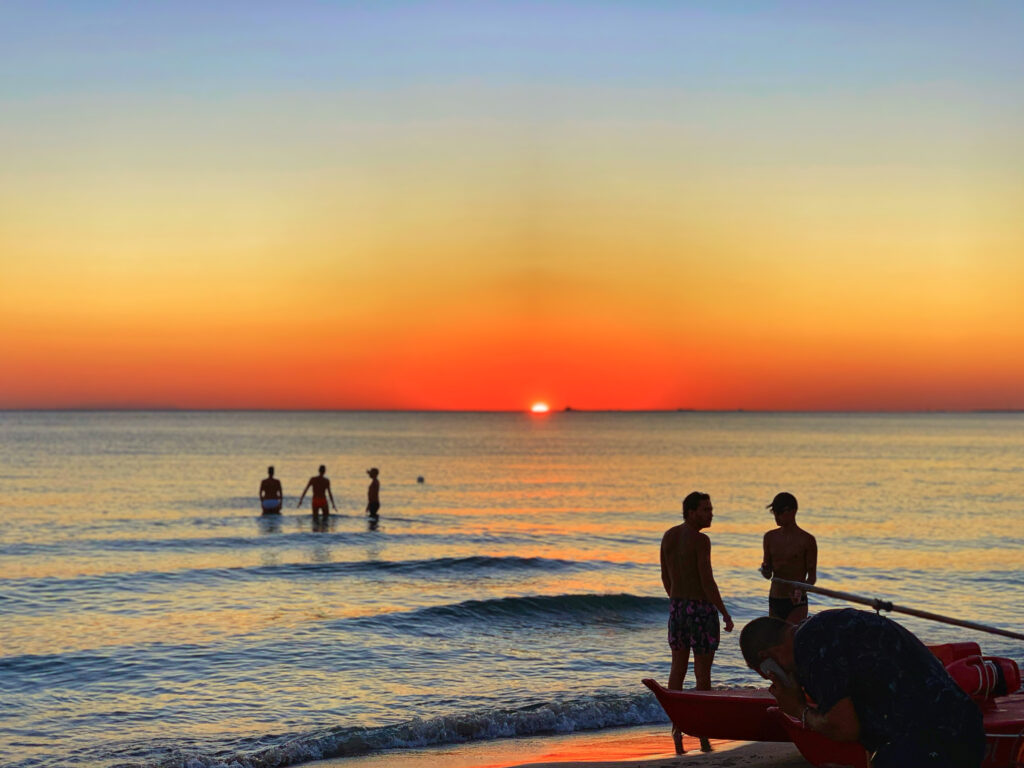 7. Stay in Air-Conditioned Accommodations: Rest and Recharge
Ensure your accommodation offers air conditioning to enjoy a peaceful and rejuvenating night's sleep. A cool and comfortable room will leave you refreshed and ready to embark on more adventures the following day. If renting a city or town apartment be sure it has air conditioning and outside space (balconies and terraces). Use heavy window shutters to keep the sun out and stay cool. In the countryside a swimming pool and outside shower are necessities!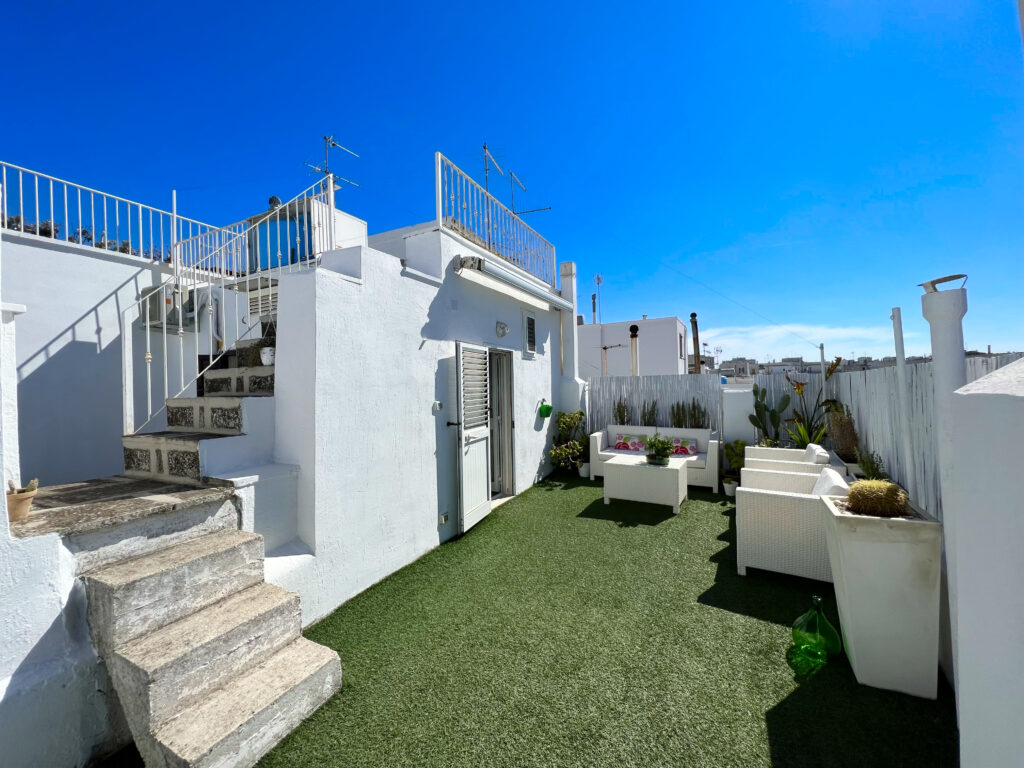 8. Eat Light and Fresh Foods
Plenty of local fresh fruit and vegetables are available. Opt for a light lunch. No-one wants to slave over a hot stove. Our one exception is Bari's spaghetti all'assassina, which we are addicted to and we love in the heat. Burnt, crispy and fiery – and made #PugliaPerfect with some stracciatella cheese (shredded burrata or fresh ricotta will do).