Puglia in May
A few reflections on Puglia
Grazie to Claire from Glasgow who recently visited Puglia. She enjoyed her trip so much that she felt inspired to share her reflections on visiting Puglia in May.
All photos ©️ Claire from Glasgow and used with her permission.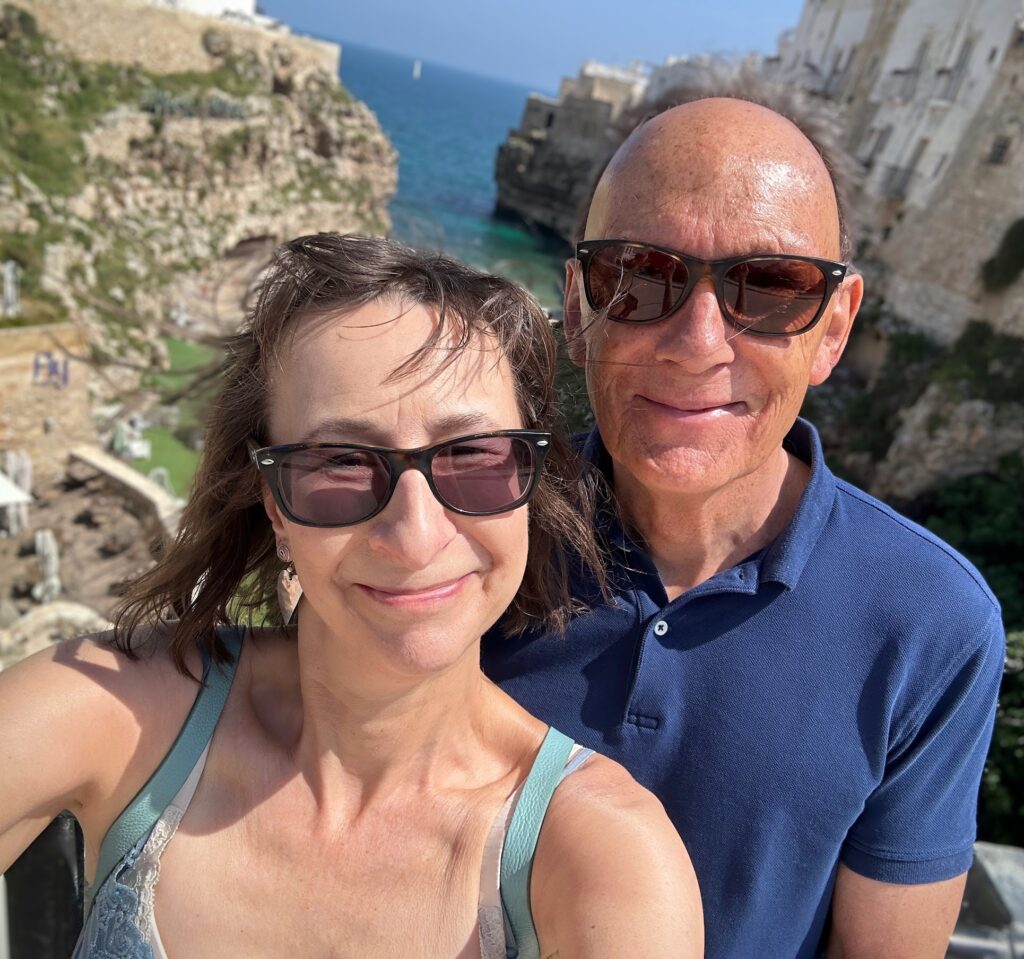 Puglia in May
A few reflections on Puglia
May was a great month to visit Puglia. The tourist season had begun, but the key attractions were not too congested. And usually the weather at that time of year is warm and dry. We were unlucky in having a couple of wet days with temperatures only just reaching 20 degrees Celsius, but that was considered exceptional.
Puglia was much greener than we had expected. The fields and the road verges had abundant yellow and pink flowers. Poppies sprung up everywhere including under vines. Sadly we did see evidence of diseased olive trees in some areas.
We didn't have a bad meal anywhere. The main differences were the level of refinement of the dishes and the atmosphere of the restaurant. We relied on The Fork and its reviews to choose where to book dinner and found it reliable. It also provided 20% discount on food in most restaurants booked via their website.
Local wine in restaurants was excellent and relatively cheap. In one restaurant in Lecce, we paid just 14 euros for an excellent rose from the owners own vineyard.
Italy is different from the rest of the world, Puglia is different from Italy, and even within Puglia there was distinctiveness between areas, especially in relation to food and scenery.
There are some Must See destinations in Puglia which are unique – like nowhere else in the world, specifically Matera and Alberobello. There are also many charming towns which are less congested with tourists and merit a stay.
Afternoons post lunch can often feel strangely quiet in towns. Many of the shops and some attractions closed for the afternoon. They came alive again late afternoon and early evening when visitors and locals went out for a pre-dinner walk and meet-up with friends.
The majority of tourists in Puglia seemed to be Italian – mostly couples but a fair proportion of families – or from France, Germany or the US. There seemed to be relatively few people from the UK.
Many Italians did not speak English, and those that did welcomed our pathetic attempts to speak at least a little Italian.
Speed limits and signalling were seen by local drivers as optional. Lane discipline was rare. A substantial proportion of drivers drove erratically and unpredictably.
There were some beautiful rural areas in Puglia with trulli, vineyards, olive trees and wildflowers. However there were very few stopping places to take in the view.
We didn't use public transport as we had a hire car. Even in the bigger towns, buses seemed infrequent. A basic rail network linked the main towns and cities. We met a UK couple who had had a bad driving experience in Sicily and were using public transport to get around Puglia.
Key
*** must see destinations
** highly recommended
* worth a visit if you're passing
Lecce **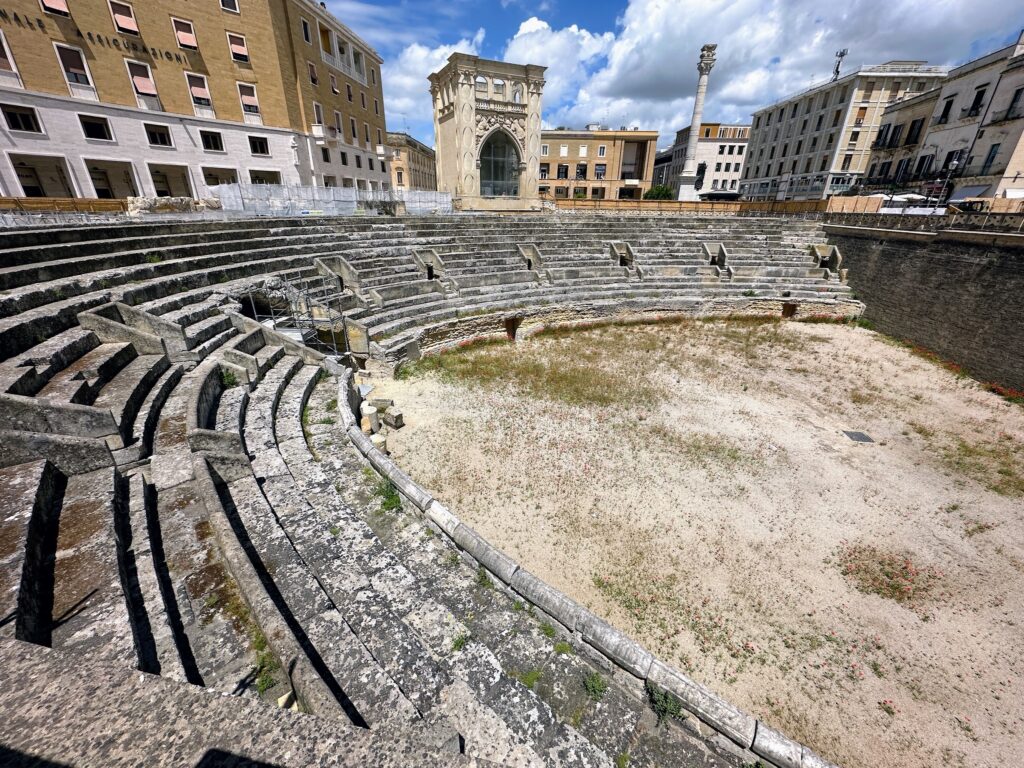 Two hour drive from Bari airport. The main autostrade had frequent potholes and roadworks with reduced speed limits.
We stayed at Li Cetti bed and breakfast on the edge of the historic centre of Lecce – a converted apartment containing three large well-equipped bedrooms and en-suites, with a shared breakfast dining room. On-street parking available within reasonable walking distance.
We joined Lorenzo's English-speaking walking tour of Lecce. He limited numbers to 8 people and was knowledgable, charismatic and fun. Our tour included refreshments and snacks in '00' cafe. We were introduced to caffè leccese – iced coffee and almond syrup. Lorenzo outlined Lecce's history and introduced us to the key highlights of the city. Tour lasted 3 hours although scheduled to be shorter. Approx £26 per head.
Our favourite restaurant in Lecce was the recently-opened Alimenta Bistrot, via Egidio Reale 61A near Porta Rudaie. Good fine dining with a twist in modern surroundings. Wine list included the restaurant's own locally made wine. Particularly enjoyed sea bass ceviche cured in coffee, as well as mackerel, broccoli and pine nut risotto.
Red at Palazzo BN dinner. Upmarket, modern – and empty of fellow diners on a Wednesday night apart from four sunglass-wearing business people. Good for a special occasion with its swanky bar and restaurant. Amuse bouche and petits four included. Large choice of delicious breads including home made grissini. Dishes included octopus, veal and lamb with a range of unusual accompanying ingredients. We ordered from the a la carte although noted a four course tasting menu was 65 euros.
More | our Lecce city guide – what to do, see and where to eat.
Otranto **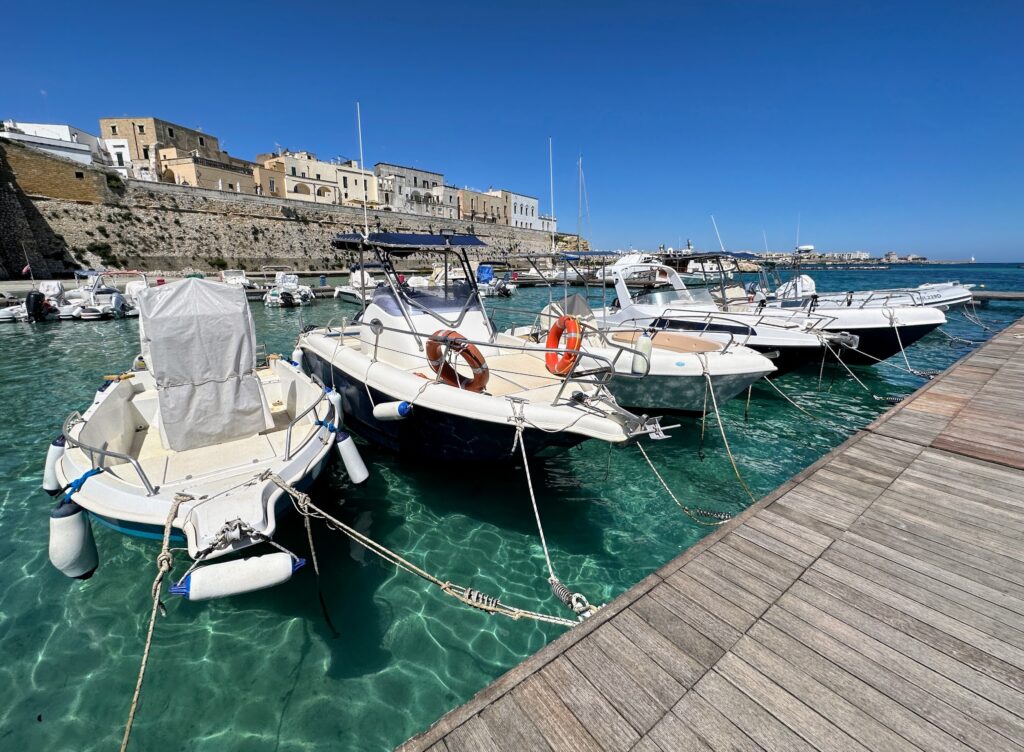 Visited Otranto on a day trip from Lecce, parking on the outskirts. We walked down to the attractive marina and then up a series of steps through the fortified walls into the old centre with its narrow lanes, cafes, restaurants and tourist shops selling leather goods, clothing and pottery. Sandy beach and turquoise sea looked inviting. A small town with heaps of charm.
More | our thoughts on visiting Otranto.
Ostuni *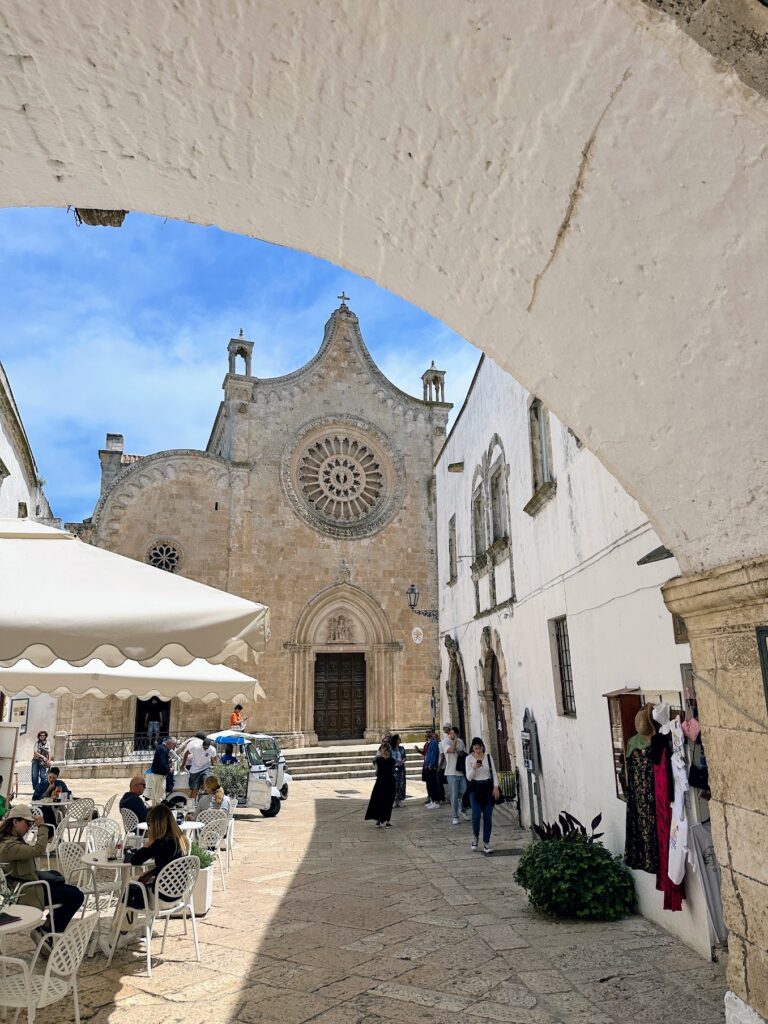 We drove the longer inland route from Lecce to Ostuni to avoid the busy but quicker autostrade. The roadsides were lined with a variety of pink, yellow and red wildflowers. Ostuni's old town was high up on the hill. Wandering through the historic core provided glimpses of long views across the olive farms and vineyards down to the sea. The centre attracted a high concentration of tourists.
More | Eat Ostuni – our guide to Ostuni's best bars, restaurants and places to eat.
Monopoli *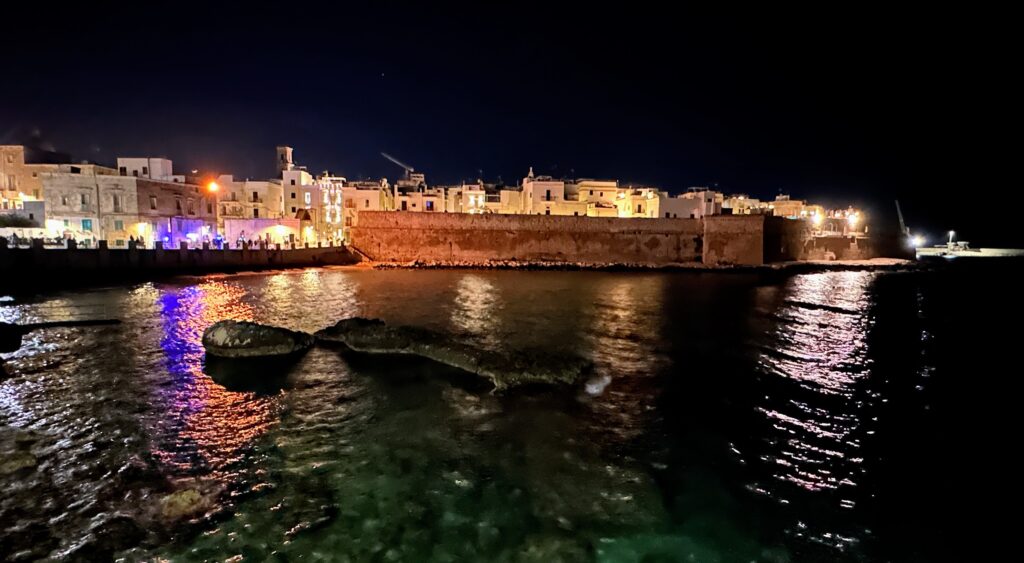 We stayed a few nights in Monopoli, a laidback town with a largely pedestrianised historic centre within its fortified walls. Attractive streets and alleyways alongside an old harbour and castle. The old town came alive with people in the early evening especially around the little squares and lanes full of bars. Central location makes Monopoli a good base for day trips to a range of attractions.
Our accommodation was Amor di Casa – a modern and well-equipped apartment with balcony and free adjacent parking. The apartment was 2 minutes walk to a large newly-opened supermarket, 5 minutes to a local sandy cove – Cala Paradise – and 20 minutes walk to the historic centre of Monopoli.
We enjoyed dinner at Filo d'Olio restaurant beside the wall of Monopoli's old town. Outside seating was popular day and night. The restaurant also had inside tables under atmospheric stone arches. Food and service were relaxed and friendly. We particularly enjoyed the crostino, and seared tuna with tomato and almonds.
But our favourite restaurant that we visited was Condominio 60. This was decidedly fine dining with friendly and unstuffy service. Dishes included smoked burrata with beetroot, almonds, peaches and mint; crispy cod with pea purée; and seared plums with star anise with vermouth ice cream.
More | Our city guide to Monopoli and Monopoli's best city beaches.
Matera ***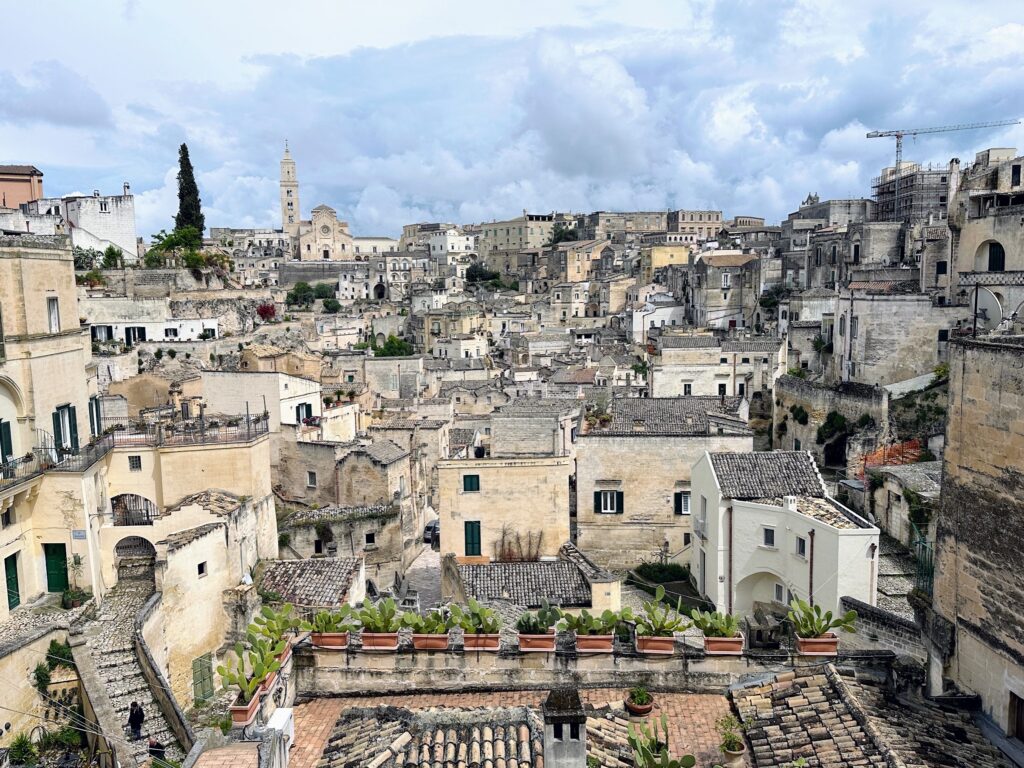 Not strictly in Puglia but just over the border
We drove from Monopoli to Matera on what Google suggested was the fastest route via the Bari ring road – but it took us a good hour and a half even with no holdups. We returned on the alternative more direct route which was more picturesque, quieter and in reality was almost as quick as the recommended route.
We found orientation on arrival by car just outside Matera slightly baffling. There were numerous signs and route options into the centre which made us think we should have done more homework beforehand. We chose a route in from the south west as we knew that parking would be available near the central railway station. We found a multi-storey car park which was relatively empty. We used an App to pay for parking which was helpfully flexible in allowing us to extend our parking duration. There was even a convenient shuttle bus linking the car park with Sassi.
However, when we tried to leave, the exit barriers failed to recognise our car registration number. It took many phone calls, text messages and a visit by the local police before we were released!
The Sassi area of Matera was a dazzling and extensive maze of small streets, alleyways and stairs laid out in an chaotic pattern relating to the topography. There were impressive views from Sassi across a steep ravine which provided routes for hikers. Tourists congregated around the honeypot sites in Sassi, such as the extravagantly decorated Duomo, but it was so extensive that it was possible to find quiet areas away from the hordes. Part of the enjoyment of Sassi was getting lost and discovering unexpected attractions, such as a church built into the rocks and an exhibition of local photographs where we sheltered from the unseasonal rain.
We spent four hours (including lunch) in Matera but would be keen to return to see more.
More | explore Matera – be your own best guide on a walking tour of the Sassi of Matera.
Alberobello ***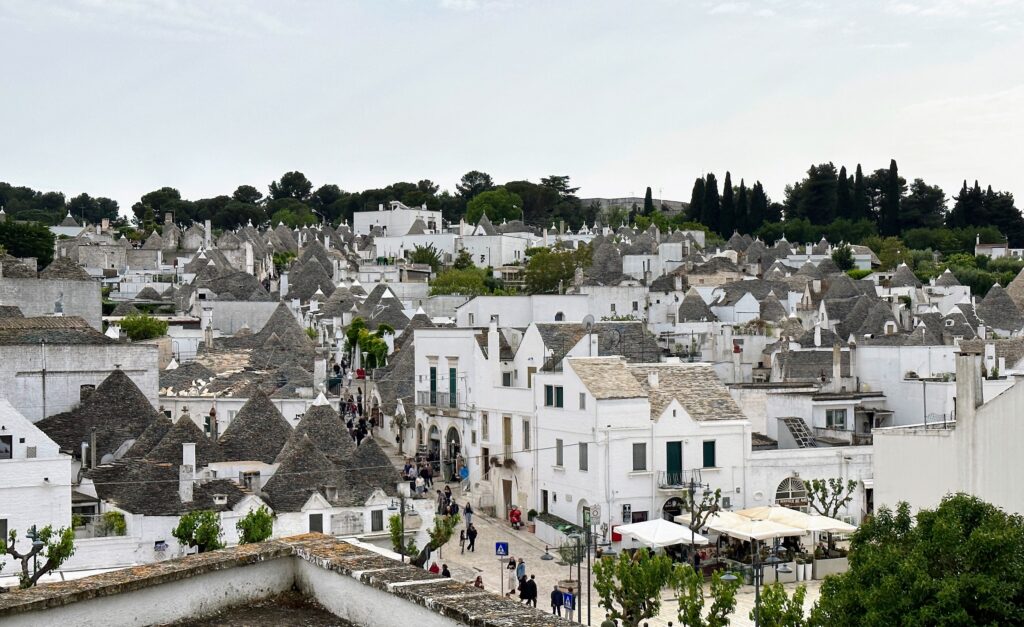 We visited Alberobello late afternoon on our way back from Matera. The trulli were clustered into different neighbourhoods across much of the town. Restaurants and cafes in the centre of Alberobello were still throbbing with visitors at 6pm but it was possible to find residential trulli in quieter streets away from the crowds. We were pleased to visit Alberobello given the concentration of trulli in a relatively small area – although a couple of hours in the town followed by delicious ice creams felt sufficient. We drove back to Monopoli spotting isolated trulli among the fields.
More | our city guide to the best of Alberobello and how to make the most of your visit to Alberobello.
Polignano a Mare **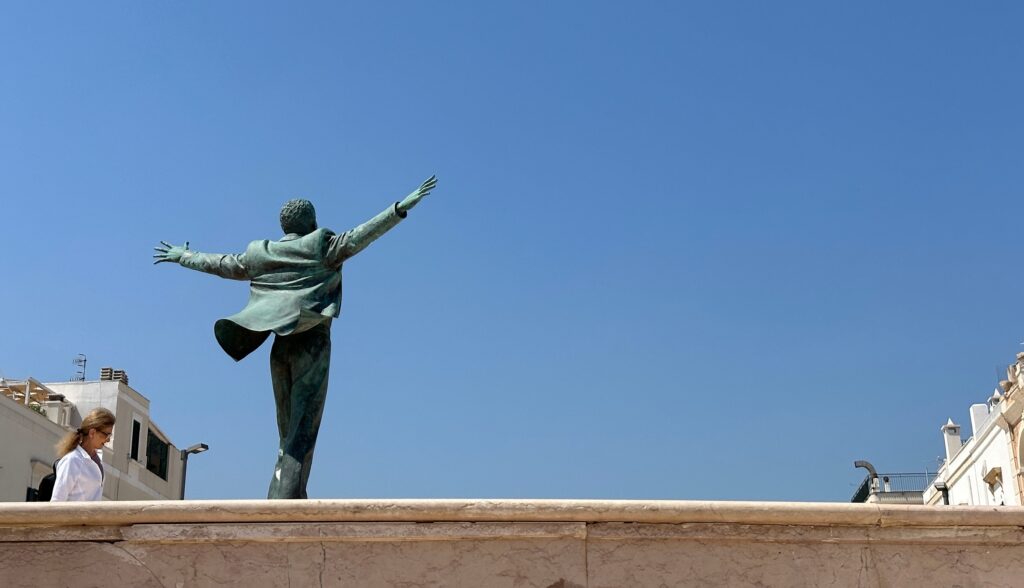 Polignano a Mare was 10 minutes drive up the coast from Monopoli – and in some ways its charm and vibe were fairly similar. The outskirts just south east of the centre contained some swanky modern flats close to a contemporary art museum (sadly closed on Mondays) and overlooking the emerald sea. The town was built on vertiginous cliffs, many with grottos directly underneath. The town centre streets and alleyways were lined with pretty whitewashed buildings, with restaurants and cafes spilling out onto little squares.
More | our city guide with must visit experiences for Polignano a Mare.
Final thoughts
We only managed to scratch the surface of Puglia in a week. The region and its many attractions are more extensive than we expected and we failed to visit a local vineyard or olive farm. We would love to revisit Matera – hopefully on a dry day avoiding multi-storey car parks – to visit Locorotondo and Martina Franca, and to discover the west coast and its many beaches.