Overview
The journey along Salento's scenic coastal road from Otranto to Capo di Leuca unveils Salento's diverse landscape: on one side, the Adriatic Sea in mesmerising shades of blue, and on the other, rugged terrain and lush Mediterranean maquis, creating a wild, untamed beauty.
From Otranto we head south via la cava di bauxite (Otranto's disused bauxite quarry, a vividly coloured landscape of emerald green lake and ferrous red soil). A stop-off at Punta Palascìa lighthouse (faro di Punta Palascìa) takes us to Italy's most easterly point. Continuing south towards the heel of the boot we reach the scenic beach at Porto Badisco and the thermal baths at Santa Cesarea Terme, before driving onto Castro, a medieval town 15km south of Otranto. The coastal road runs through Castro dividing into two parts: Castro Alta and Castro Marina.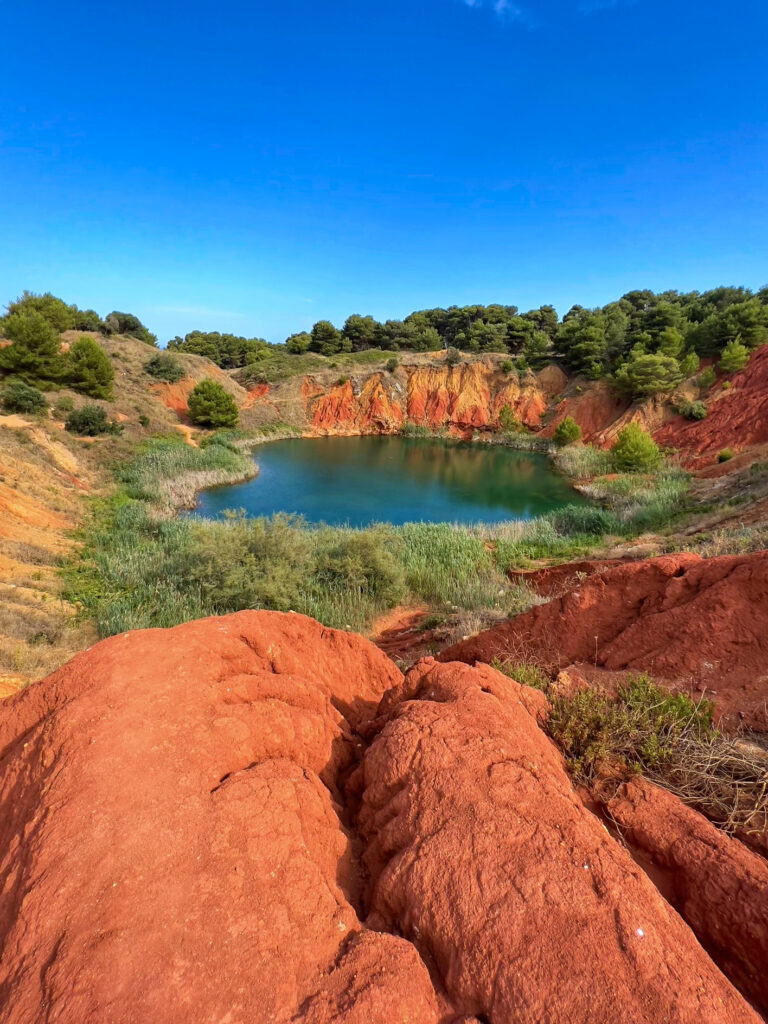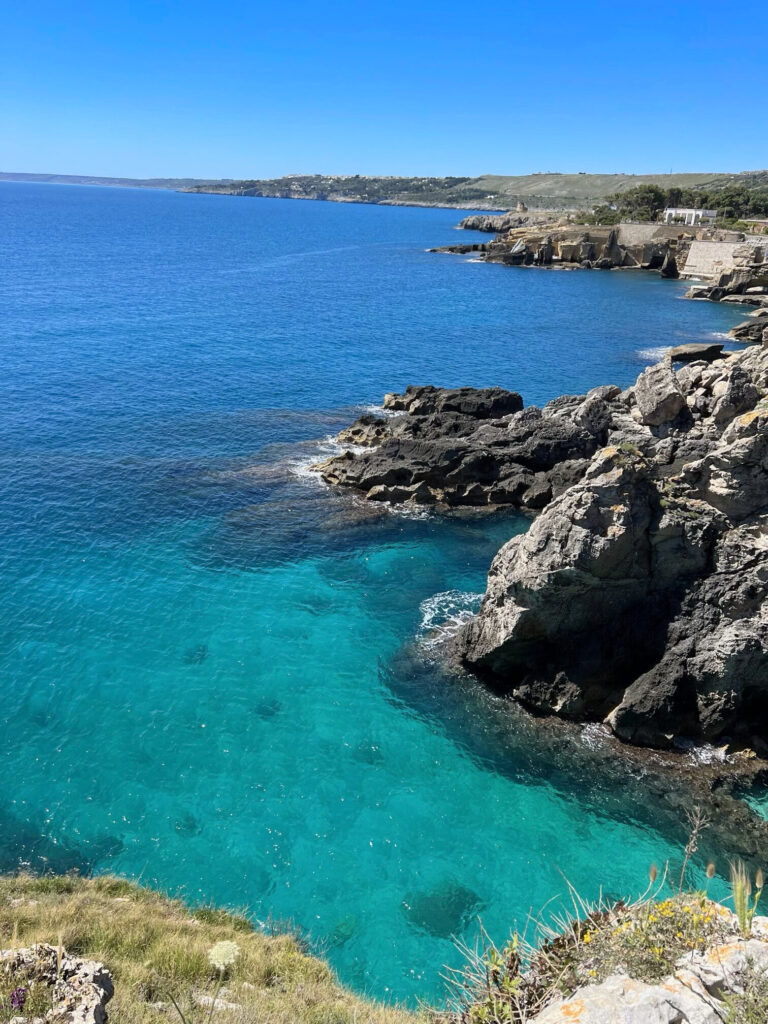 Castro Alta
Castro Alta, precipitously perched almost 100 meters above sea level, gazes out towards Albania's Acroceraunia Mountains providing a splendid vantage point overlooking the sea, and resonates with echoes of history and ancient civilisations.
Despite its medieval ambiance, Castro's origins trace back to the Messapians. In the 12th century, the Normans assumed control, elevating it to a contea (county) and initiating the construction of another impressive fortress. This fortress, along with Remnants of an ancient fortified Messapian wall, are still visible today.
From Troy to Rome via Castro: the goddess Minerva
The town's name, Castrum Minervae, hails from Roman times and the presence of a fortress and a temple dedicated to Minerva. According to legend Minerva's temple, dedicated to the Roman deity representing heroic virtues, is praised by Aeneas from his ship as he escaped from Troy with fellow Trojans to land at Porto Badisco.
In Book III of the Aeneid, Virgil recounts how Aeneas sailed from Troy to Italy and became the progenitor of the Roman people. He described the landing spot as "a port dominated by a high promontory with a majestic temple on top consecrated to the goddess Minerva".
Based on the epic and the latest archaeological studies – recent excavations have discovered such a temple at the end of Vico della Minerva; in 2015 a large headless statue of the goddess was discovered – Aeneas is believed to have landed in Castro.
At the heart of the upper village lies Piazza Armando Perotti, offering a balcony-like view of the sea and the Aragonese castle. This castle serves as a hub for cultural events and a starting point for a journey back in time.
Within the town walls, you can immerse yourself in the simple lives of the residents. On warm afternoons, elderly women are often seen embroidering outside their houses, while weary fishermen return to the village after the early morning catch, fish nets spread out to dry under the Salento sun. Others seek solace on the benches of the square. Narrow lanes invite delightful strolls, leading to bars and restaurants. All paths seem to converge on the main square and the panoramic terrazza, offering spectacular sea views.
A wander through the charming alleyways of Castro "de susu" takes you to the heart of the village, Piazza della Vittoria. Here, noble palaces and unassuming homes encircle the square, framing the magnificent 12th-century Cathedral dedicated to Maria Santissima Annunziata with its original Romanesque facade and the remnants of a small 10th-century Byzantine church.
Constructed in 1171, likely on the foundations of a Greek temple, this Byzantine-style religious building has evolved into today's Norman-style church after various restorations. Inside, a single nave displays Baroque elements, and the floor features a fascinating mix of marble slabs interspersed with mosaic remnants. Legend has it that the Cathedral was erected to counter the pagan worship of Minerva, the goddess to whom the Castrum's inhabitants directed their prayers. In recent years, archaeologists in Capanne unearthed the ancient temple dedicated to this divinity.
Castles and cathedrals
Exiting the Cathedral, your gaze will be drawn to an imposing military structure—the castle. Built on the remnants of an ancient Byzantine fortress around the 12th century, the Castle of Castro showcases Romanesque architectural elements with a rectangular layout and four corner towers of various sizes and shapes. One of these towers, the Torre del Cavaliere, remarkably remains intact after the Turkish assault in 1480, which nearly obliterated the entire castle. Stepping inside, you'll find a spacious courtyard that once bustled with the exchange of Mediterranean agricultural and artisanal products. Today, some accessible rooms within the castle house a museum, displaying intriguing archaeological finds, including rare remnants from the temple of Minerva.
Castro Marina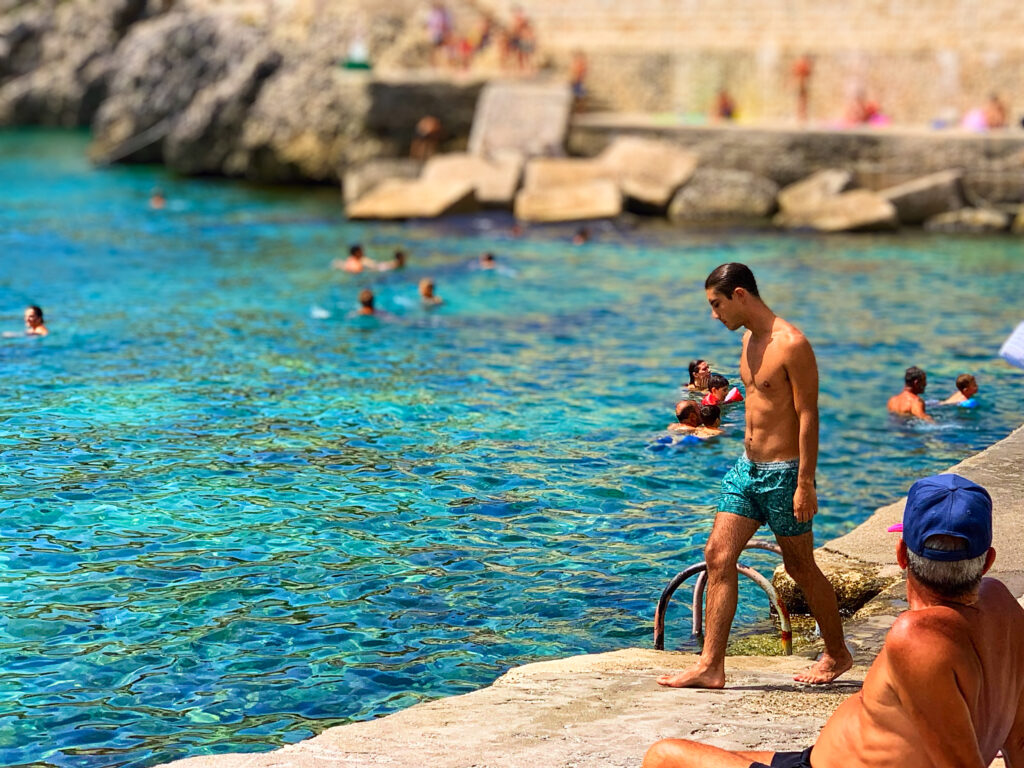 Below the town, Castro Marina comes alive during summer months, with seafront bars, restaurants, and cafes. Here you can sit in a bar and snack on freshly caught fried fish, an authentic local treat. The little harbour, typically home to the town's small fishing fleet, welcomes impressive yachts and pleasure boats. The rocky coastline and crystal-clear waters draw swimmers and sunbathers, filling the beach clubs and lido bars from mid-June to mid-September.
Castro has preserved its charm and enchanting ambiance, much like Puglia's other coastal villages. It narrates tales of civilisation, conquests, traditions, and beauty—stories that time and the sea will never wash away. Its atmosphere is still Greek, as is the landscape surrounding it. Heavy with the heady scent of herb and salty Mediterranean scrub in balancing colours of white, blue, and Mediterranean green.
Where to Stay: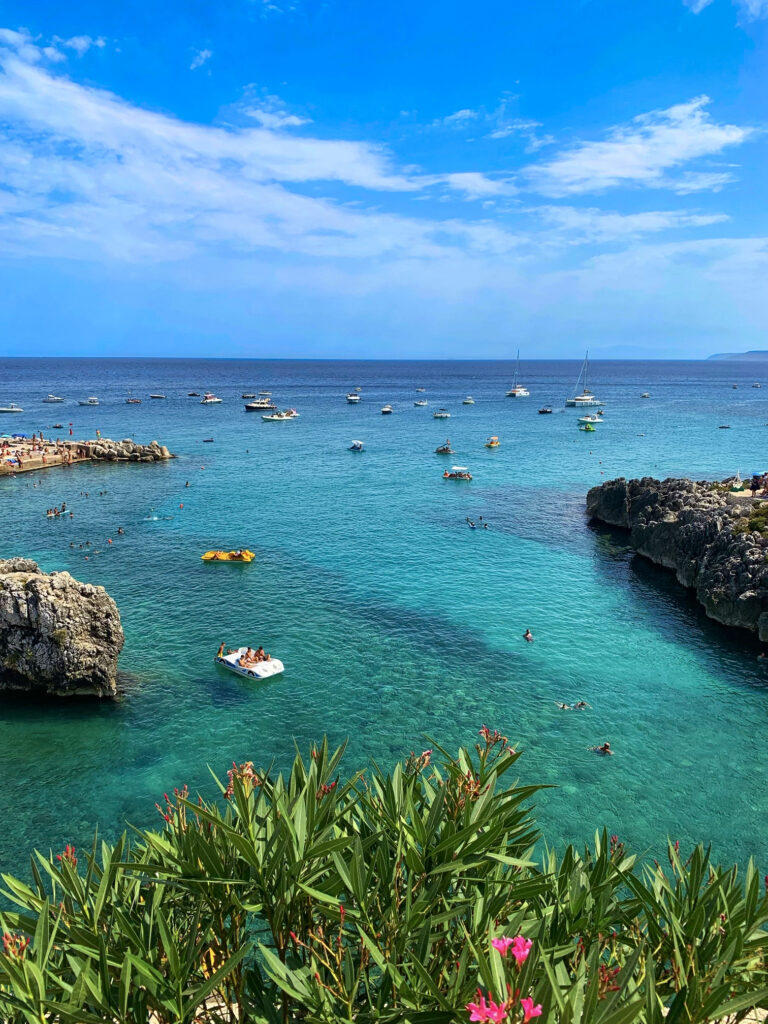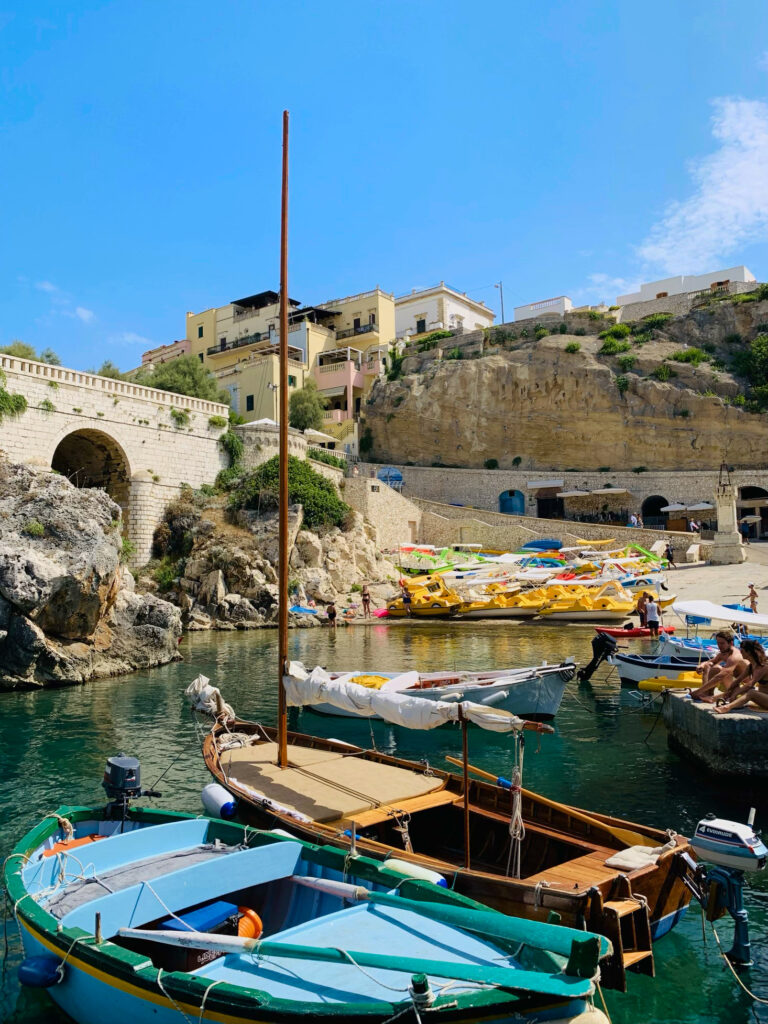 1. Hotel Il Castello: For an enchanting stay in the heart of Castro, consider Hotel Il Castello. This charming hotel is housed in a historic building and offers comfortable rooms, a rooftop terrace with stunning sea views, and a welcoming atmosphere.
2. Residence Tramonti: If you prefer a more spacious and independent accommodation, Residence Tramonti provides well-equipped apartments with sea views. It's an excellent choice for families or travelers looking for a home away from home.
3. Villa Accommodations: Many villas and holiday homes are available for rent in and around Castro. These provide a unique opportunity to immerse yourself in the local lifestyle while enjoying modern amenities and privacy.
Where to Eat and Drink: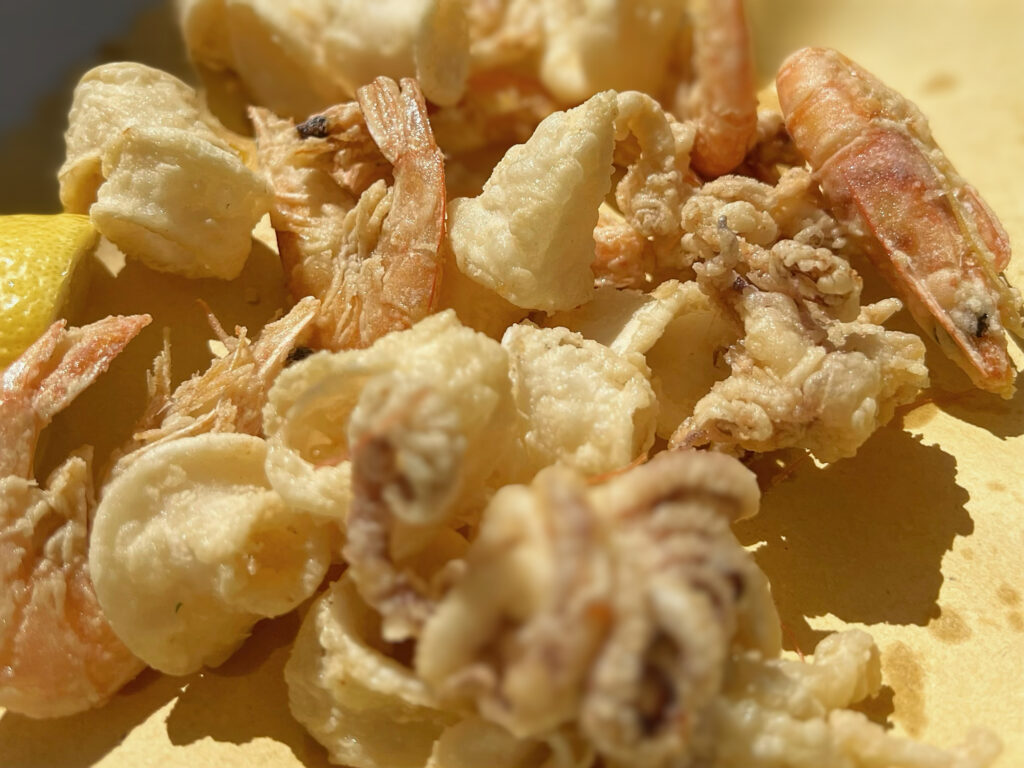 1. Ristorante Lo Scoglio: Located right by the sea, Ristorante Lo Scoglio offers fresh seafood and traditional Puglian dishes in a picturesque setting. Don't miss their signature dish, the "frutti di mare" pasta.
2. Trattoria La Piazza: Situated in the heart of Castro Alta, Trattoria La Piazza offers a cozy atmosphere and serves local specialties, including orecchiette with broccoli rabe and the regional wine, Negroamaro.
3. Friggitoria Along the Seaside: For a unique experience, visit one of the local freid seafood bars along the seaside promenade in Castro Marina. They serve freshly caught and fried fish, perfect for a quick and delicious snack.
4. Beachfront Cafés: During the summer months, explore the beachfront cafés in Castro Marina. Enjoy a refreshing aperitivo or a gelato while taking in the sea views.
5. Wine Bars: Sample the local wines of Salento at various wine bars in Castro. Try the Primitivo, Negramaro, or Salice Salentino, which are popular choices in the region.
Things to Do: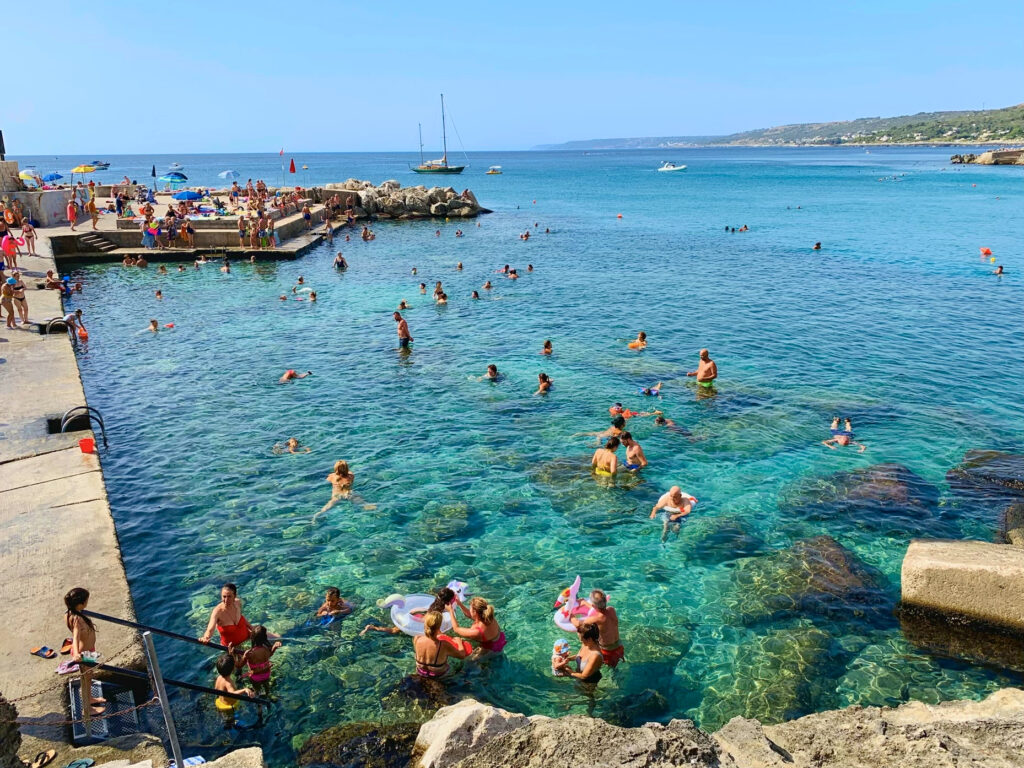 1. Visit the Castle: Explore the historic Castle of Castro, which dates back to the 12th century. Its Romanesque architecture and impressive courtyard offer a glimpse into the town's medieval past.
2. Discover the Cathedral: Don't miss the 12th-century Cathedral of Castro, with its Romanesque façade and Byzantine influences. Inside, you'll find an intriguing mix of architectural styles and historical artifacts.
3. Stroll Along the Walls: Take a leisurely walk along the town's ancient walls, offering breathtaking panoramic views of the Adriatic Sea. Here the blue melts into the blue.
4. Relax at Castro Marina: Spend a day at the picturesque Castro Marina, where you can swim in crystal-clear waters, rent a boat, or simply unwind on the pebbly beaches.
5. Hire a boat or take an organised trip along the coastline for the sea caves: The Zinzulusa caves are particularly well known. Boat hire companies are available at Castro Marina.
Insider Tips:
Local Markets: Check out the local markets for fresh produce, regional specialties, and artisanal crafts. They offer an authentic glimpse into daily life in Castro.
Festivals and Events: If your visit coincides with local festivals or events, such as the Feast of Saint Antonio or the Notte della Taranta music festival, be sure to participate for an unforgettable cultural experience.
Local Guides: Consider hiring a local guide to learn more about the history, legends, and hidden gems of Castro. They can provide valuable insights and enhance your visit.
Castro, Puglia, promises a unique blend of history, natural beauty, and culinary delights. Whether you're exploring its historic sites, savoring fresh seafood, or relaxing by the sea, you'll find Castro to be a charming destination in the heart of Salento.
More | Puglia by destination – find the best base for your vacation in Puglia.