Where is the best base for vacation in Puglia?
Our most frequently asked question from visitors coming to Puglia is "where is the best base for…?".

The answer is surprisingly simple. It all depends on what you want from your vacation.

Do you want to soak up the sun or a lively atmosphere, maybe both? Perhaps you want to experience the slow rhythm of a southern Italian summer in a small Salento town. Some mindful quiet solitude and off the beaten track wilderness?

We weigh up the pros and cons of some of Puglia's better known destinations and then some more general considerations that you need to factor in.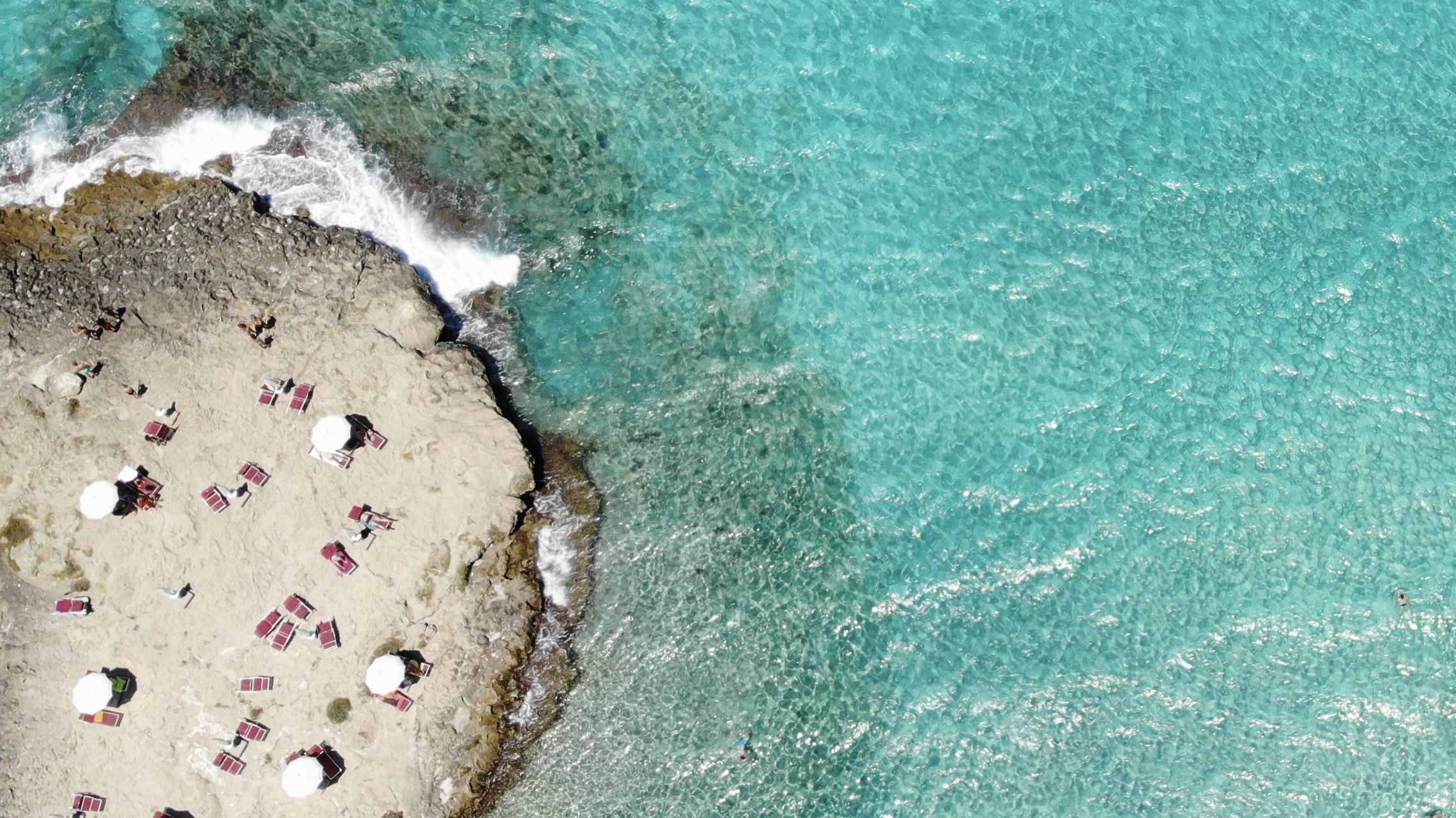 Alberobello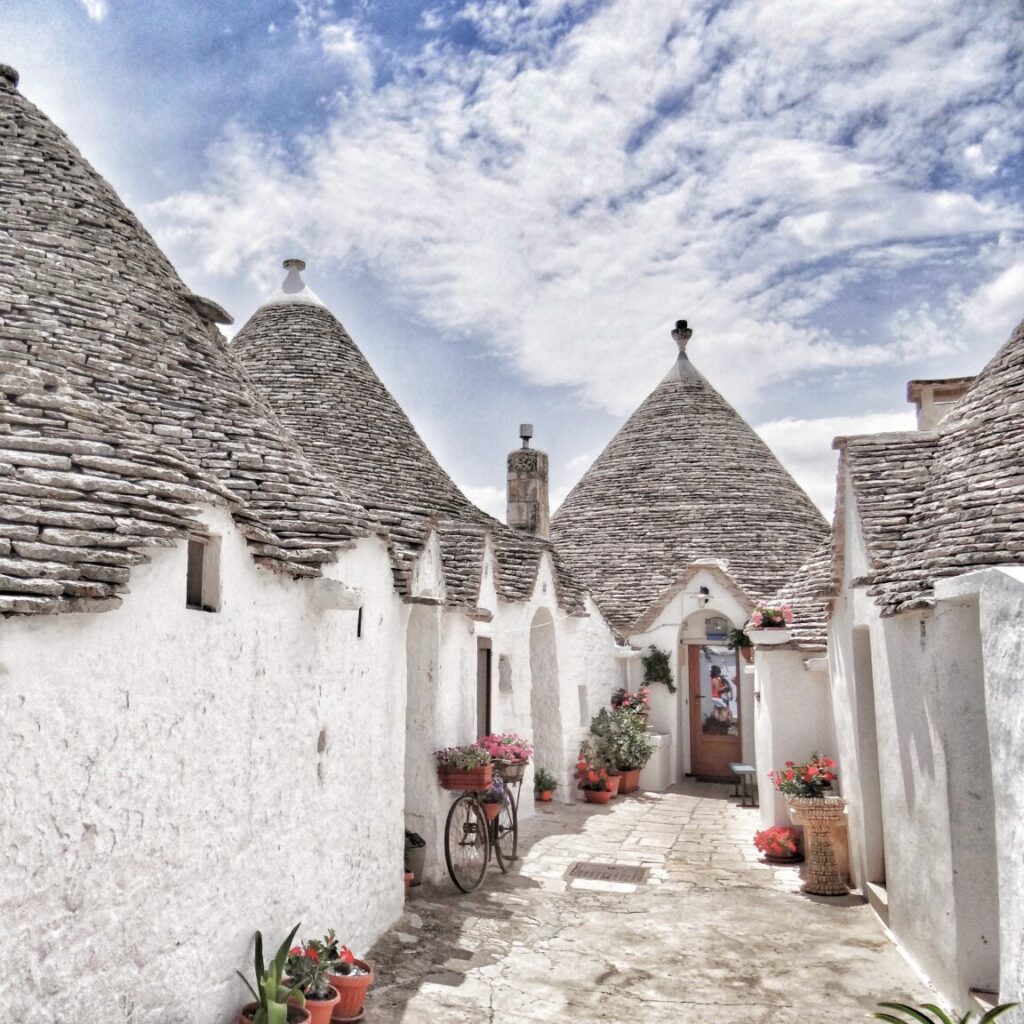 We wouldn't suggest Alberobello as a home base. With tourism left, right and centre accommodation is overpriced and the town overcrowded. Trulli aren't unique to Alberobello. They are found throughout the Valle d'Itria. For a truly magical experience nothing beats a trullo surrounded by olive groves and fruit trees, especially under the stars at night.
Pros | easy access around the Valle d'Itria and beyond (with your own transport); Locorotondo, Cisternino, Martina Franca, Ceglie Messapica, Ostuni, Monopoli, Polignano a Mare and Matera | iconic destination in Puglia, no trip to Puglia would be complete without a visit.
Cons | overcrowded and overpriced – trulli in the countryside around the Valle d'Itria offer better value and more comfort with more outside space and sometimes a swimming pool | if you want to stay in a town, try Locorotondo or Cisternino instead.
More | read the Puglia Guys' Big Guide to Alberobello.
Bari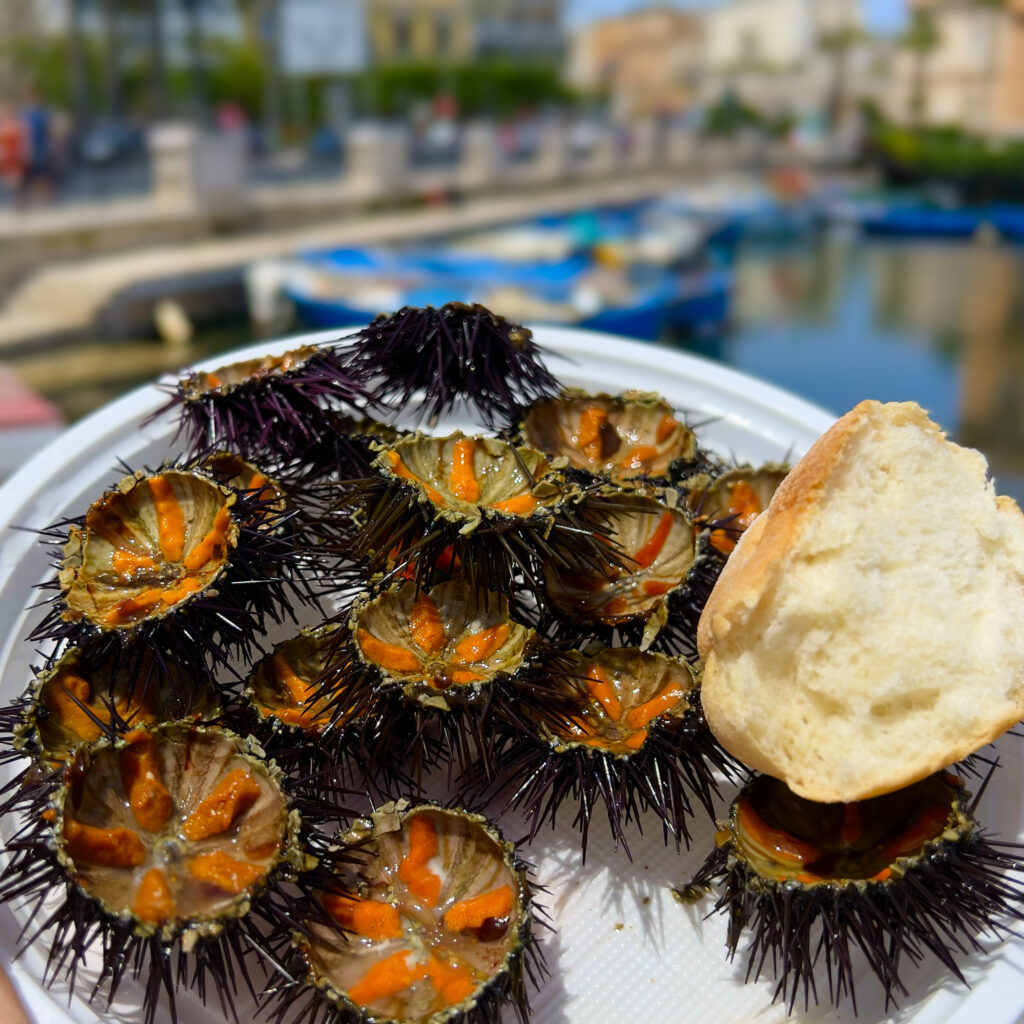 Of itself Bari is a decent destination for a mini-break. As a base, in addition to the usual destinations in the Valle d'Itria, Monopoli, Polignano a Mare etc., make efficient use of your time to explore nearby towns with outstanding cultural and historical heritage which are very easy to reach by train; Barletta, Trani, Bitonto, Andria or the lesser known but no less lovely towns such as Ruvo di Puglia and Giovinazzo.
Matera is only 64km from Bari, easily accessible by road (and usually by train), en route you can visit Altamura famed for its bread. The Castel del Monte "a unique masterpiece of medieval military architecture" is a UNESCO World Heritage Site, and another easily managed detour.
Pros | good public transport links | Bari vecchia and the old port | spaghetti all'assassina.
Cons | Bari's lack of "wow" factor beyond Bari vecchia.
More | read the Puglia Guys' Big Guide to Bari | our eating out in Bari guide | Puglia's must eat dish, spaghetti all'assassina from Bari.
Carovigno
With a treasure trove of excellent bars and restaurants Carovovigno punches well above its weight given its modest size. Located only 8 kilometres away, Carovigno emerges as a better-value alternative compared with accommodation costs commanded by Ostuni. It is has a less busy main piazza of an evening out, but is no less vibrant for it.
Known for great food the town boasts a Michelin starred restaurant on its main piazza but it's the restaurants serving simple home cooked dishes in Puglia's cucina povera tradition that sparkle.
Pros | central location | nearby beaches | charming centro storico with a great choice of bars and restaurants | less expensive accommodation choices compared with Ostuni.
Cons | if using public transport the train station is 5km from the town centre.
More | read the Puglia Guys guide to Carovigno.
Cisternino | Locorotondo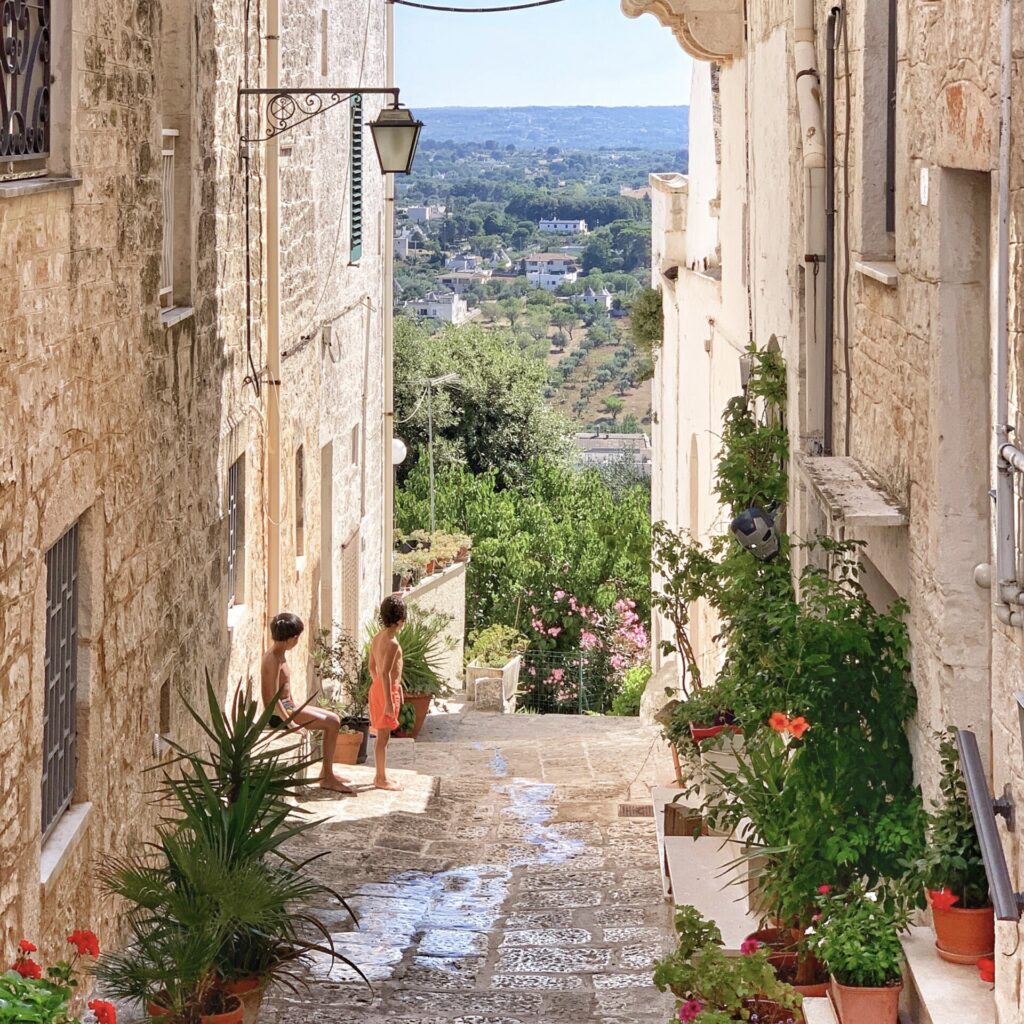 It is hard to pick a favorite. Both are picturesque charming towns, surrounded by beautiful countryside, peppered with trulli. Both offer excellent bases for exploring the Valle d'Itria. Little separates them other than the 9km lying in between.
There is shortage of bars, caffès and restaurants in the centro storico of each.
Pros | in the heart of the Valle d'Itria | less crowded and more intimate than Ostuni | the bombette pugliesi served in the macellerie (butcher shop restaurants) in Cisternino.
Cons | Ostuni is closer to the coast, and to the Valle d'Itria's most popular beaches | Ostuni has more impressive winding alleyways and steps knotted around its centro storico.
More | read the Puglia Guy's Top 10 Puglia Destinations.
Gallipoli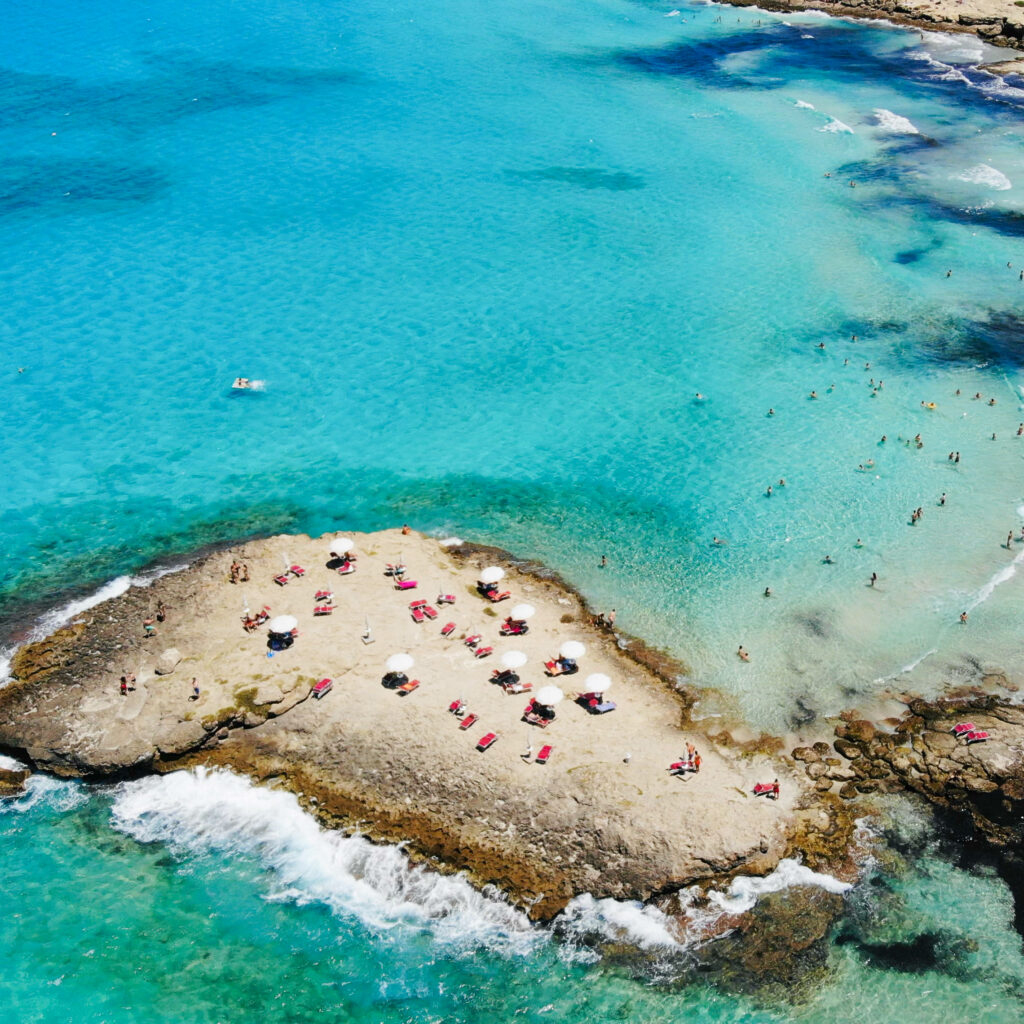 Far from the sleepy old fishing port you find during the off-season months, Gallipoli is where the beautiful and glamorous party after a hard day under the hot Salento sun. Especially at one of the nearby lido beach clubs. The old town is a network of narrow streets and alleys, shops and restaurants. Look out for fishermen weaving their fishing baskets. Nice restaurants – especially good for seafood. A decent sandy old town beach with popular lidos and a naturist beach nearby
Pros | the old town extending out like an island | the town beach | seafood | the liveliest nightlife in Puglia | great lido beach clubs at nearby Bia Verde | amazing crystal clear waters off Spiaggia della Innamorati and Punta della Suina | the sun set coast from Spiagga Punta della Suina – Spiaggia degli Innamorati | watching the sun set
Cons | it was trying to be the new Ibiza a few years back | an extremely popular destination for Italian visitors, accommodation can get expensive during peak season.
Lecce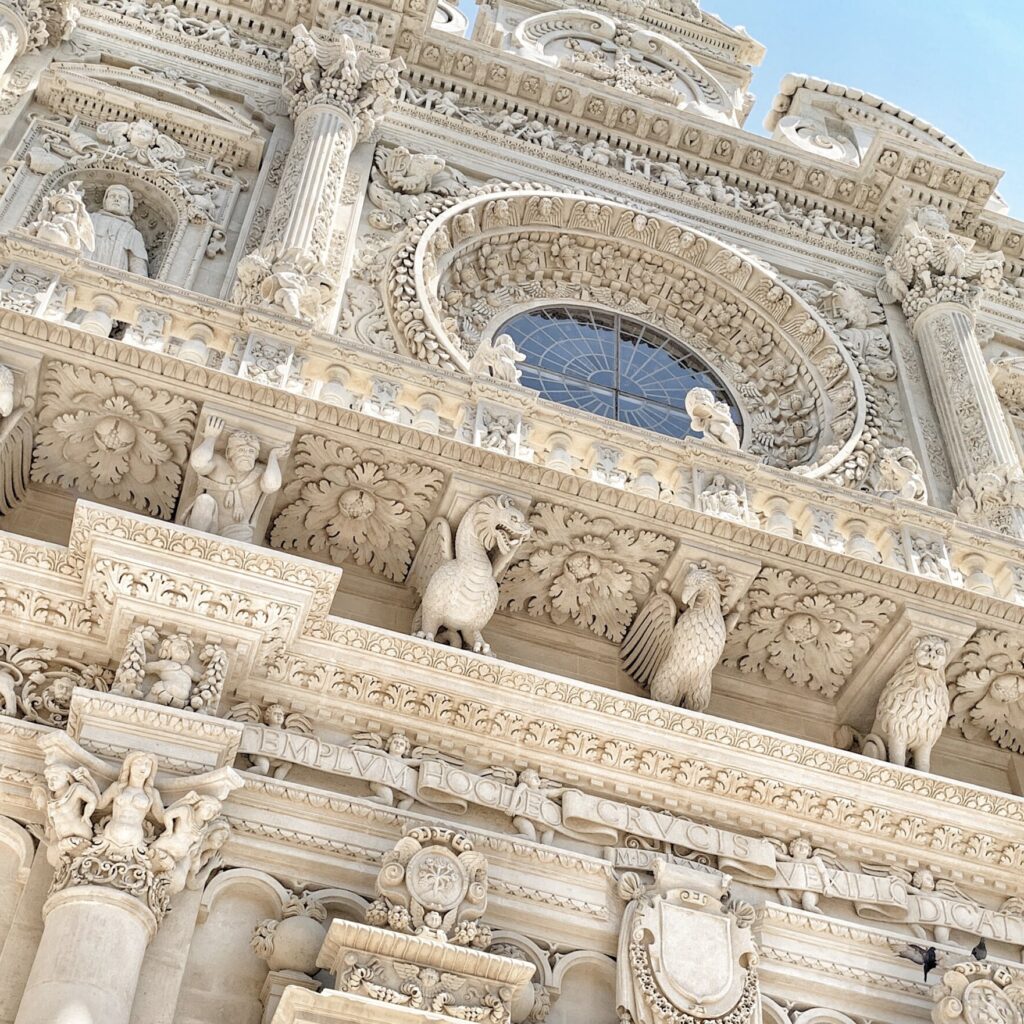 The colour of Lecce is astonishing. The cream of Lecce's baroque architecture set against the azzurro sky and the faded colours accessorising the palazzi of the centro storico never fail to impress us. The Basilica di Santa Croce has one of the finest and most intricate Baroque facades in Italy, in exquisite detail. A large centro storico buzzing with bars and restaurants and great boutique shops.
Where better to enjoy a caffè leccese and pasticciotto?
Pros | the baroque and roll colours of Lecce | the Basilica di Santa Croce | the best pizza in Puglia | puccia to grab and go | a great base for day trips around Salento.
Cons | tell us if you discover any.
More | read the Puglia Guys' Big Guide to Lecce.
Monopoli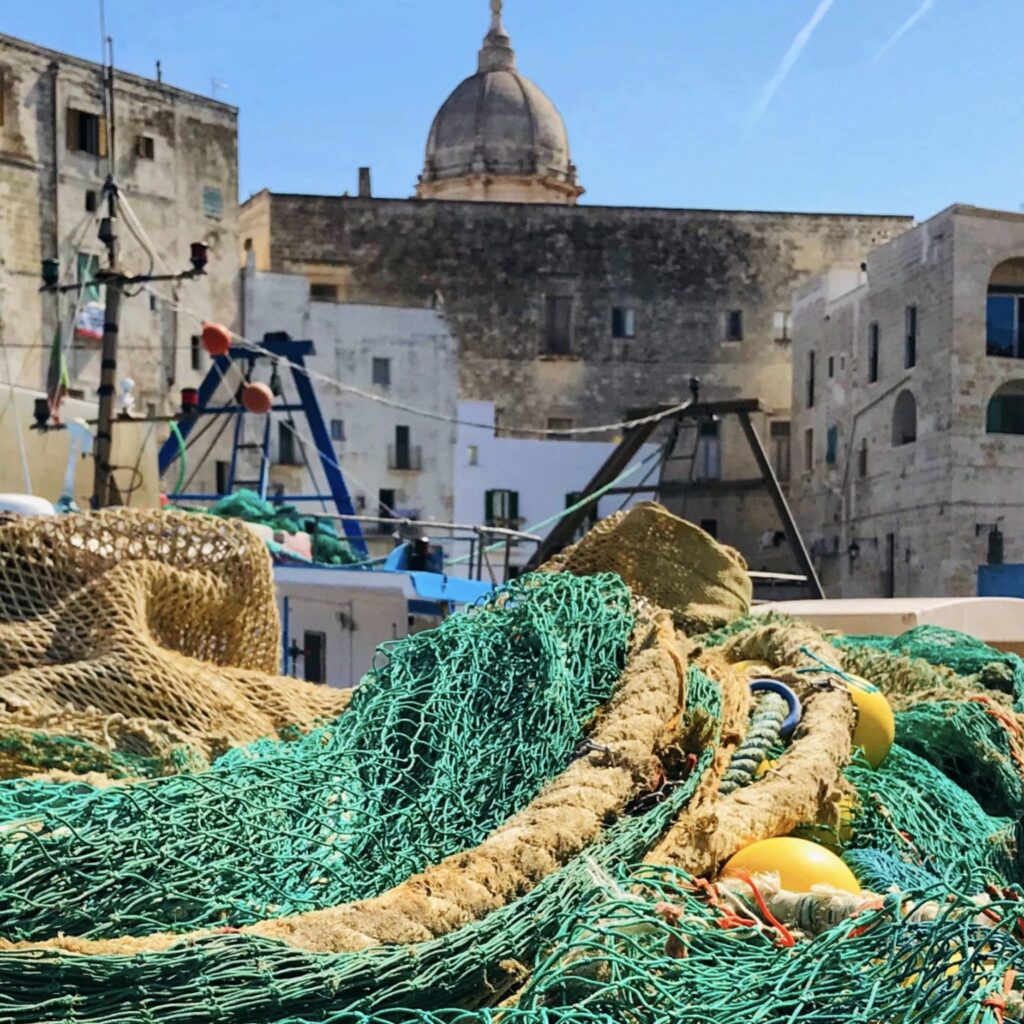 Polignano a Mare's near neighbour is less visited, but is becoming ever more popular as a less costly alternative. The centro storico is much smaller, but feels a little more "lived-in", a little less manicured. It has a wonderful old port where you can watch the fishermen land their catch and repair their nets. A walk around the sea wall is just the thing to build up an appetite (or work off a lazy lunch). If you have your own transport it is easy to cover the rest of the Valle d'Itria from here.
Pros | easy access by public transport via the Bari-Lecce train line | we love eating fresh seafood and taking an aperitivo on the Piazza Garibaldi adjacent to the old port | quieter than Polignano a Mare | popular town beaches, but these are popular with locals too and fill up quickly during summer – mainly rocks, with small stretches of sand, but these are at a premium.
Cons | if you are looking for a quiet or sandy beach Monopoli is not for you | small and compact – unless you form habits quickly after a couple of nights you would probably crave some variety elsewhere.
More | read the Puglia Guys' Big Guide to Monopoli.
Ostuni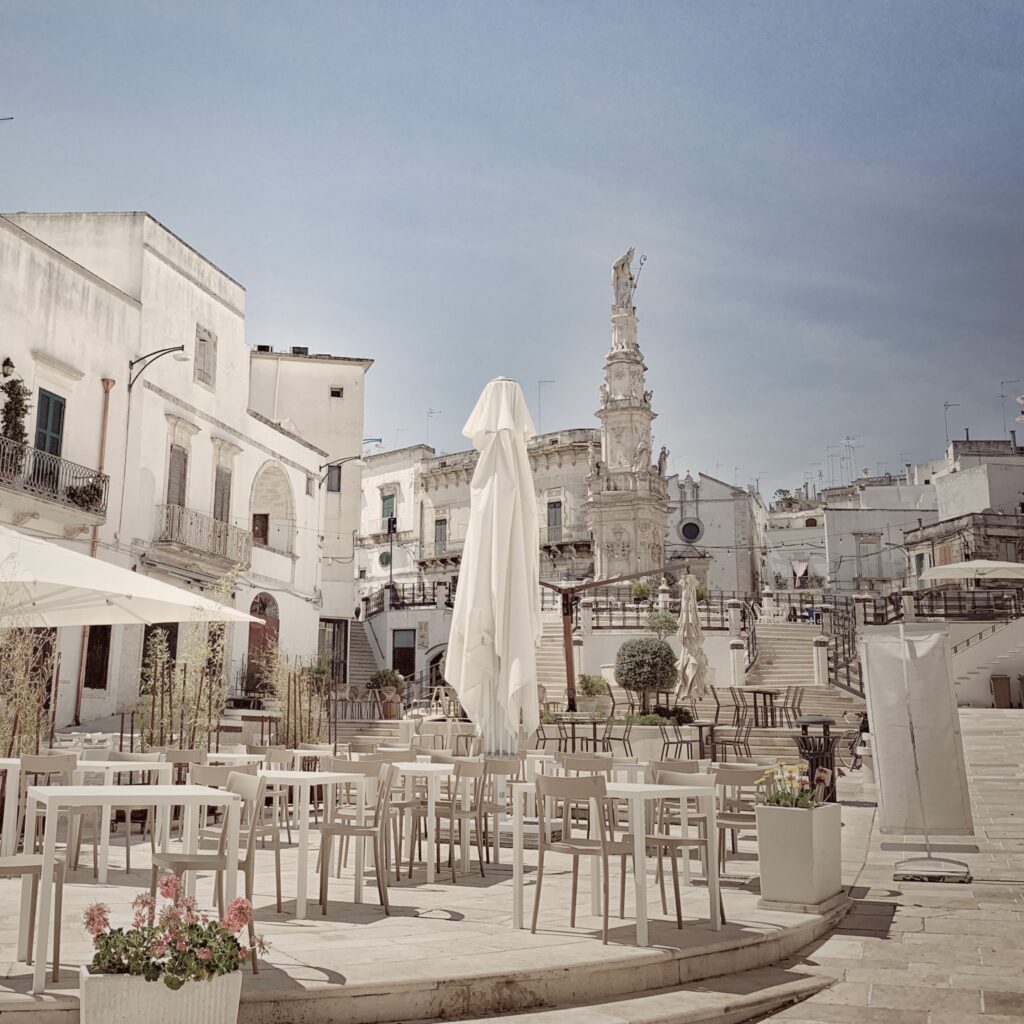 The White City rises up from the Valle d'Itria. The old town gleams from the distance. It has a vibrant centro storico in summer, with restaurants and bars to be discovered in every alleyway twisting around and up and down the hilltop upon which the duomo sits. Ostuni's nooks and crannies are worth taking two or three days to explore, at a gentle pace. It is perfectly positioned as a base to explore the Valle d'Itria and to get to its best beaches.
Pros | very central, not just for the Valle d'Itria but also for Bari, Lecce, Matera and beyond | a fine selection of bars and restaurants in the old town | well positioned for getting to the beach.
Cons | Cisternino and Locorotondo also with enclosed white walled old towns are more intimate for dinner | visitors to Ostuni grow year on year | the most expensive regular coffee that we have had to date was in Ostuni.
More | read the Puglia Guys' Big Guide to Ostuni | Ostuni eating out guide.
Otranto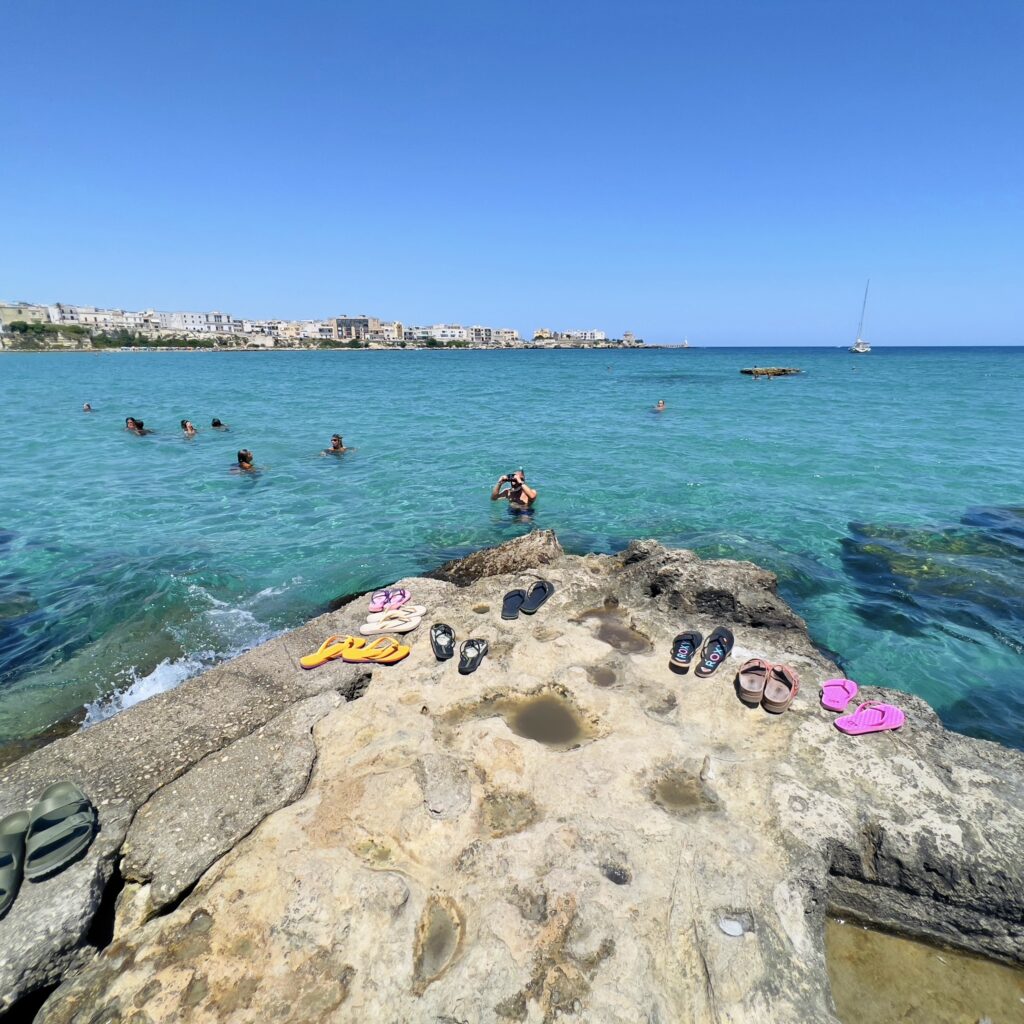 There are two beaches just a few minutes walk from the centre. The main beach runs along the centro storico below the defensive sea wall; the smaller Via Punta is nearby. During the summer months the population of this small town swells – Otranto is a very well-known holiday destination. The lighthouse Otranto Punta Palascia is the easternmost point on Italy's mainland.
Pros | long, sandy beach – one of the cleanest city beaches in Italy | easy walk from town | vibrant nightlife | a beautiful historic centre overlooking the sea | a good base for exploring Salento if you have your own transport.
Cons | Train connections from Lecce can be cumbersome, involving a change (or two).
Peschici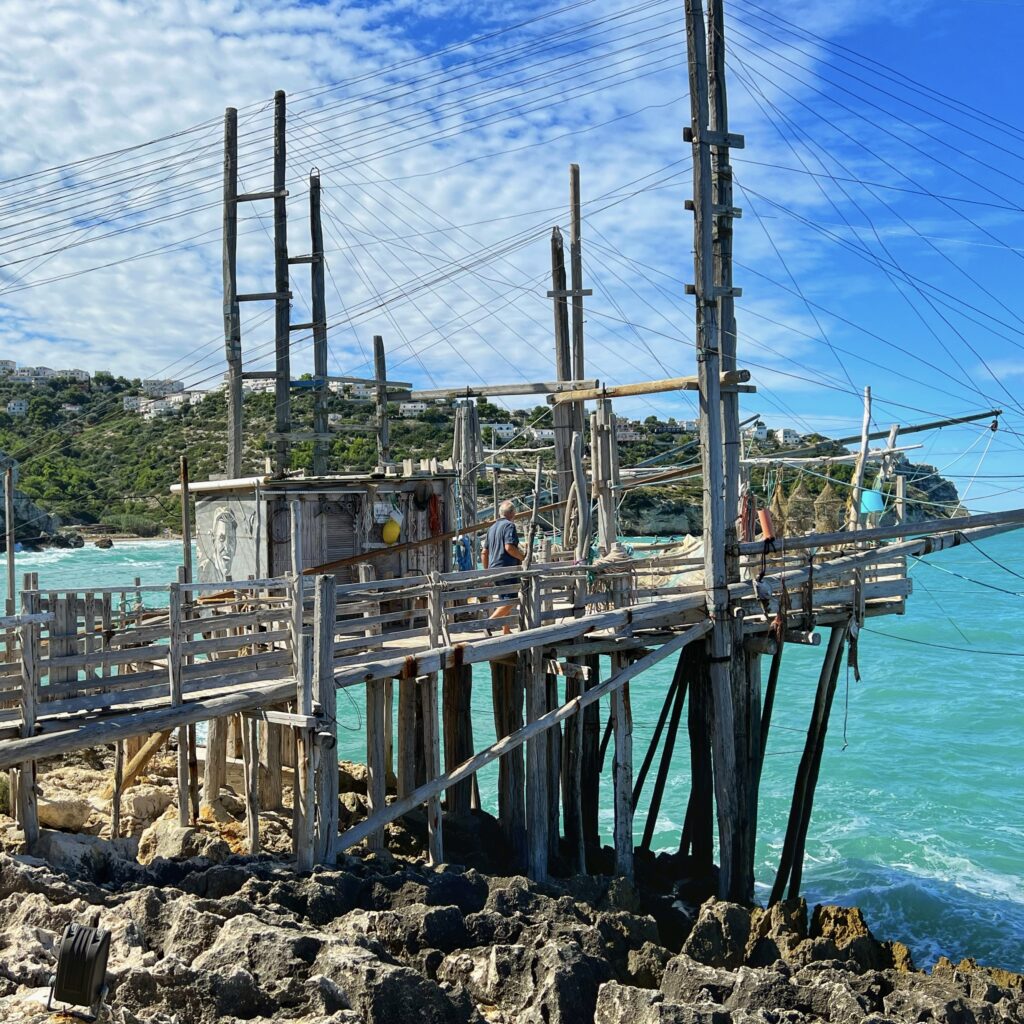 Peschici – good from June until the 2nd week of September.
Polignano a Mare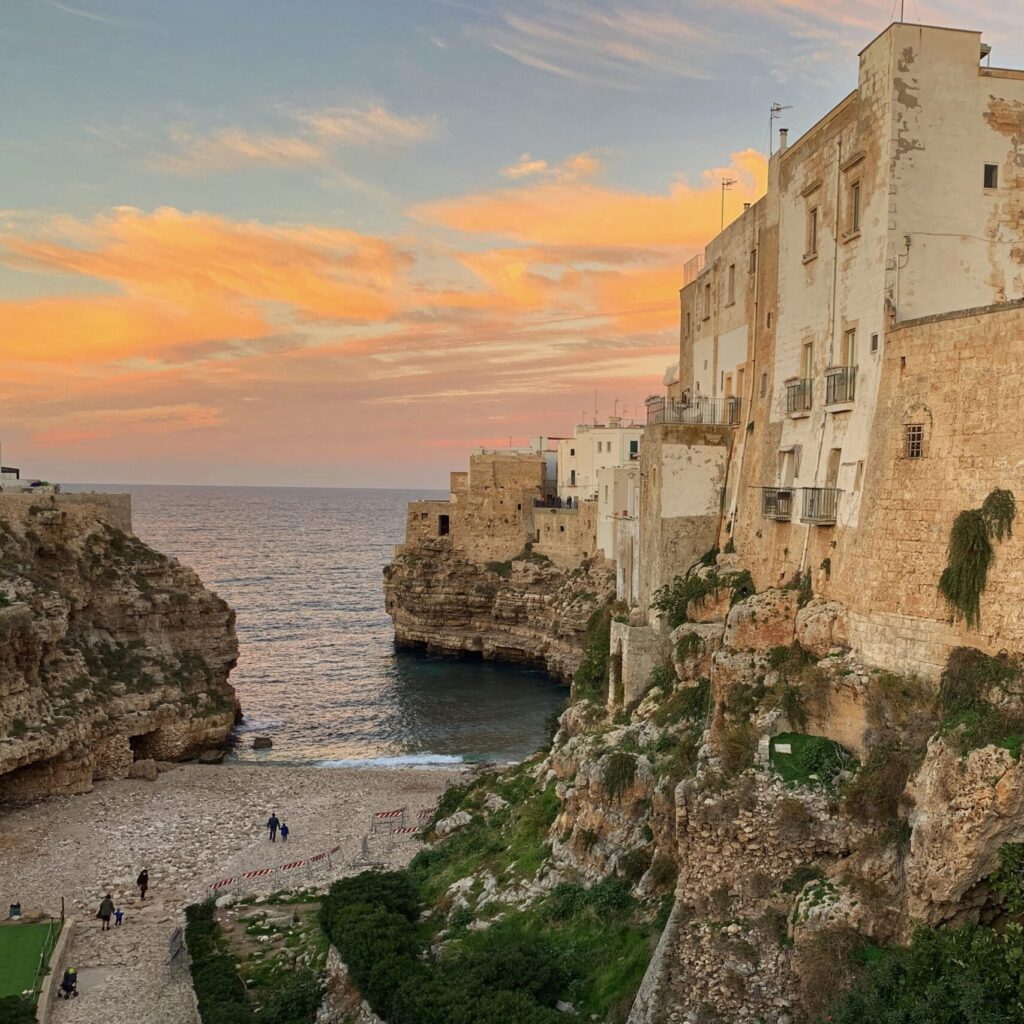 One of Puglia's most iconic destinations. Indeed, no trip would be complete without visiting Polignano a Mare. It gets extremely busy in summer. Accommodation can be a little more expensive that elsewhere. There is no shortage of places to eat and drink and it has a lovely, compact centro storico where you can find space to sit and have an aperitivo. One of our favourite eateries is here, and Polignano is also known as the ice cream town.
Pros | iconic Puglia | great variety of places to eat and drink – including some of our favourite street food | good public transport links; it lies on the main line between Bari and Lecce; the train station is no more than a 10-minute walk from the centro storico | if you have your own transport it is easy to cover the rest of the Valle d'Itria from here.
Cons | if you are looking for a sandy beach this is not the place to come – rocky shelves and pebble beaches here | the main town beach, Lama Monachile, gets crowded and stays that way for most of the day.
More | read the Puglia Guy's Big Guide to Polignano a Mare.
Santa Maria di Leuca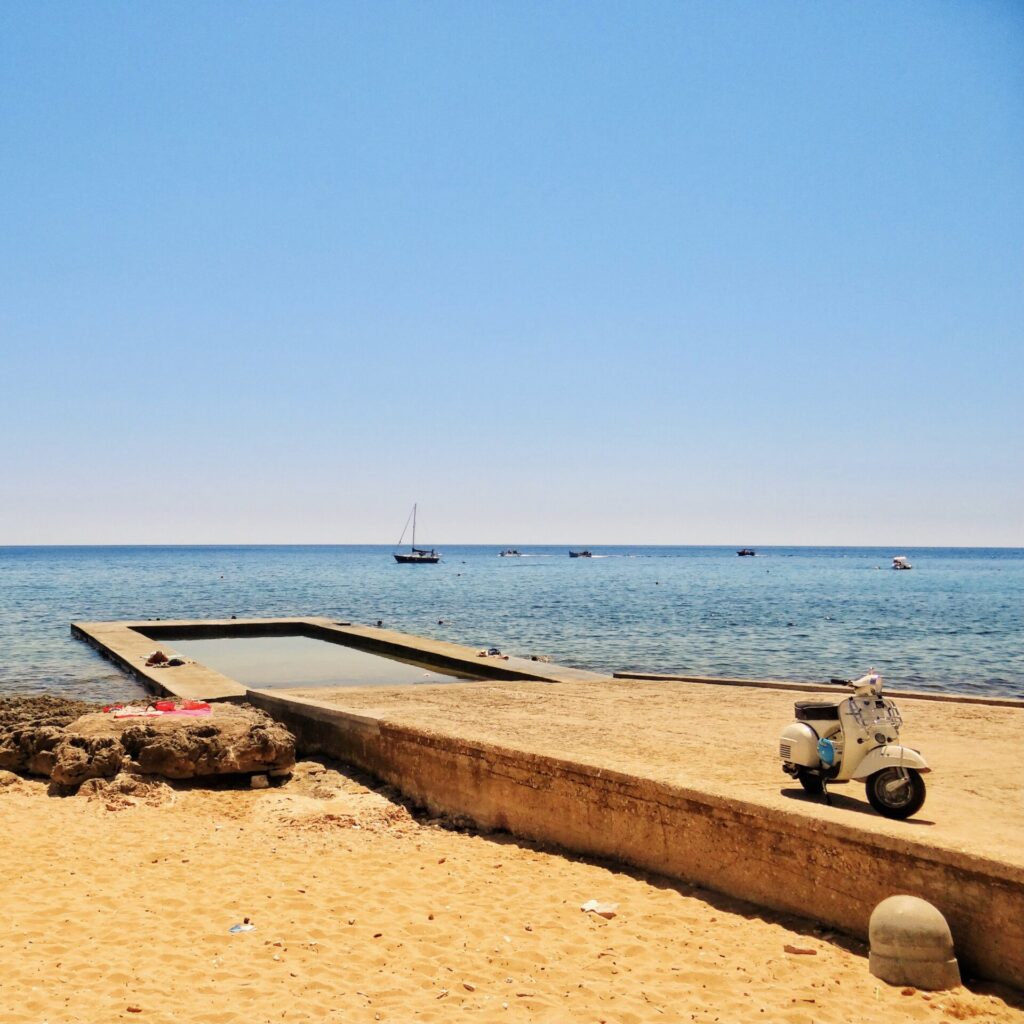 Lidos sit on wooden platforms along Leuca's lungomare. Be sure to take some ciabatte – rubber soled shoes – for swimming. These are a necessity for taking to the crystal clear waters lapping over jagged rocks peppered with sea urchins. Watch local teenagers snorkelling for urchin and polpo to be served at the next meal. One of the best places to kick-back and relax. When we have visited, as we often do over summer, the beaches and lidos are never full.
Pros | peace and quiet | a perfect base to get to Pescoluse for the "Maldives of Salento" (16km by road) without the crowds staying in Pescoluse | a perfect base to get to Marina Serra, Porto Tricase, Tricase and the Adriatic coast beyond to Santa Cesarea Terme | surrounded by the most dramatic landscape south of Polignano a Mare.
Cons | you are almost 200km from Alberobello if your purpose is to see the most visited destinations in the Valle d'Itria.
More | we recommend a favorite Salento road trip | read World's End: Santa Maria di Finibus Terrae.
Vieste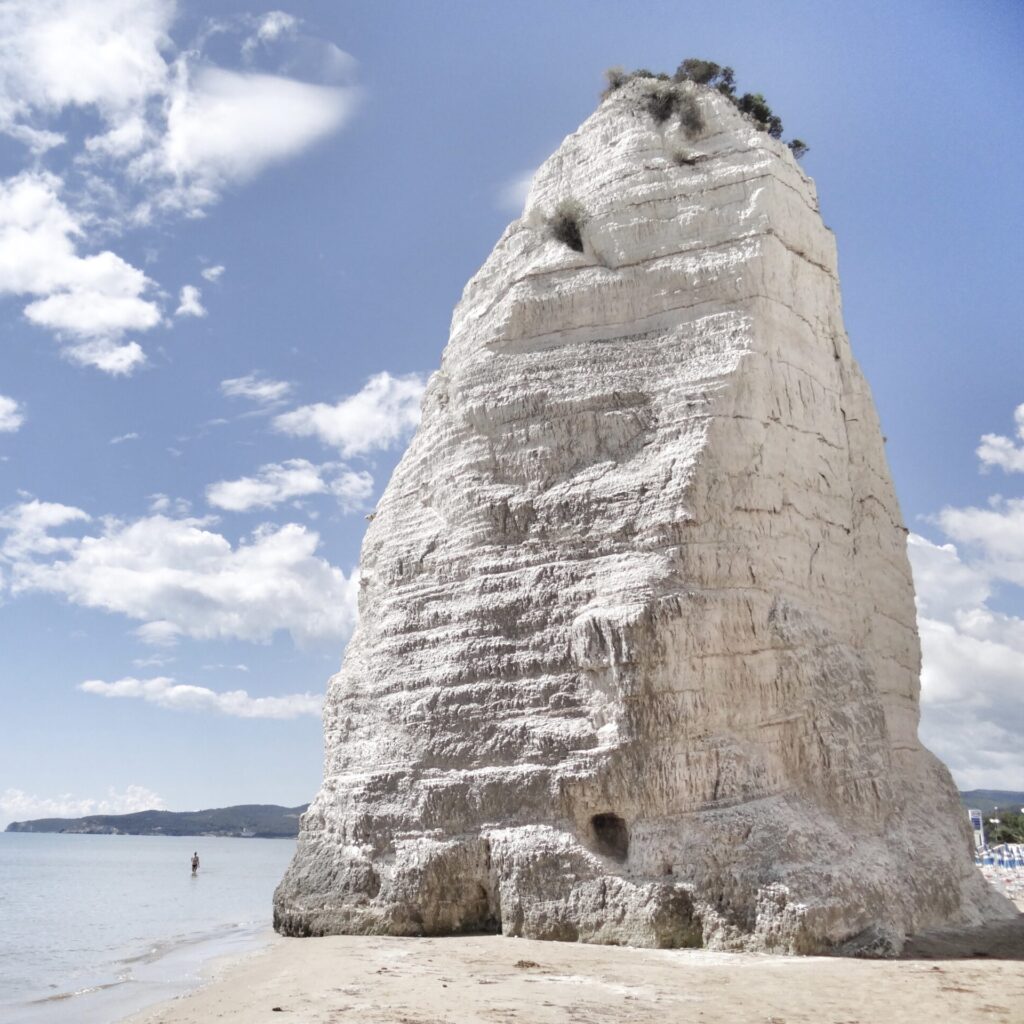 Vieste sits on the furthest tip of the Gargano peninsula making it the perfect base to explore one of the most scenic and the most overlooked parts of our region. Vieste's two beaches, either side of the centro storico, are long stretches of soft white and golden sand. Both are within a 5 minute walk from the town centre. Vieste's old town is a complex knot of winding alleyways and staircases. There is no shortage of nice bars and good restaurants.
Pros | the most overlooked part of our region is also the most beautiful and the most diverse | a perfect base to explore Gargano | bragging rights – you will be away from the main footfall of foreign visitors, so you have every right to feel yours is a more exclusive holiday | no need to drive to the beach or to bars and restaurants.
Cons | if you plan to visit Polignano a Mare or Alberobello take a detour on your way here, or your way home if possible or choose a second base – these are an ambitious day trips to make from Vieste.
More | our road trip to Gargano | read the Puglia Guy's Big Guide to Vieste.
Other considerations
Many of the Valle d'Itria's seaside towns, with chic bars and a bustling evening life, don't have sandy beaches. A trullo in a secluded olive grove is not likely to be accessible by public transport. Using local trains and buses can be cumbersome and time consuming…
The basics
To help you find the best base that suits your needs, here is some useful information about our region.
Beaches | Puglia has a diverse and dramatic coast. White limestone cliffs give way to rocky plateau and shelves. In between are long, sandy beaches. Some are fine and white, others golden and coarser. The water is always somewhere between crystal clear and turquoise.
The best beaches and the most dramatic coastline can be found in Gargano and Salento. The Valle d'Itria lacks the same drama. Its best sandy beaches are found around Savelletri and Torre Canne, Specchiolla and at Torre Guaceto. Unless you are staying at a camping village or holiday resort these are unlikely to be within walking distance.
Public transport | Travelling from town to town inland – even neighbouring towns – is not always easy. Frequent changes and slow journey times are not unusual. Weekend services are less frequent or even non-existent, especially between mid-September to May. In some towns and cities the train stations are some distance away. Ostuni's train station is located 3 km from the city centre. The bus connection is infrequent – even in summer – and taxis to and from there are best booked in advance. But it is possible with planning. This guide to exploring Puglia by public transport has helpful and comprehensive information and links to the train and bus companies operating in the Puglia region (and beyond).
Beyond the Valle d'Itria | The Valle d'Itria is the most visited part of our region, with the greatest footfall of visitors. Most visitors then recommend the wonderful destinations they discovered, encouraging more visitors to them. Following the footfall doesn't necessarily take you to the best parts of Puglia. Be open to less popular – and more exclusive – destinations.
Northern Italians have been coming to Puglia for their summer holiday for many years. Their priority – sun and sea. They tend to avoid the destinations favoured by most international visitors; they prefer the award winning beaches in Salento – Torre dell'Orso, Spiaggia delle Due Sorelle, Pescoluse, Porto Cesareo – and Gargano.
Instead of Polignano a Mare, try Santa Cesarea Terme south of Otranto. The coast plunges suddenly into the sea. It is much quieter and more exclusive yet every bit as spectacular. From there one of the best parts of our region opens up – the coastal route down to Santa Maria di Leuca – taking you to some wonderful and much less well known spots; many among our favourite places to visit in Puglia.
When to visit | August is the busiest time. Most Italians go back to work in September. June is cooler; the heat builds up in July and August. From mid-September public transport services are often less frequent. Many buses from towns and cities to popular beach destinations cease.
Food | good food is always just around the corner. While certain towns have a particular culinary reputation – Ceglie Messapica and Cisternino for example – you will eat well wherever you base yourself. Look out for the sagre food festivals that happen throughout the region all year long.
How long is your holiday?
When planning a visit to Puglia think of our region in three parts; Gargano to the north, Salento to the south and in between the Valle d'Itria. Then there is Bari. An arrival point for onward travel or a base for Bari Vecchia and beyond. The Valle d'Itria, "Imperial Puglia" and Matera in the neighbouring region of Basilicata are easy day trips from there.
A week in Puglia probably means that you want to stay put, spending your days on the beach and evenings having dinner in nearby towns, maybe fitting in a few day trips.
But it is long enough to choose a couple of bases if you want a change of scenery to explore the diversity our region offers.
A longer stay allows more flexibility. You won't need to change accommodation every night of your stay to cover all of Puglia. Two to three nights per destination will provide ample opportunity to explore the extensive pine and vast oak forests and the rolling olive groves that are found inland, with time leftover to enjoy our coastline of white limestone cliffs, secret sea caves and the spectacular sea stacks.
Final thoughts…
Best base for…
Sandy beach and vibrant nightlife, by foot | Vieste | Otranto | Gallipoli.
Rocky beach and vibrant nightlife, by foot | Polignano a Mare | Monopoli | Santa Maria di Leuca.
Exploring the Valle d'Itria | Carovigno | Cisternino | Locorotondo | Ostuni | also consider Ceglie Messapica | Martina Franca.
Exploring the Valle d'Itria plus sea | Polignano a Mare (rocks) | Monopoli (mainly rocks) | Ostuni (for sandy beaches – especially Torre Guaceto's main beach.
Exploring Salento | Lecce | Otranto | Santa Maria di Leuca | Gallipoli.
City life | Lecce | Bari.
Access to public transport | Bari | Polignano a Mare | Monopoli | Brindisi | Lecce.
Avoiding Puglia's most visited destinations | Peschici | Santa Cesarea Terme | Castro | Santa Maria di Leuca.