Building on its historic foundations as a destination for pilgrims, Bari is now an established modern 'city break' destination. Long gone is the old town's 'no-go' reputation. The city is a place to visit for a long weekend. For its cultural experiences, exhibitions and beaches, and for its world-renowned cuisine.
Overview
We are in Bari. Spend an easy morning relaxing at one of the city's urban beaches and take in some culture later in the day. A wide choice of museums await: the civic museum, the archaeological museum, the art gallery. Visit the castle or take in an exhibition at one of the recently refurbished historic buildings championing contemporary arts (Teatro Margherita, the former Fish Market and the Spazio Murat).
Eat epic street food in the courtyards and alleyways of Barivecchia, or soak up the atmosphere at any one of its many restaurants, serving up a menu of traditional, authentic Barese cuisine, a celebration of surf and turf.
In 2019 the City of Bari was recognized as the 5th Best Destination in Europe by Lonely Planet. Tourism, once limited to pilgrims of the cult of St. Nicholas, is now widespread all year round. In 2022 a record number of visitors made Bari Puglia's top destination by nights stayed.
Industrious and industrial, increasingly multicultural. A university city, easy to access on foot or on bike. Bari is a thinking, living, working and improving city.
The old town, known by residents as Barivecchia, between the new and old ports is characterised by a typically medieval urban layout. It stands on a small peninsula where the first prehistoric settlements were located.
Barivecchia has transformed into a vibrant hub with cafés, restaurants and bars while the everyday life of its longtime residents continues as it always did. Front doors open into the cool shadow of the narrow alleyways, the smell of food being prepared and sound of families dining together floats in the background while laundry hangs from balconies to dry in the lazy afternoon heat.
In part melancholic and romantic, it is both a city clinging on to its old way of life and a modern city whose youth seem increasingly inclined to forget long-held memories and customs.
To get the people of Bari and its soul, just wander slowly around the streets, the restaurants, markets, bars and cafes, of Barivecchia. When you do you will discover a city that is vibrant and amazing.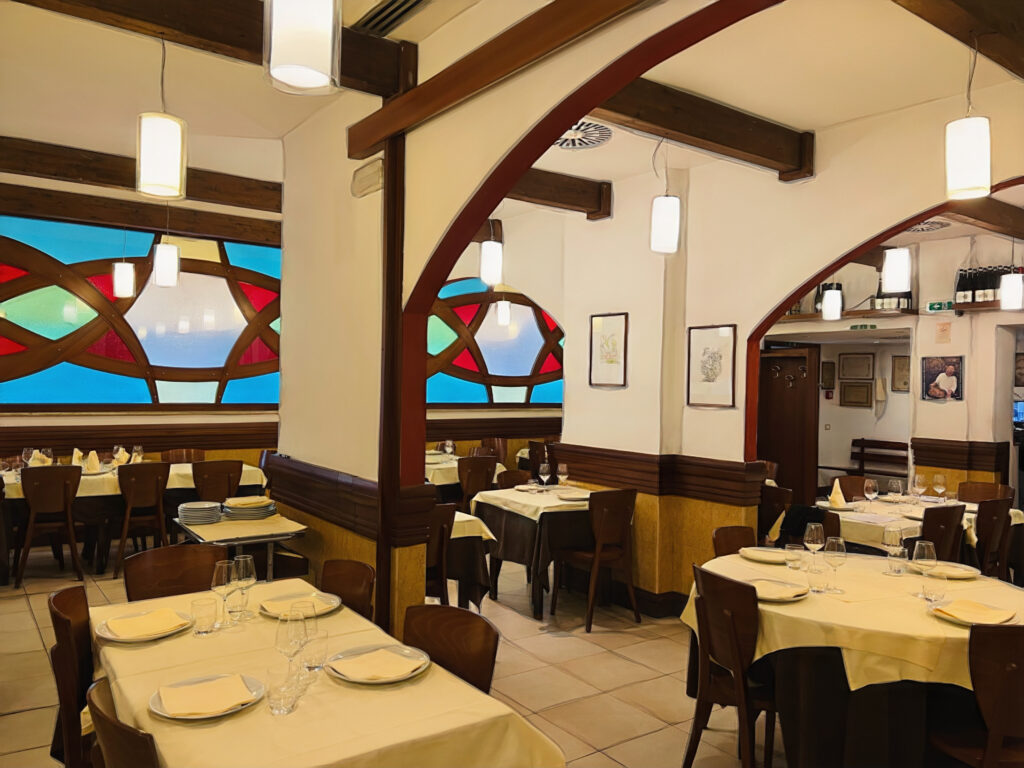 The Bari table
Where better to start your Bari adventure than at the Barese table: il piacere della tavola barese.
Bari Vecchia is a beautiful part of the city that represents the strong bond of the people of Bari with food: here, as in all of Puglia, food is not only nourishment. It is a feeling, a way of expressing friendship, love and affection.
Here you will find, in all their delicious glory, the typical dishes of Bari.
orecchiette con cime di rapa (typical Bari pasta in the shape of a cupped disk, cooked with local broccoli rabe)
frutti di mare crudi (raw seafood)
ragù di braciole (stuffed (horse)meat rolls cooked in tomato sauce)
spaghetti all'assassina (burnt spaghetti fried from raw with tomato passata, garlic and plenty of chilli).
tiella di patate, riso e cozze (potato, rice and mussels baked in layers in a terracotta dish)
focaccia barese (focaccia made with potato in the dough, deep and topped with tomatoes and Bari olives)
panzerotti (fried pizza dough crescents filled with mozzarella and tomato, crunchy on the outside and soft on the inside)
sgagliozze (fried polenta triangles)
cartellate (crunchy Christmas pastry pancakes drizzled with vincotto or honey)
sporcamuss (two small squares of puff pastry, filled with la crema pasticciera and dusted with icing sugar)
Orecchiette con cime di rapa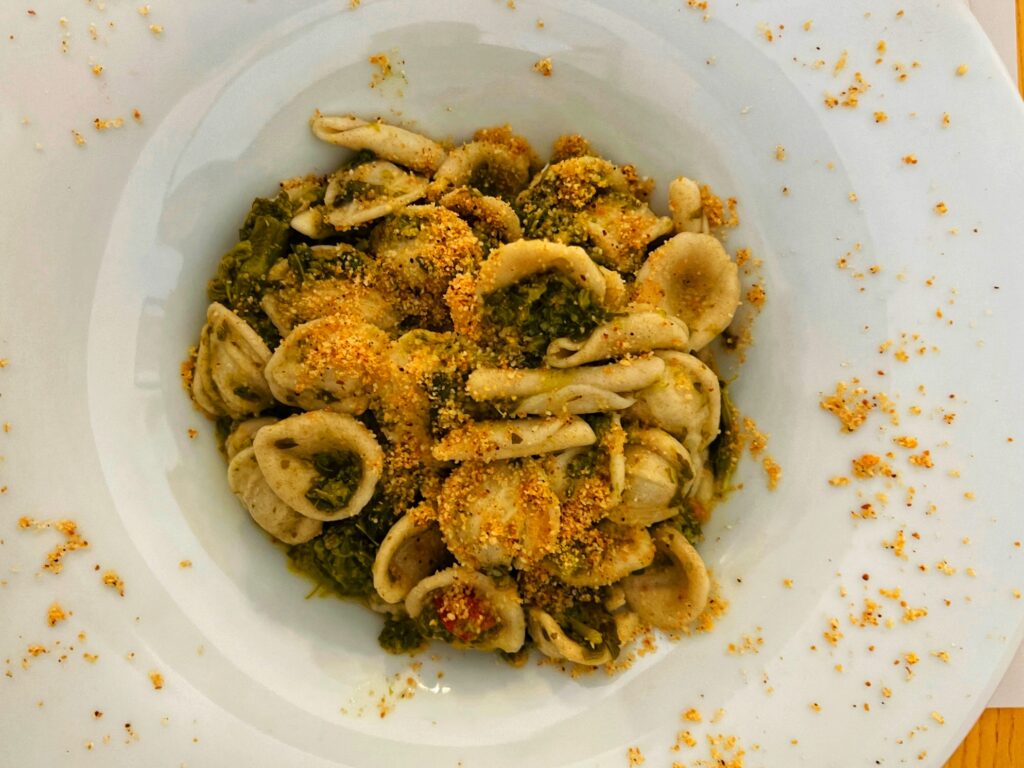 Puglia's iconic pasta shape is traditionally served up with bitter cime di rapa (broccoli rabe). Turnip tops, the misleading literal translation found on menus, is a misnomer.
Slightly sweet, but tending more towards bitter, florets and leaves of the rape are used to make a cooked "pesto" with garlic scented olive oil, melted anchovies and for added piquancy some deseeded red chilli. Golden sautéed breadcrumbs are sometimes added or sprinkled on top. But never grated Parmesan or pecorino!
Eat here | Terranima
Traditional Puglian cuisine in a traditional setting, Seasonal, simple cuisine made with local ingredients and with love. A wide range of fresh pasta, including the orecchiette (which, along with the tiella of potato, rice and mussels, and the braciole al sugo 'delle domenica' are considered specialities of the house). Friendly service. €35-50 | Via Putignano 213 – 215, tel 334 660 8618 | Facebook.
Closed: Sunday nights

Eat here | Osteria Sopravento
It's hard to go wrong no matter what you choose. As well as orecchiette with cime di rapa, another version comes with prawns. Alternative try the trofei pasta with baked tomato sauce. Or the three-cooked octopus, caramelised onion, vegetable caponata. A nice selection of wines from small local cellars served with typical Bari hospitality. €20-35 | Corso Vittorio Emanuele II 35, tel 335 630 1019 | website.
Closed: Tuesday
Holidays: between January and February

Buy here | Strada 'delle Orecchiette'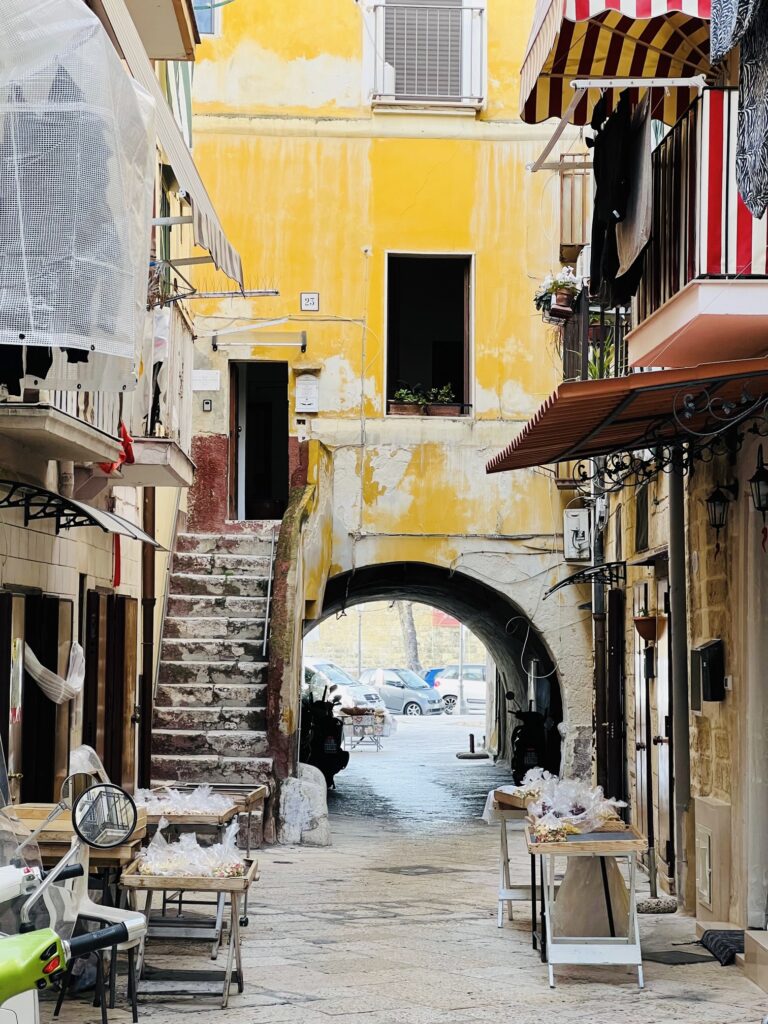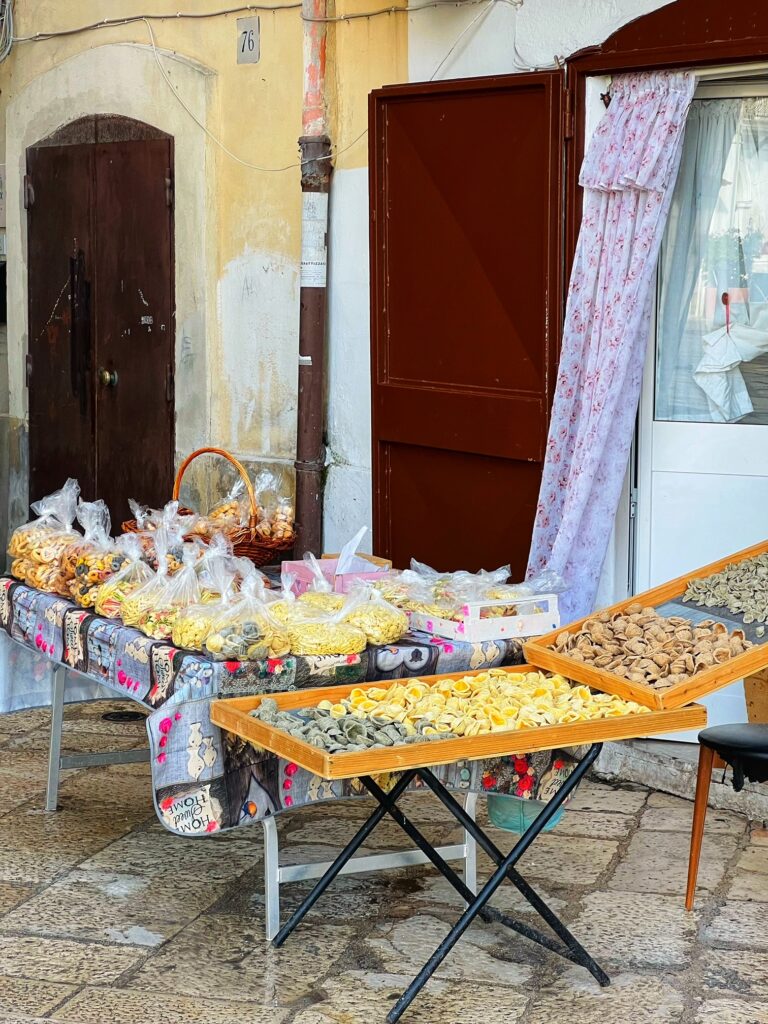 Orecchiette, troccoli, cavateli: in Strada Arco Basso, the heart of old Bari, watch the famous Bari ladies who prepare and sell fresh pasta on their doorstep. These 'nonne' have transitioned from tradition into legend!
Frutti di Mare Crudi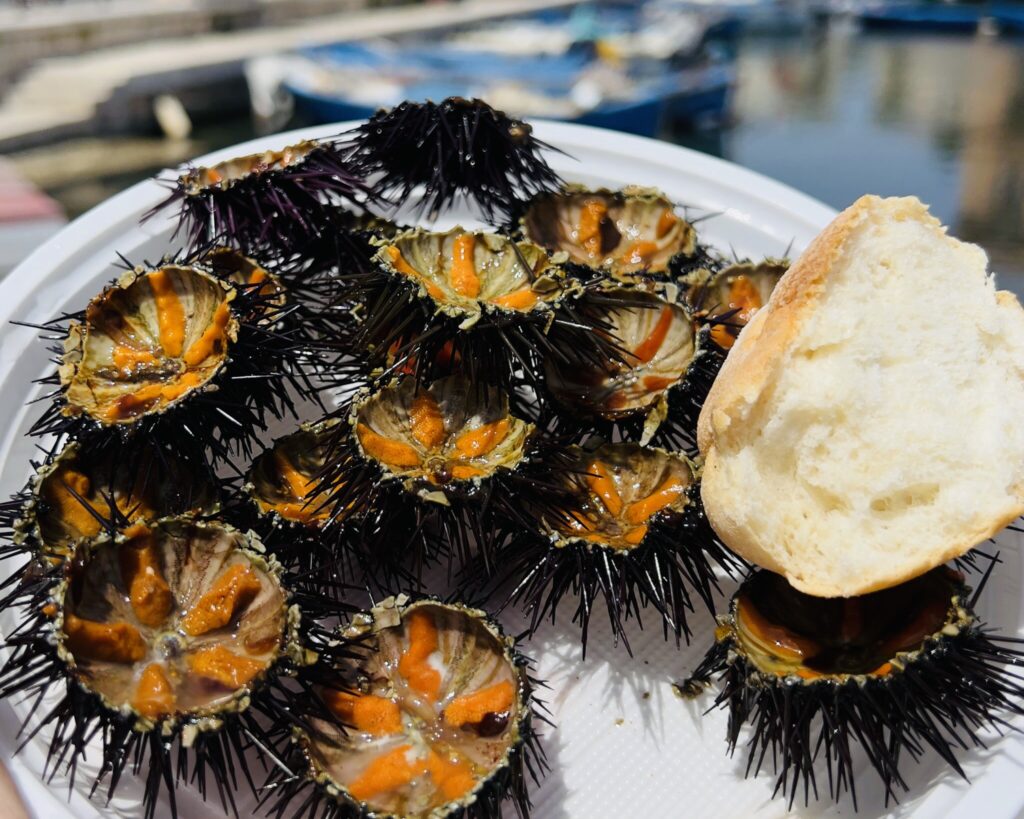 Il crudo barese is the raw fish tradition of Bari. At the old port fishermen serve up their catch of the day. It is thought that Bari's passion for crudo di mare originates as far back as the Neolithic period when, following a climate crisis, food became scarce. Shellfish became the basis of the diet of Bari's ancient inhabitants.
Sea urchin with savory fragrant orange flesh can be eaten fresh. With bread we fare la scarpetta and scoop out the flesh. Taken home, it makes a favorite pasta sauce.
Octopus is the next prized catch. Stirred for at least an hour arrzzè u pulp, ensures its tenderness for eating raw. Tenderising or 'curling' it is an art passed down the generations. Il "miracolo" dell'arricciatura del polpo: the miracle of curling the octopus to make it as tender as possible.
Referred to in Bari as the 'king' of the table it has great versatility in the kitchen. Small ones are eaten raw, the medium ones roasted or fried and the bigger ones are boiled and seasoned with oil, garlic and parsley for a salad or cooked 'al sugo'.
Eat here | Porto vecchio
Enjoy freshly caught raw seafood served up by the fisherman returning to port. We recommend freshly opened ricci (sea urchin) served with a hunk of bread and a wedge of lemon with a cold beer (here there is an unwritten rule: the beer must be Peroni and it must be absolutely ice cold). Choose from the catch of the day: sliced octopus, calamari, urchins, prawns and the pinkest shrimp, plump oysters and juicy mussels. €7 (includes Peroni from El Chiringuito) | Mola San Nicola.
Eat here | Ai 2 Ghiottoni
Carpaccio, tartare, fillets, scampi and king prawns in ice and that's just for starters. Paccheri with prawns served with a red and yellow cherry tomatoes yellow are not to be missed and, when in season, spaghetti with sea urchins is another favourite. €50-70 | Via Nicolò Putignani 11b, tel 080 523 2240 | website.
Closed: Sunday nights
Eat here | Al Pescatore
Serving the freshest of fish for over fifty years. Select from the catch of the day on display, though do not limit yourself to the raw seafood. Wholemeal spaghetti with bream, monkfish, red prawns, datterino tomatoes and mullet roe, fresh seafood pasta, paccheri with monkfish ragù and, of course, roasted tuna or swordfish steaks. €50-80 | Piazza Federico II di Svevia 6, tel 080 523 7039 | website.
Eat here | Pescobar
Trendy streetfood fish and sandwich bar serving up fresh fish and seafood in panini. Choose fresh, raw and filleted fish (tuna, salmon, swordfish and cod) tartare and salads. There is a cooked fish selection too. Try the one with lobster and crab or with tuna tail. Crispy fried mussels, cod croquettes, oysters, tataki, tuna or salmon sashimi to take-away. And, of course, the obligatory octopus panino. €10-15 | Largo Adua 29 | Facebook.
Eat here | Crudi Crudi
This restaurant is outside Bari city (12 km away from Barivecchia, an easy drive continuing along the lungomare and onto Torre a Mare) but is such an experience, in an original location overlooking the sea, that we wanted to include it. The restaurant is only open from May to October. From the fish market come mussels, oysters, shellfish and amazing fish carpaccio. The 'frittura' of fried fish, mussels and mint-scented octopus balls is a joy. There is of course wonderful primi: including paccheri with red prawns and seafood clams. €15-25 | Via Della Marina 3, Torre a Mare, tel 080 332 3539 | website.
Closed: November to April
Ragù di Braciole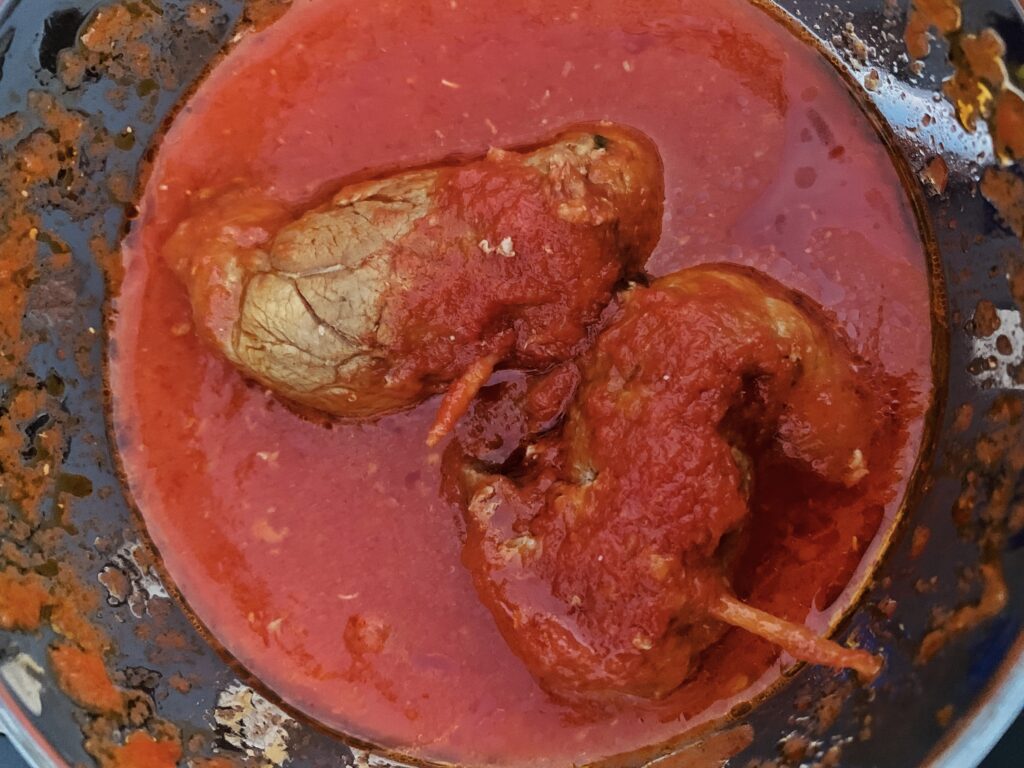 In Puglia the braciola is not the 'chop' cut of meat as elsewhere in Italy. These are what the rest of Italy calls 'involtini'. Succulent meat rolls of medium-large size (10-15 cm), prepared with slices of horse or veal and variously stuffed with a variety of fillings ranging from roughly chopped celery leaf to Canestrato cheese, pecorino, sliced pancetta, chopped garlic, raisins, pine nuts and parsley, seasoned well and then closed with a toothpick.
Left to cook slowly – the slow cooking is essential – with tomato sauce and a light sauté of garlic and thin onion. At home the sugò will often be used on pasta served as primo with the meat served on its own as a second course. In restaurants the braciole will usually be accompanied with orecchiette. Just remember to remove the toothpicks first.
This is a dish that speaks tradition and memories of Sunday lunch around the family table. Wander around the alleys of Barivecchia on Sundays the fragrant scent of the braciole sauce as it cooks for hours and hours will find you.
For the people of Bari, and Puglia, this smell means one thing: home.
Eat here | Locanda di Federico
Tradition is important, though with a hint of a contemporary touch. You feel the history in this restaurant located in the piazza that draws us into the heart of Barivecchia. Surf and turf are usually on the menu. Orecchiette is served separately, rich with the ragù. The braciole are the 'sapori di casa', made with horsemeat. €25-35 | Piazza Mercantile 63, tel. 080 522 7705 | website.
Closed: Tuesday
Eat here | In Vino Veritas
The braciola ragù is served with orecchiette and accompanies many excellent dishes both from the sea and from the land, from spaghetti all'assassina to cavatelli with seafood. €25-35 | Corso Vittorio Emanuele II 31, tel. 080 9642880 | Facebook.
Closed: Monday

Spaghetti all'Assassina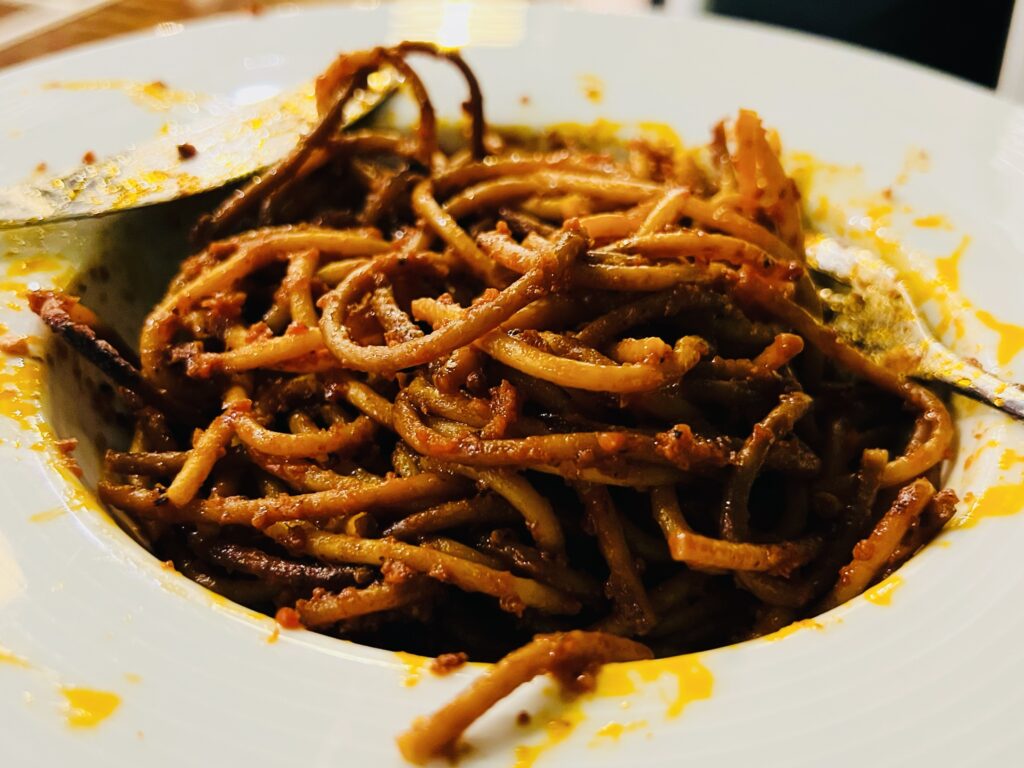 Also known as spaghetti bruciati (burnt spaghetti), the spaghetti in this dish isn't boiled, but is instead placed – raw – into a black iron frying pan containing a mixture of tomato passata, garlic and plenty of chilli. Once crisp, the pasta is cooked 'risottata' (risotto-style), with tomato broth added ladle-by-ladle, until the pasta is cooked, red with tomato sauce and chilli, slightly burnt and crunchy at the right point. The quintessence of Bari at the table.
Spaghetti all'assassina has suddenly gone from being a recipe loved by the people of Bari to one of the most Googled and Instagrammed dishes in Italy, and beyond.
The renewed interest in the dish is in part thanks to two well-known Italian writers of the 'Mediterranean noir' genre. Well suited to the role as the name suggests, spaghetti all'assassina becomes an integral part in the plot of novels by brothers Gianrico and Francesco Carofiglio (La casa nel bosco) and by Gabriella Genisi (Spaghetti all'Assassina).
Eat here | Al Sorso Preferito
No homage to Bari's spaghetti all'assassina would be complete without eating the dish at 'source'. Served piping hot and wafting a glorious burnt scent, we almost cried. 11€ for a very generous plate, 2€ cover (included bread and potato chips), 3€ glass of house negroamaro. Via Vito Nicola De Nicolò 40, tel 0805 235747 | website.
Eat here | Urban L'Assassineria Urbana
Located in the hipper University quarter in downtown Bari, the restaurant focuses on spaghetti all'assassina. On our visit there were nine different versions with two "specials" which change every month. With so many variations to try, we went for the classic and also tried the 'full house' with tuna tartare and smoked burrata. We will return for the 'cacio e pepe' assassina, the 'san juannidde' and the 'cantabria'. Via Nicolai 10, tel 080 645 8469 | website.
Eat here | U'Kor
The new kid on the block. We predict this will quickly become the must eat 2023 destination on Bari's increasingly trendy assassina trail. Made with thinner rice noodle, vegetables, some Korean spices and chilli paste. But it blew us away with crisp, crunchiness perfectly suited to this dish, a classic fusion and innovation of crossover cuisine. And the fragrant basil leaf lifted it beyond wonderful! We had kimchi focaccia baresi (another amazing fusion), assassina, 2 glasses of bio wine, coffee and 2 digestivi (one was an amazing Korean digestivo), all for 25€. Via Roberto da Bari 130, tel 080 918 8664 | website.
Tiella di patate, riso e cozze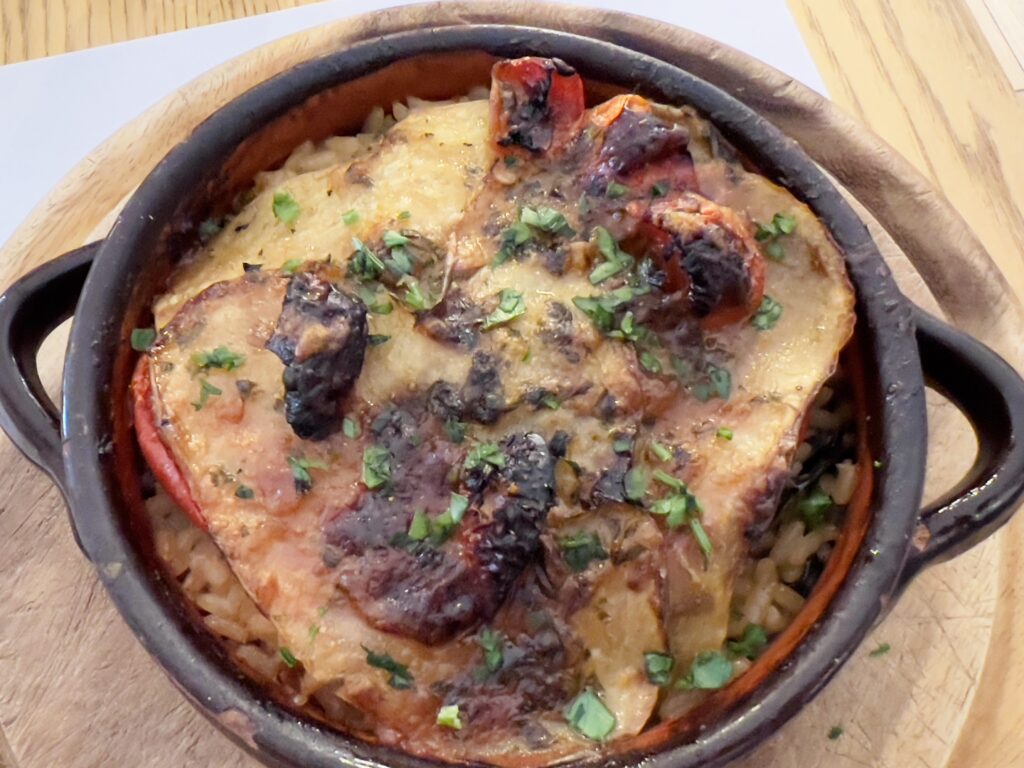 A gratin of rice and potatoes and mussels on the half-shell, arranged in layers in a terracotta dish (the tiella) with onions, mussels, tomatoes and pecorino and baked until a glorious golden crust forms.
Originating from Bari as a meal for festival celebrations, patate, riso e cozze is now eaten across Puglia whenever mussels are in season. But a debate still rages over this dish of double carbs. Is it potatoes over rice and mussels, or is it rice, potatoes and mussels? Menus in the restaurants of Barivecchia suggest the former!
Elsewhere in Puglia, especially in summer, you might find some courgette added, particularly around Salento. Thoroughly typical of Bari's 'cucina povera' tradition that celebrates surf and turf on one plate.
Eat here | Tiella Officina del gusto
Modern trattoria serving up traditional dishes using a few simple ingredients and long cooking techniques. €30-35 | Via S. Cognetti 11-13, tel 080 523 6960 | website.
Eat here | Al Pescatore
In addition to a 46-page wine menu they have a wonderful tiella of rice, potatoes and mussels. €50-80 | Piazza Federico II di Svevia 6, tel 080 523 7039 | website.
Eat here | Le Arpie
Tucked away in the heart of Barivecchia, this traditional tavern is found in a narrow courtyard just under the Arco del Carmine arch. Hard not to be drawn in by the smells of traditional cooking. €30-35 (fixed menu including cover for €25) | Vico Arco Del Carmine 2, tel. 080 521 7988 | website.
Focaccia barese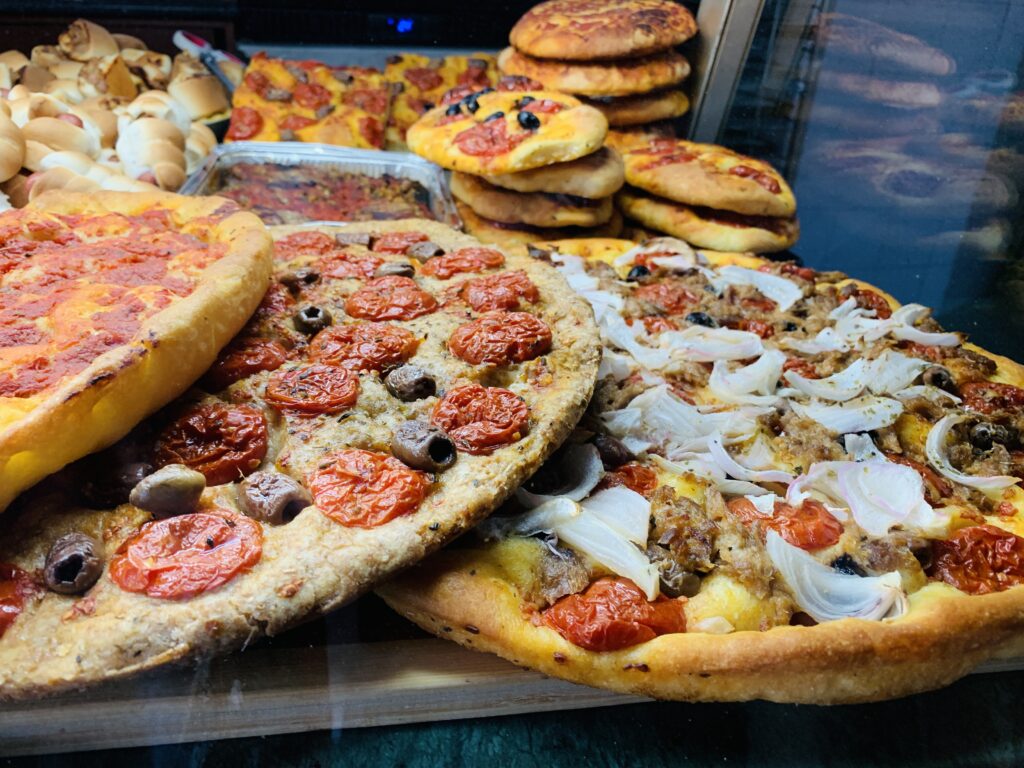 Focaccia bread with boiled potatoes mixed into the dough, topped with fresh cherry tomatoes and olives (other toppings are available). Street food that really is eaten in the streets, as the residents of Bari 'hurry' (this is southern Italy, all things are relative) to their next meeting. You will find it everywhere. Buy it from your local panificio al forno in Bari. Try it from Panificio la Pupetta (Via Benedetto Cairoli, 25), El Focacciaro (Via Salvatore Cognetti, 43).
Panzerotti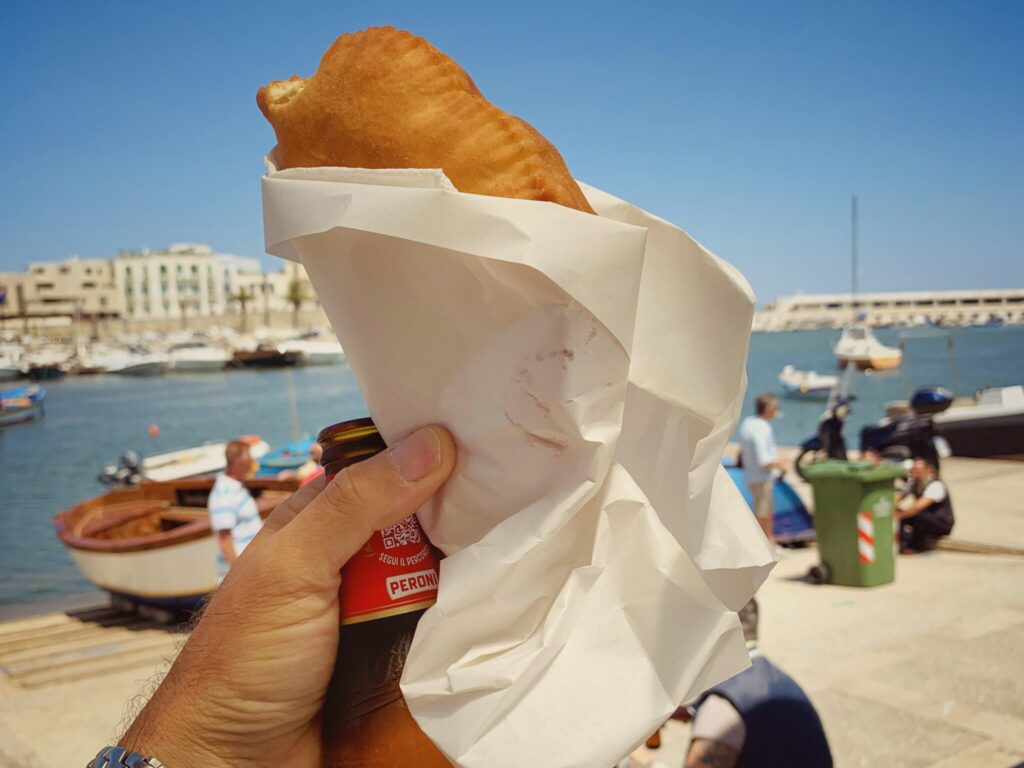 Epic street food from Puglia. Folded over half-moon dough, stuffed and (typically) deep fried. Diced mozzarella and tomato is the classic filling, but more adventurous include mozzarella, guanciale, gorgonzola, 'nduja and slowly cooked onion. Best enjoyed with an ice cold Peroni at El Chiringuito on the Mola S. Nicola at Bari's old port.
More | Puglia by Food
To discover what other dishes await beyond Bari, check out our Puglia by Food page.
More | the Big Bari City Guide