Gallipoli | A Tale Of Two Cities Entwined in the Current of Tide and Time
The Greek influence on Puglia's Salento peninsula is ever present. Road signs tell us we have arrived in "Magna Grecia" – greater Greece. There are directional signs to follow to Greece (via the Brindisi ferries). Griko, a dialect that can be traced back to classic Greek origins, is still spoken in the villages south of Lecce, particularly those around Otranto on the Adriatic coast to Gallipoli on the Ionian, where Greek cultural identity was at its strongest.
Spanning time and tide, Gallipoli's name reveals its Greek origins: Kalè Polis ("beautiful town"), the ancient name given to the fishing village and port that comprise the old town. At the heart of Gallipoli's narrative stands another bridge – a physical connection uniting two worlds, connecting the old and the new, the quiet and the vibrant.
On one side of the 16th century Ponte Città Vecchia old town bridge perched on a limestone island jutting into the Ionian Sea, Gallipoli's old town whispers stories of a centuries old fishing village insulated by its ancient city walls. On the other modern Gallipoli radiates a different energy. A hub of contemporary life, brimming with vibrant shops, bustling piazzas, and a thriving cultural scene.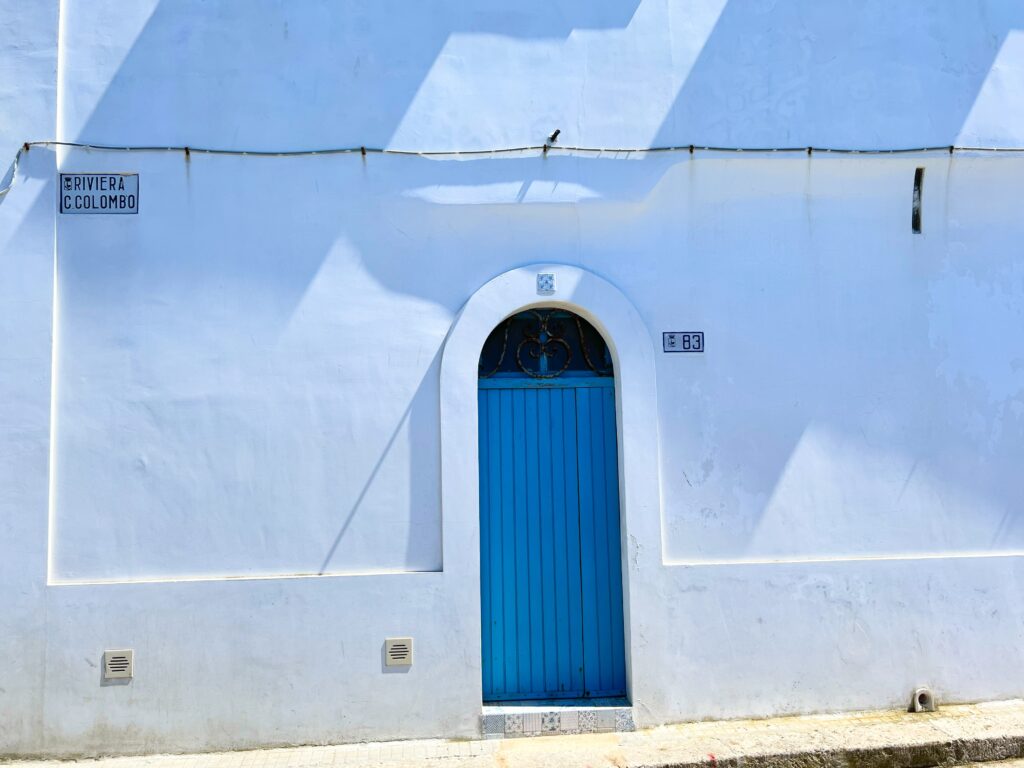 But tide and time wait for no one and these days Gallipoli's charismatic split personality spills over into the old town. By day its fishermen residents sit in cool shade forged out of sun-soaked alleys lined by whitewashed facades, to chat, drink and mend their nets, living out a past history. It seems as if modern life has failed to intrude upon them. But as the sun dips below the horizon, Gallipoli's transformation is undeniable. During the summer season it undergoes a metamorphosis, transforming into a pulsating party mecca.
From Whispers to Roars | Gallipoli Unleashed
Gallipoli has become a hotspot for travellers seeking both history and hedonism. The summer season sees a seismic shift as Gallipoli becomes synonymous with revelry and celebrations extending well beyond the old and new towns. Nearby beaches – especially those in and around Baia Verde – echo with the rhythms of music festivals, vibrant parties, and a diverse crowd. Beach clubs, bars, and open-air discos pulse with energy, their neon lights casting kaleidoscopic reflections on the waters. International DJs spin tunes that resonate with the waves, as revelers from around the world unite to dance beneath the stars.
A Stroll Through Time | Our Gallipoli To Do List
The old town stands testament to the town's deep-rooted history. With each step nearer its heart it's as if you've stepped back in time. The narrow winding streets, lined with pastel-colored buildings adorned with vibrant flowers, create a postcard-worthy scene.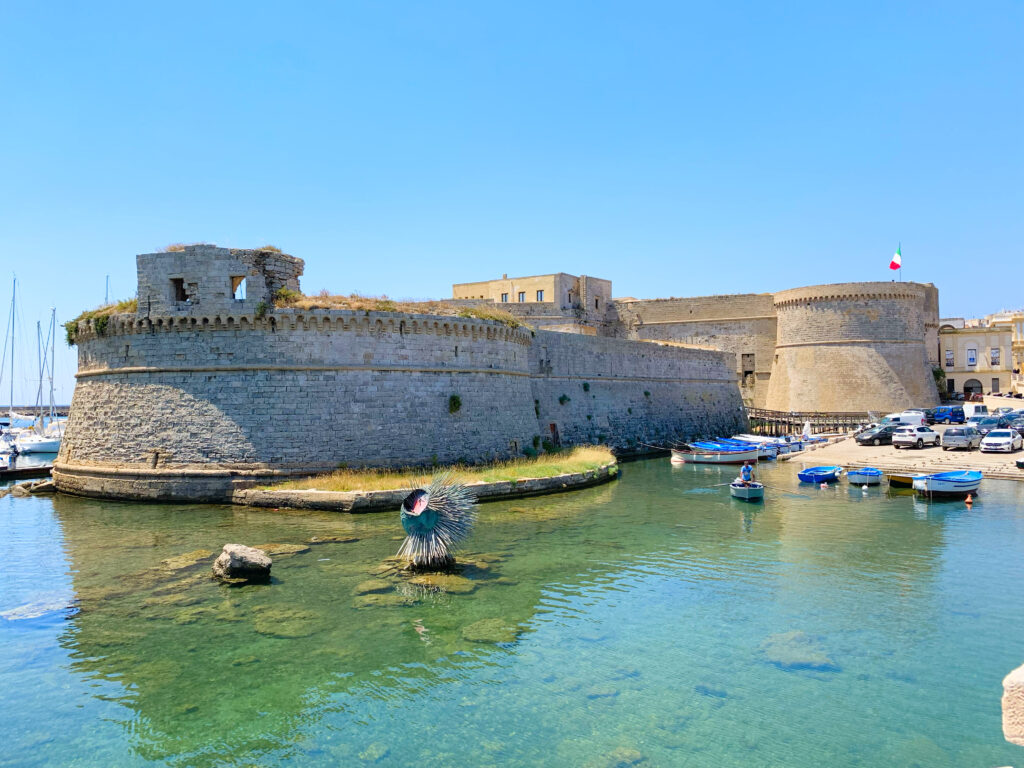 The Castle of Gallipoli | Start your journey at the Castle of Gallipoli, perched on the town's eastern edge. Dating back to the 13th century to defend the town from invaders, this fortress is now a cultural centre. Climb its ancient ramparts for panoramic views of the surrounding sea and town.
Walk the Sea Wall | Walking around the town's perimeter to spot charming seafront cafes, restaurants, and observe fishermen at work in their colourful boats by the port is a good way to take in Gallipoli at the start of any visit.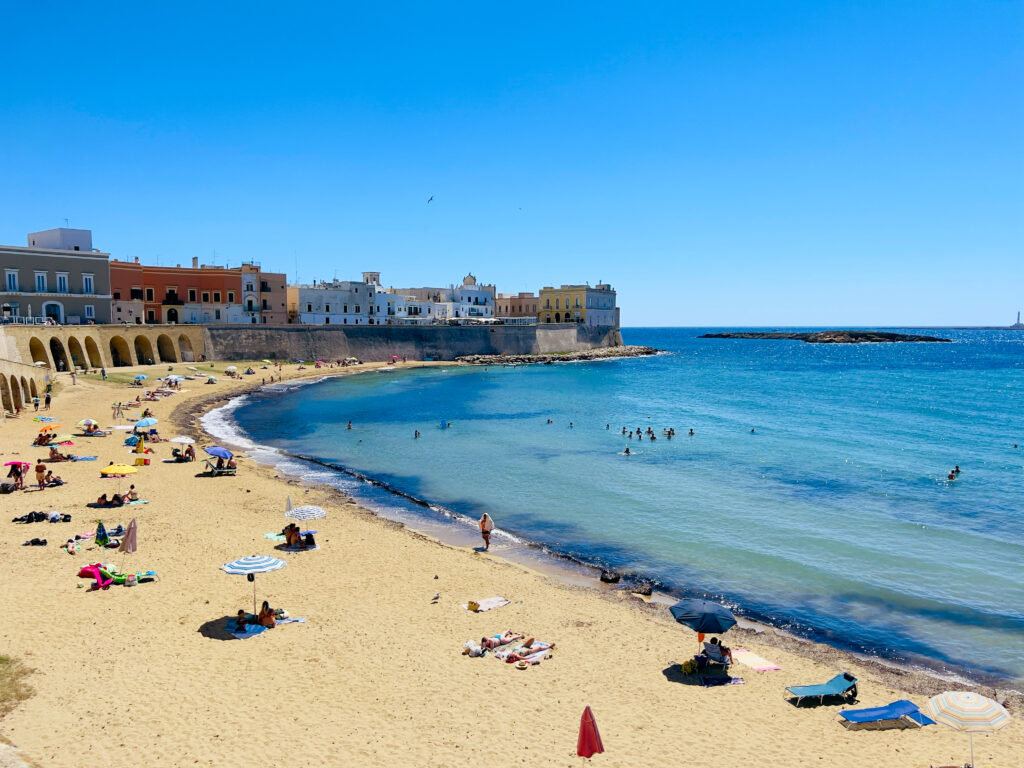 Spiaggia della Purità | The city beach marks the half-way point around the old town perimeter. A favourite city beach, la purità is the perfect place to soak up the sun and sea breeze, and to watch the sun set of an evening.
Baroque Splendors | Stroll through the old town's labyrinthine alleys to discover its Baroque churches. Gallipoli boasts many churches. The Basilica of Sant'Agata and the Cathedral of Saint Agatha are architectural masterpieces, adorned with ornate facades and elaborate interiors. At la Chiesa della Purità you might pause to gaze at the mosaic inset in the paving. As you walk around the sea wall notice the many small Baroque churches squeezed into the spaces between buildings looking out toward the island of Sant'Andrea, with its lighthouse. It is easy to imagine them as fishermen's chapels where the Madonna of the Angels and San Luigi listened to the prayers of anxious fishermen's wives. In fact these churches were founded centuries ago by the town's craft fraternities – coopers, rope makers and others – reflecting Gallipoli's history as a bustling maritime hub when its port was the export point for the wine and olive oil of the whole Salento. The wealth accumulated explains the richness of its church interiors.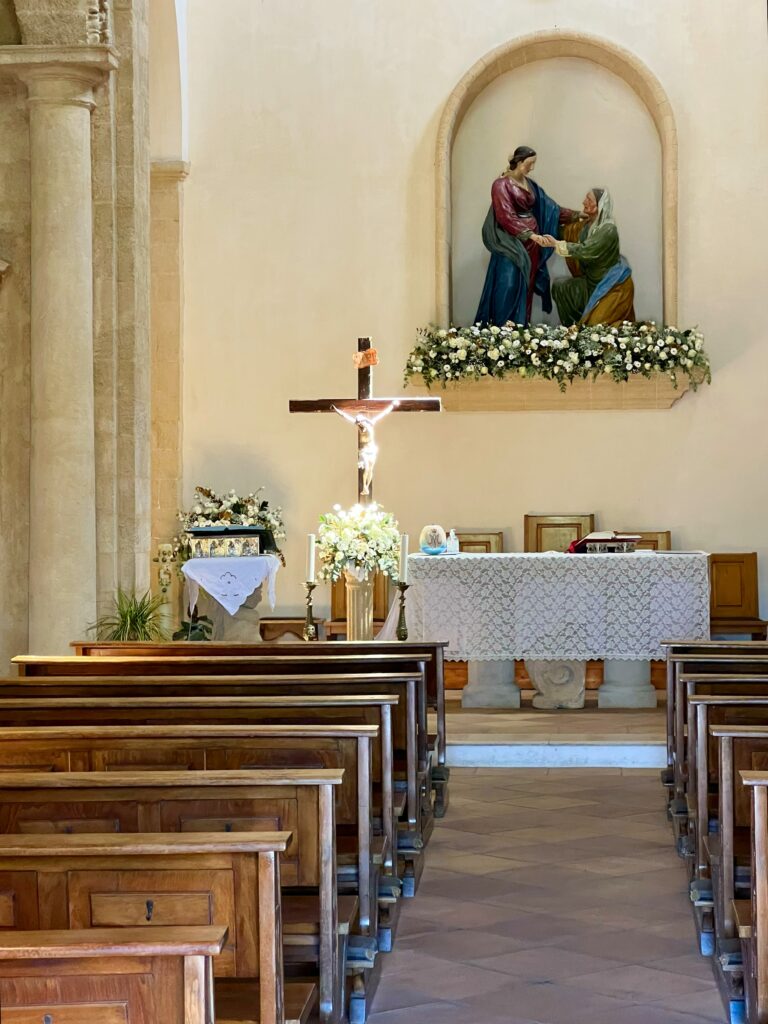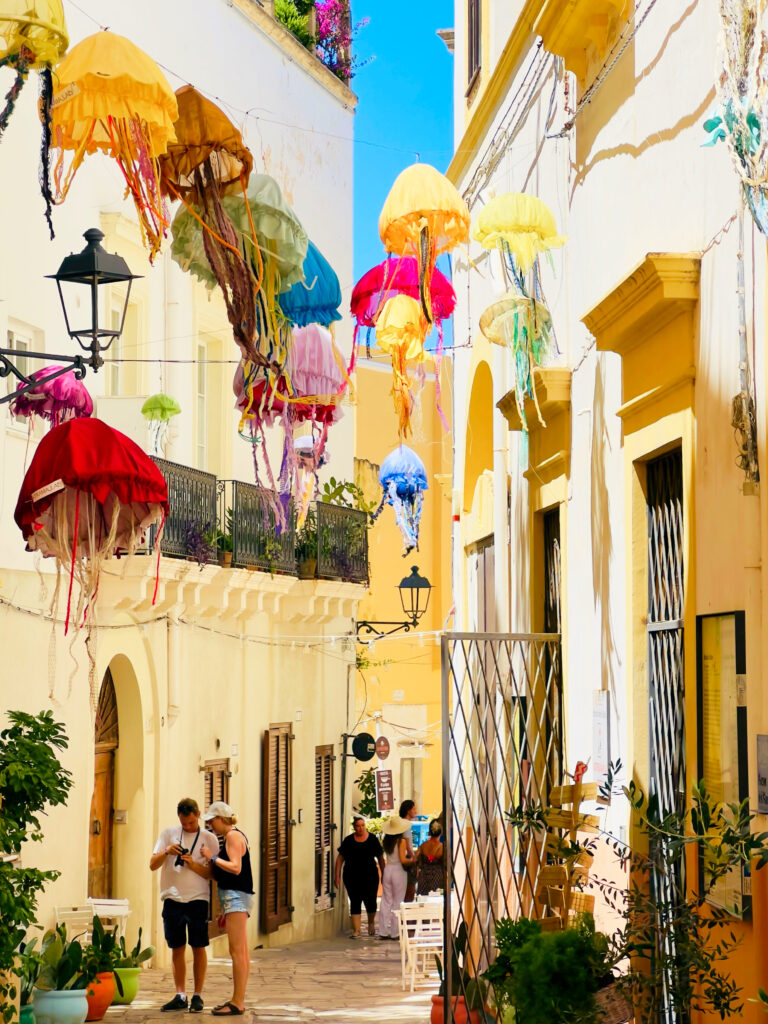 The Fishing Port | Make your way to the picturesque fishing port. Here, you can watch fishermen at work, and if you arrive early enough, you might even witness the daily fish auction. The port is also dotted with charming seafood restaurants where you can savor the freshest catch of the day.
Explore the Centro Storico | Having navigated the perimeter, discover the heart of Gallipoli's centro storico. Take your time to meander through its winding streets, alleys, and hidden corners. Here you can discover the longtime residents going about their daily business, the fishermen mending their nets or weaving lobster pots and fishing baskets.
Corte Gallo di Gallipoli | a traditional courtyard famous for its well-preserved medieval architecture. Surrounded by narrow cobblestone streets, with whitewashed buildings adorned with plants and colourful flowers, archways and terraces delight the eye, you'll feel as if you have stepped back in time. Discover quaint shops, artisan boutiques and local artisans showcasing traditional crafts.
Gallipoli Sunsets | Gallipoli offers breathtaking sunsets. Savour this daily spectacle with a glass of local wine and olives from a rooftop terrace or on a nearby beach.
Day Trips | Gallipoli's location makes it an ideal base for day trips. Head south to Santa Maria di Leuca, which has a unique belle epoque feel, or cross over to Otranto on the Adriatic. It's an easy drive to Lecce, or head up the Ionian coast to Nardò and the wonderfully wild Porto Selvaggio beach and nature reserve.
Taste Gallipoli | Where to Sip and Savour: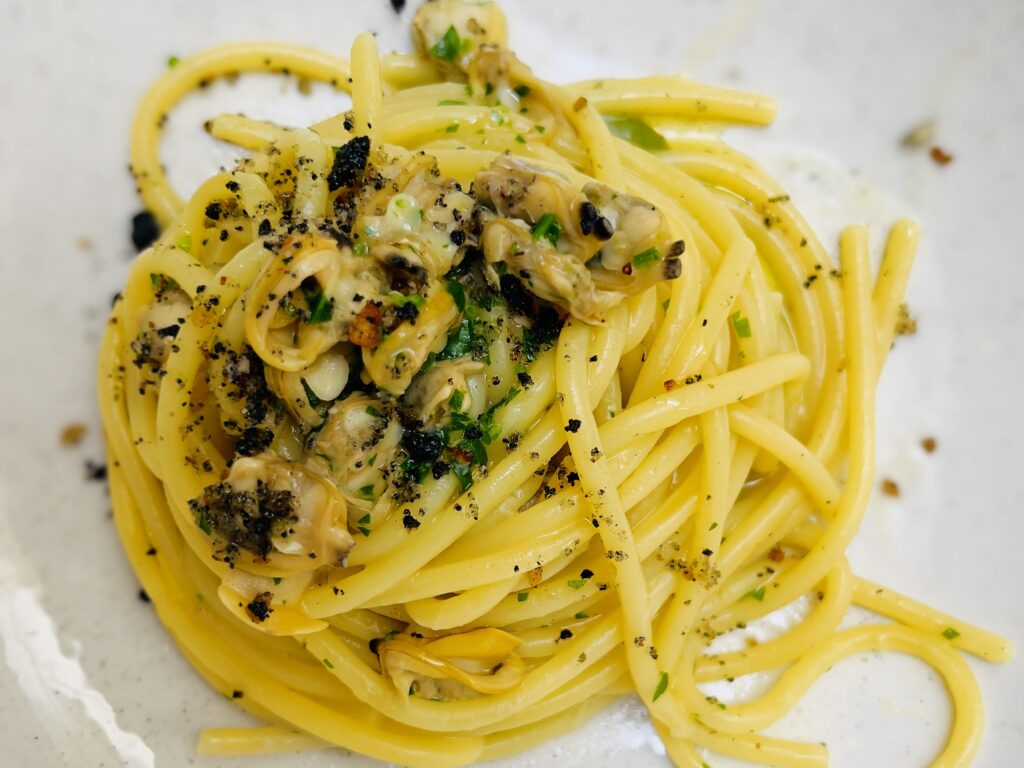 As usual, good for is only just around the corner wherever you are in Puglia. Bad food is hard to find. We encourage you to follow your nose rather than fret over fear of missing out. But by way of appetiser we keep going back to:
Trattoria La Puritate: For lunch or dinner, head to La Puritate, a rustic trattoria known for seafood dishes, all while enjoying the serene views of the sea. | Via Sant'Elia, 18 | trattorialapuritate.it
Ristorante Il Bastione – Terrazza sul mare. Family run restaurant whose fresh seafood comes from the fishmarket stall of their fisherman brother. Beautiful panoramic views over the sea, and a perfect view of sunset | Riviera Nazario Sauro, 28 | ilbastionegallipoli.it
Martinucci: No visit is complete without gelato. Satisfy your sweet tooth at Martinucci where you can indulge in a variety of artisanal gelato flavors | Riviera Armando Diaz, 129 | martinuccilaboratory.it
If you arrive in Gallipoli by car, you can't drive over the bridge into the centro storico. Park in the 'new city' and walk over the bridge.
More Puglia | where is the best base for your vacation in Puglia?