In this companion guide for Apartment Q40 Ostuni guests, we describe how to get here, where to park, shopping facilities and some recommendations where to eat and drink. We include links to our favourite guides to Ostuni, to Puglia's beaches, must try regional dishes and curated restaurant and bar recommendations.
Follow us on Instagram and listen to our #PugliaPerfect playlist to put you in the mood! Our hashtags are:
#Q40ostuni #PugliaPerfect #PugliaGuys
Fast Forward >> Contents
Getting to Ostuni from the airport
We assume that you will be arriving at either Bari or Brindisi airport, and hiring a car. For information on using public transport we recommend this guide to using public transport in Puglia.
Brindisi (Salento) airport is closer to Ostuni. It is 38km (a 32-minute drive). Bari airport is 99km away by road (approximately 1h10m by car). We suggest setting your sat nav to one of Ostuni's main public (pay) car parks at Via Giosuè Pinto, 27, 72017 Ostuni when you first arrive. It is easier to get to until you have your bearings, and Apartment Q40, Ostuni is only a short walk (450m). See the 'Parking' section below.
If Ostuni is not your first or last destination then as a general rule of thumb we suggest choosing Bari airport if your onward destination is north of Alberobello. If you are staying in Alberobello or further south, then Brindisi airport will be closer.
If you are using public transport this guide has information on airport connections by train and bus from Bari and Brindisi airports.
Bari airport
Bari International Airport-Karol Wojtyla is Puglia's main airport. It has more direct international flights than Brindisi airport, as well as regular connections to and from Rome, Milan and other destinations in Italy.
The car hire desks are in the main airport terminal, at the end of the arrivals area. Turn left as you exit the baggage collection arrivals section into the main terminal arrivals area. Car hire collection (and drop off) areas are a short walk beyond the terminal building. Continue down the outside of the train station entrance, the building immediately adjacent to that end of the main terminal building.
The airport is on the northern side of Bari. Driving south will take you onto the SS16 Bari tangenziale ring road, probably the busiest section of road in Puglia. Follow the tangenziale all the way around and out of Bari and stay on the same highway for some 85km, which more or less follows the Adriatic coast. Take the Pilone exit toward Rosa Marina/Pilone where you take the SP19 (3rd exit at the roundabout, in effect straight ahead) for 5.6km all the way into Ostuni. The recommended parking spot takes you around the eastern side of Ostuni, avoiding the city centre.
Brindisi airport
Brindisi airport is the smaller, more modern airport of the two. It is easy to navigate.
The main car hire desks are in a separate, stand-alone building adjacent to the main terminal building. Turn left when you exit the baggage hall into the arrivals section of the main terminal building. Walk up towards the check-in and departures section at the top end of the terminal building. Exit where the check-in desks are and turn left, continuing in the same direction to the next door building for the car hire desks. The collection (and drop-off) areas sit around the building.
It's an easy drive from the airport onto the SS39 main Adriatic highway. Stay on the highway for 23km until the Torre Pozzella exit, and follow the ramp off around and over the highway bridge, turn right and continue straight on the side road for 500m until the 1st exit on the left (Ostuni Costa Merlata/SP21). Stay on the SP21 for 6.8km until you come to an elongated roundabout. Take the first on the right onto Contrada Rosara. In 850m turn left onto Via Giosuè Pinto which curves round to the car park.
Parking
On street free parking is available directly outside the apartment, and in the nearby streets. This is on a first come first serve basis. Wherever you are in Ostuni (and indeed in any town or city in Puglia) finding a free parking space can be challenging. These towns were built for carts and horses.
We suggest that when you first arrive you use one of the nearby pay public car parking areas located at Parco Rimembranze (500m walk from Apartment Q40, Ostuni) and Ostuni Parking 'Al Giardino' at Via Giosuè Pinto, 27, 72017 Ostuni (450m). The Parco is the park area with the blue outline and Al Giardino is the solid blue rectangle. Apartment Q40, Ostuni is shown by a red dot and the arrows.
We are happy to show you around the nearby parking once you have checked in.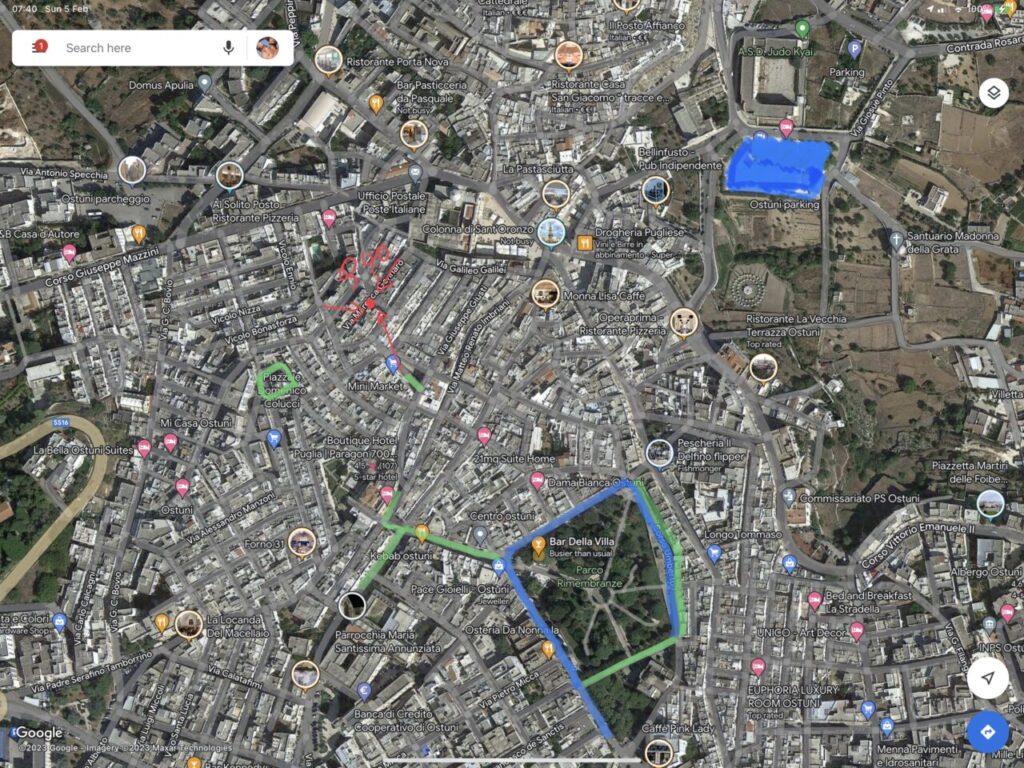 Blue areas shown on the map are the pay parking spots. The green areas are free public on street parking spaces available on a first come first serve basis.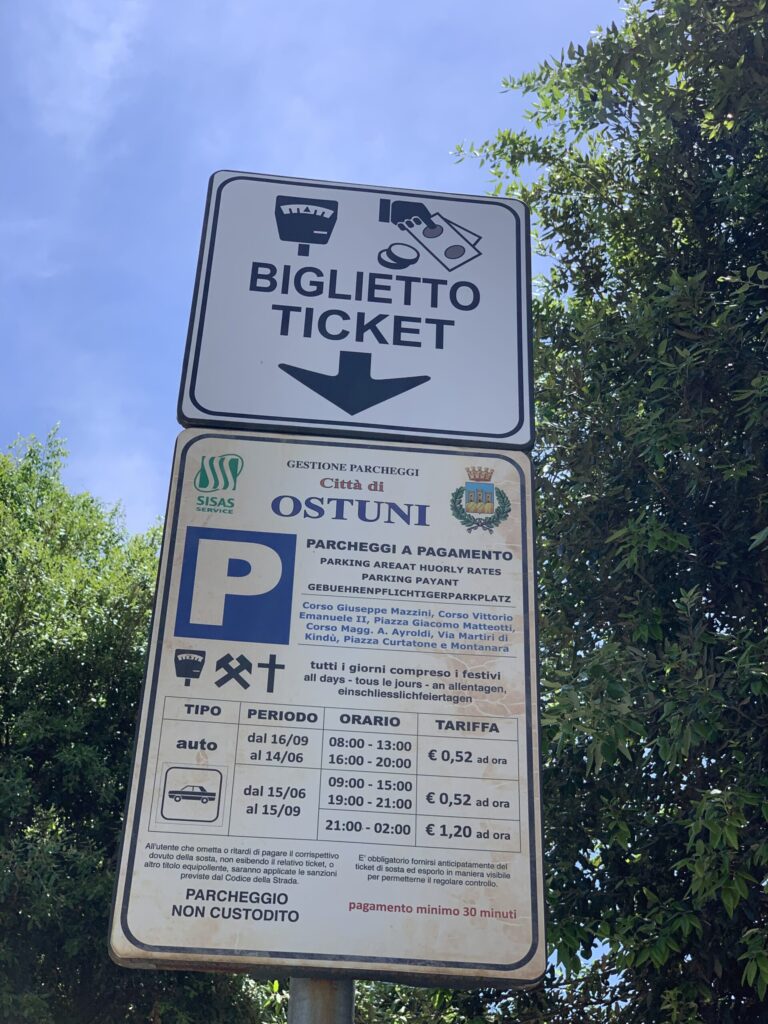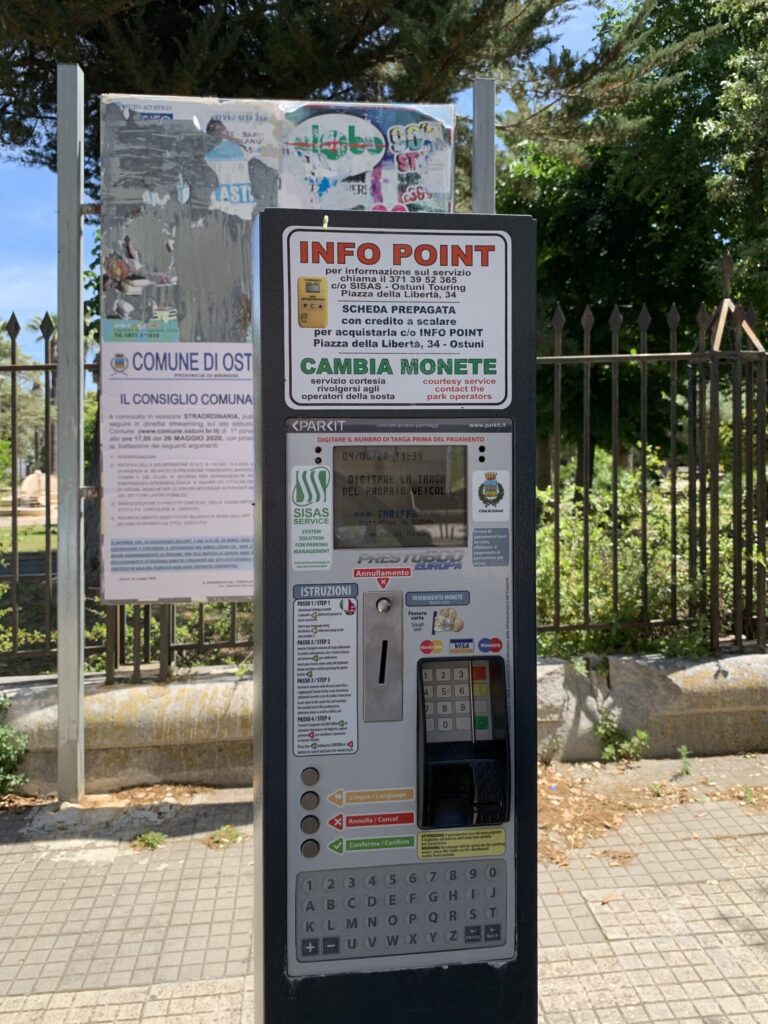 These are for the pay parking around the park. Payment is only for part of the day. You need the car registration (licence) number to input so a tip is to keep a photo of it on your phone if you hire a car. The Al Giardino car park operates on a similar basis. The rates specified are from 2021.
The on-street free car parking areas are shown in green on the map reproduced above. Whether any are free depends on the time of the day, the day of the week and the time of year. However we usually always find one either along Via Giordano Bruno or Via Ludovico Pepe or opposite the Paragon 700 hotel. Our last resort is around Piazzale Domenico Colucci *, the small green square shown on the map reproduced above. * NOTE: the parking around Piazzale Domenico Colucci and on Via Francesco Trinchera is residents only parking from mid-June to September.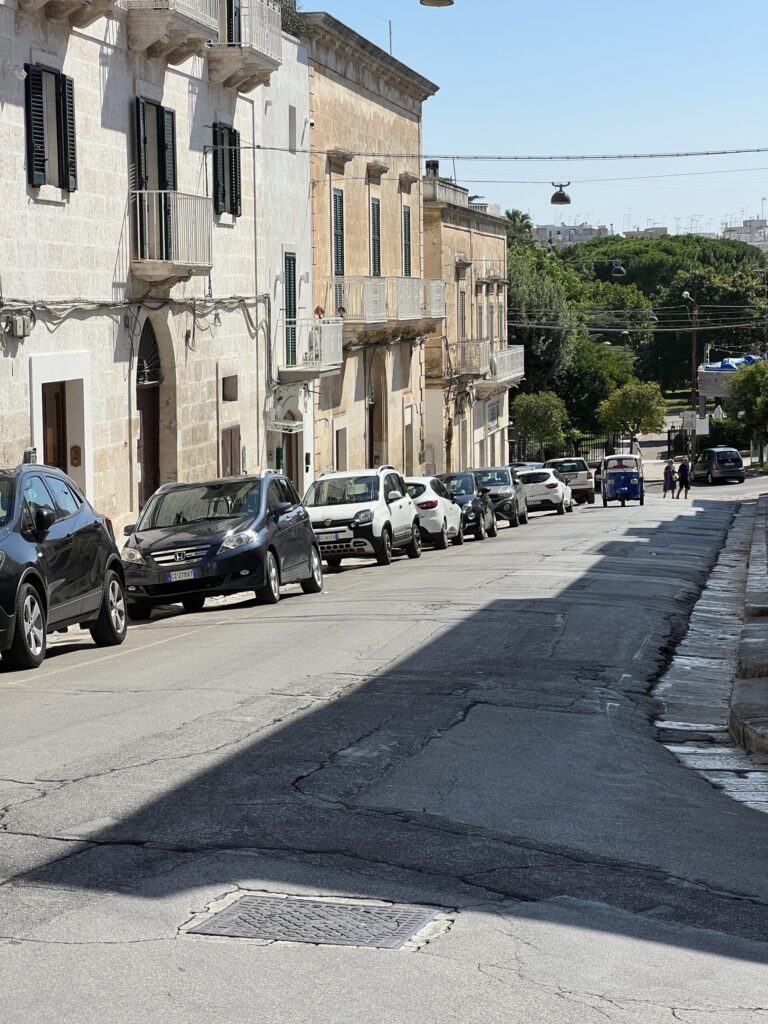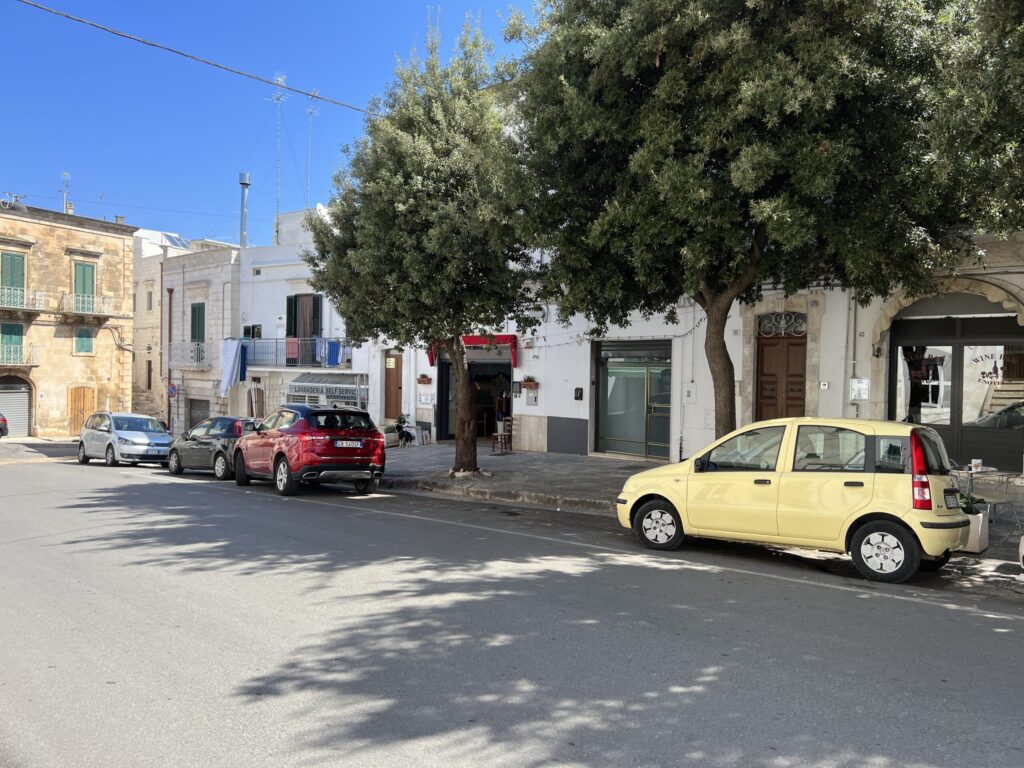 The white lines that you can see indicate free public parking.
Generally parking spaces delineated in blue are pay parking spaces.
We are happy to help you get your bearings once you are here.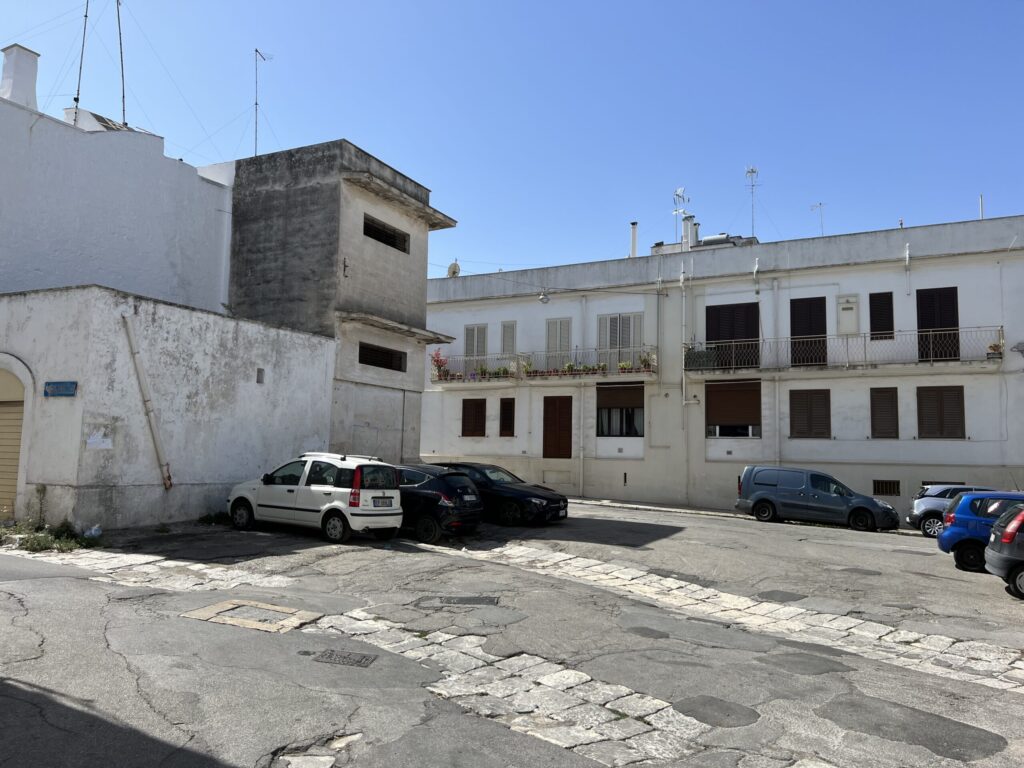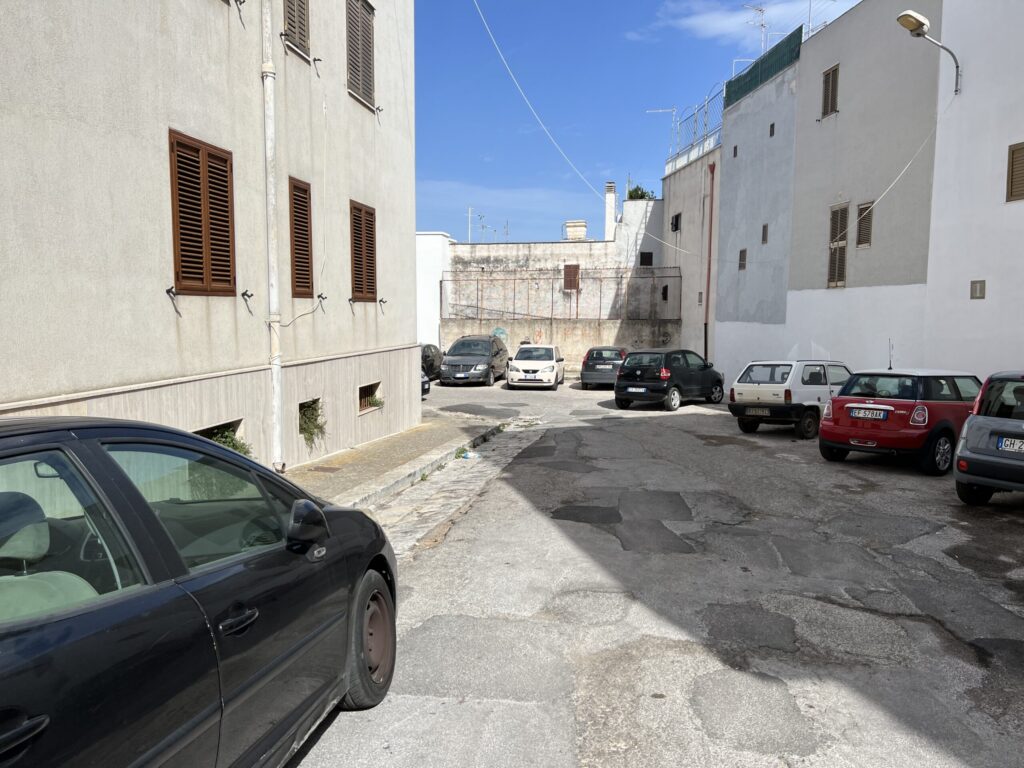 Eating out
Food is an integral part of Puglia's identity.
We are Italy's biggest producer of olive oil. Around 40% of Italian olive oil comes from Puglia. We are Italy's 2nd largest wine producing region, known for rich, full bodied reds. And Puglia gave the world burrata!
Our tradition of la cucina povera ("peasant food") serves up simple but inventive dishes using seasonal, locally produced, fresh and flavorful ingredients. Most dishes use only a few ingredients and very little goes to waste. Humble and frugal, the end result is much more than the sum of its ingredients.
#EatPuglia and enjoy Puglia's best dishes, streetfood, and regional produce. Buon appetito.
Puglia by food
A short selection of some of the dishes you will find in and around Ostuni. Check out the Puglia Guys 'Puglia By Food Gallery' to see a fuller selection of Puglia's cuisine with links to where we ate them!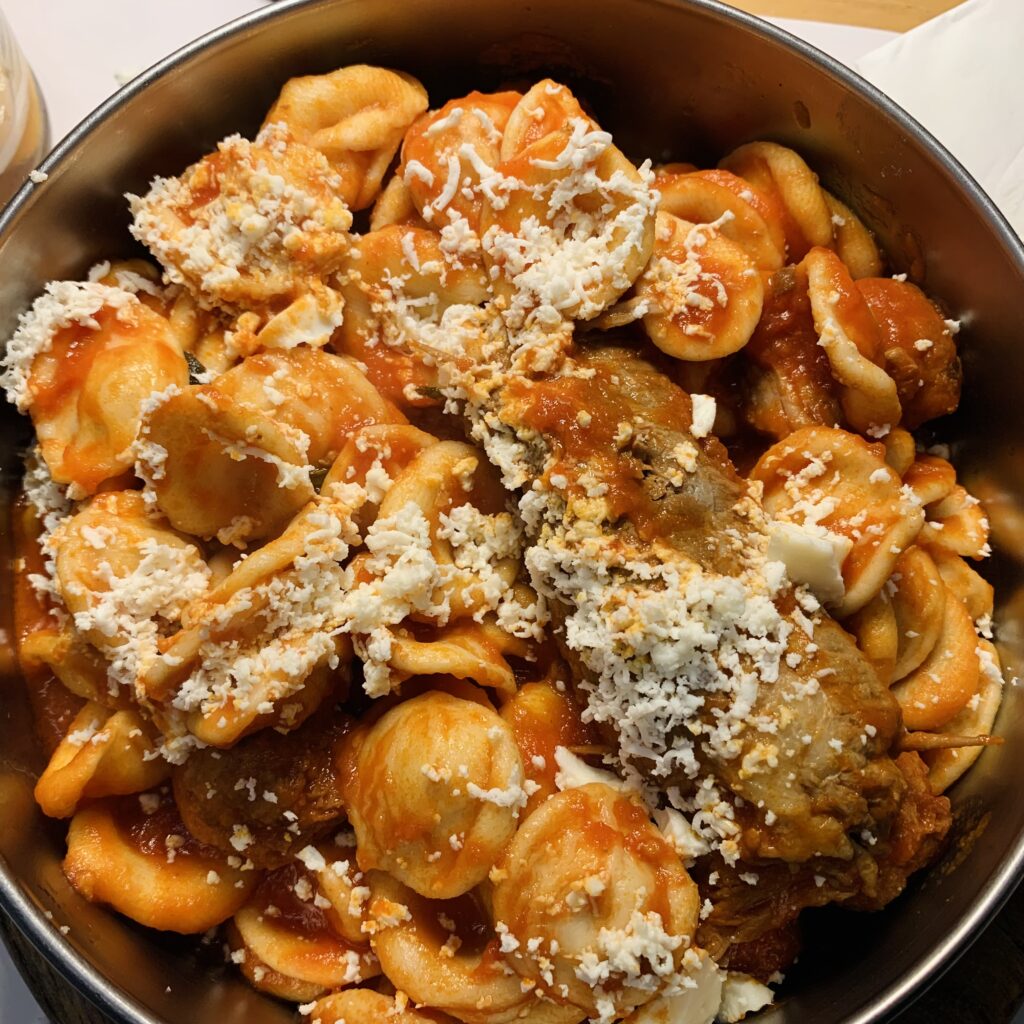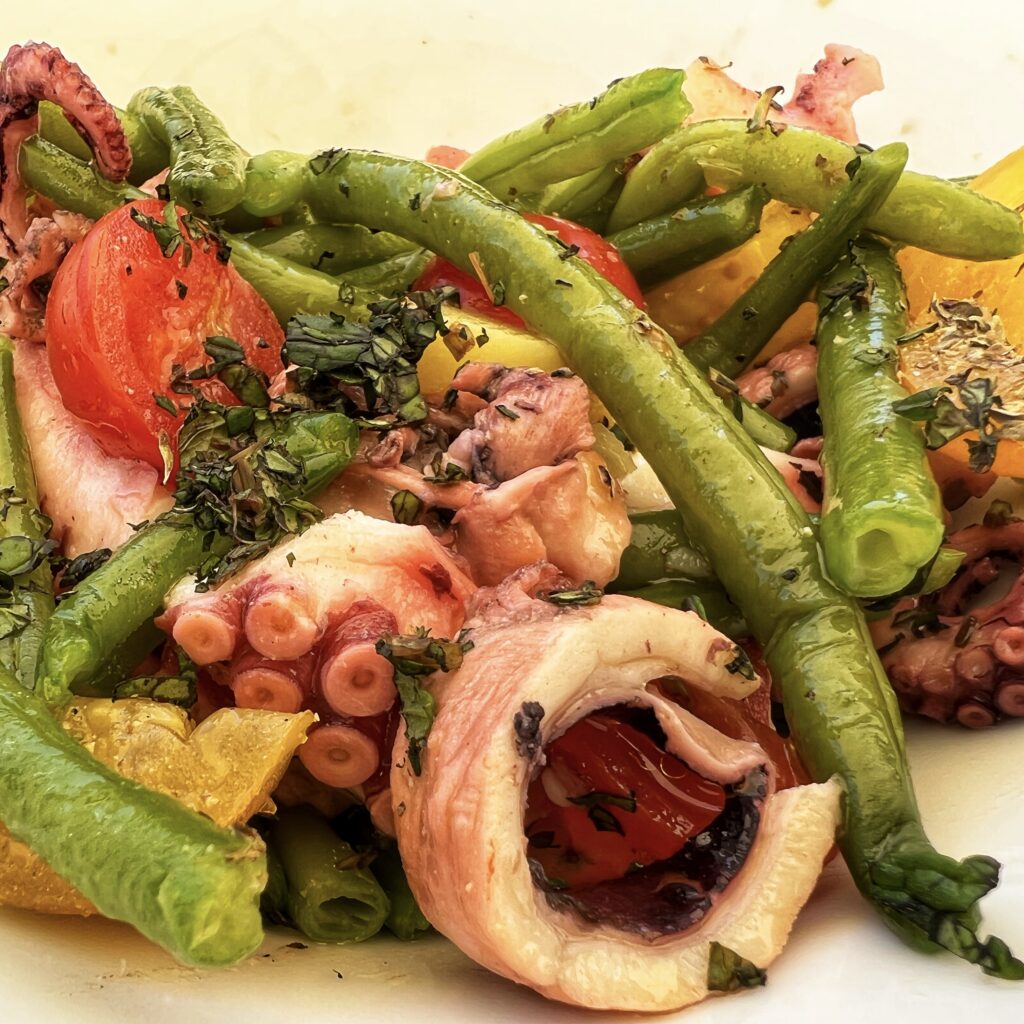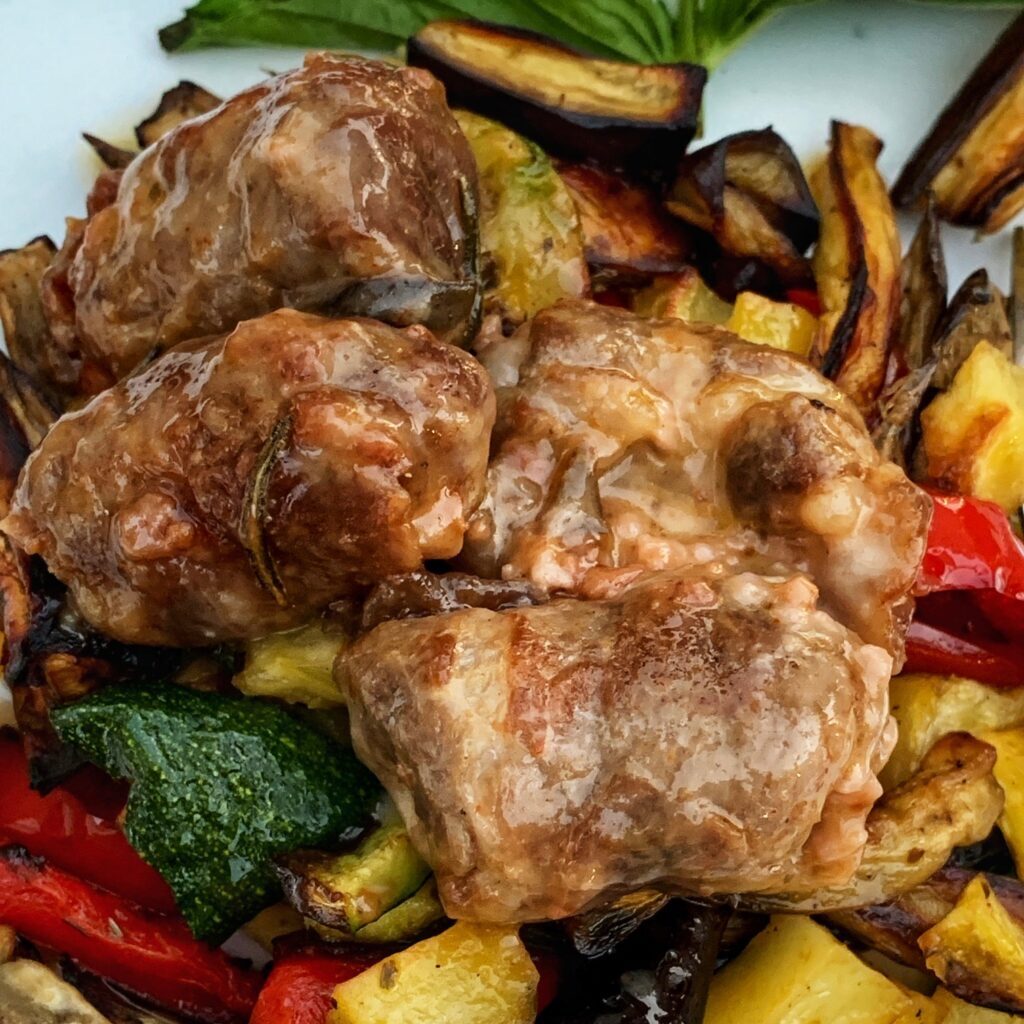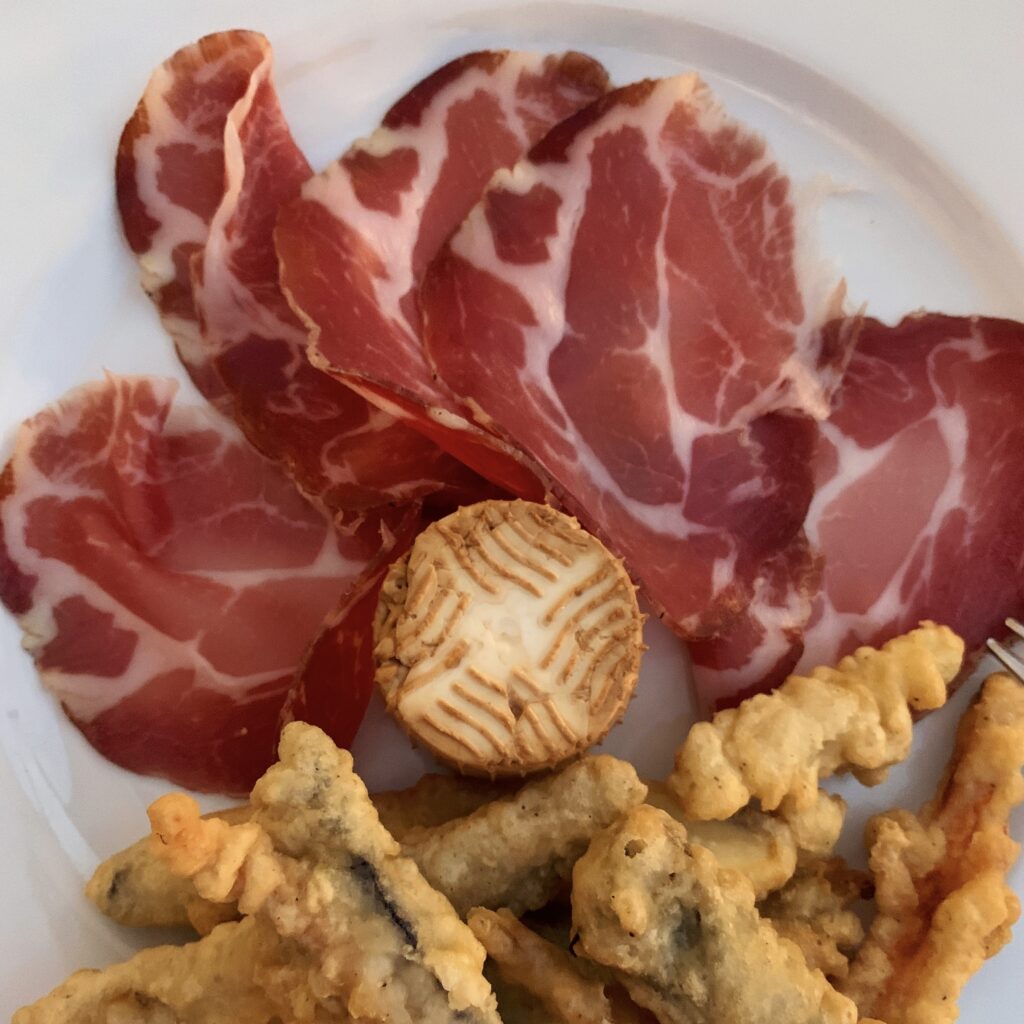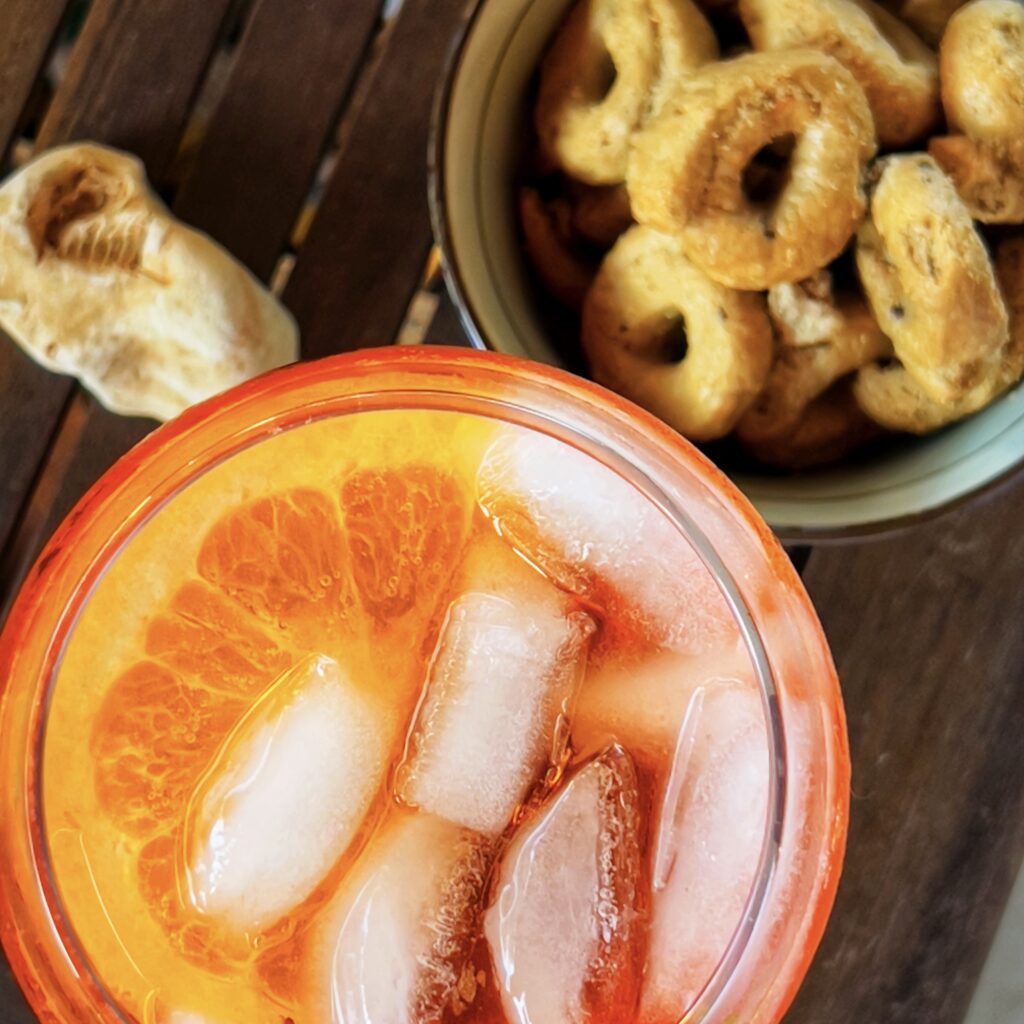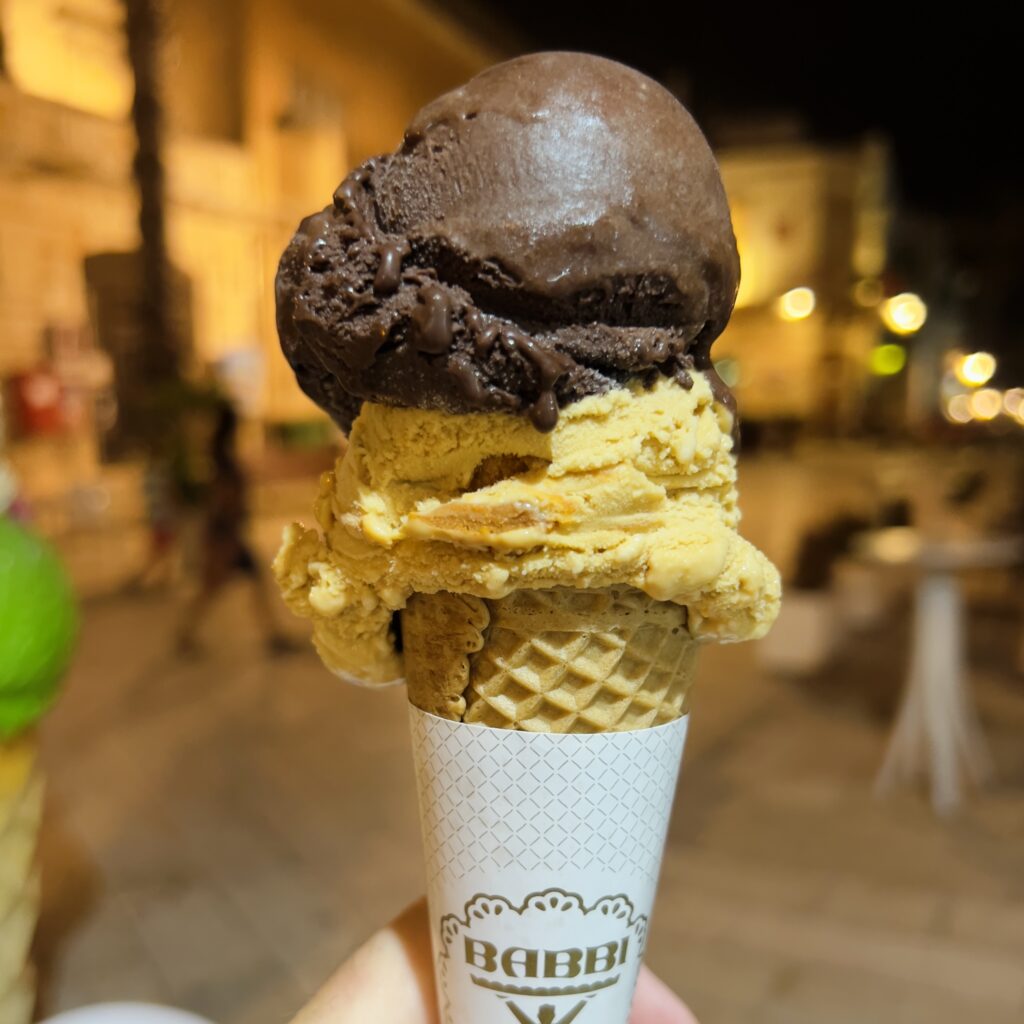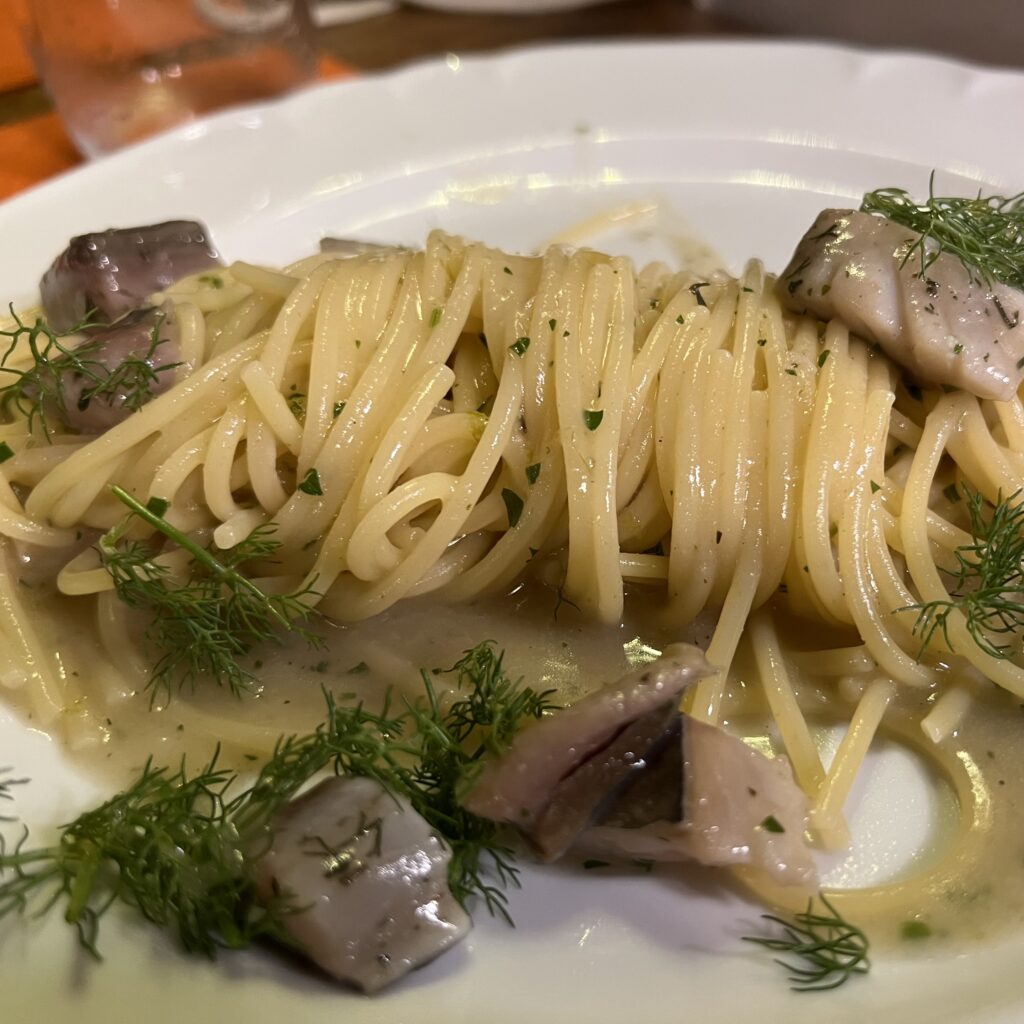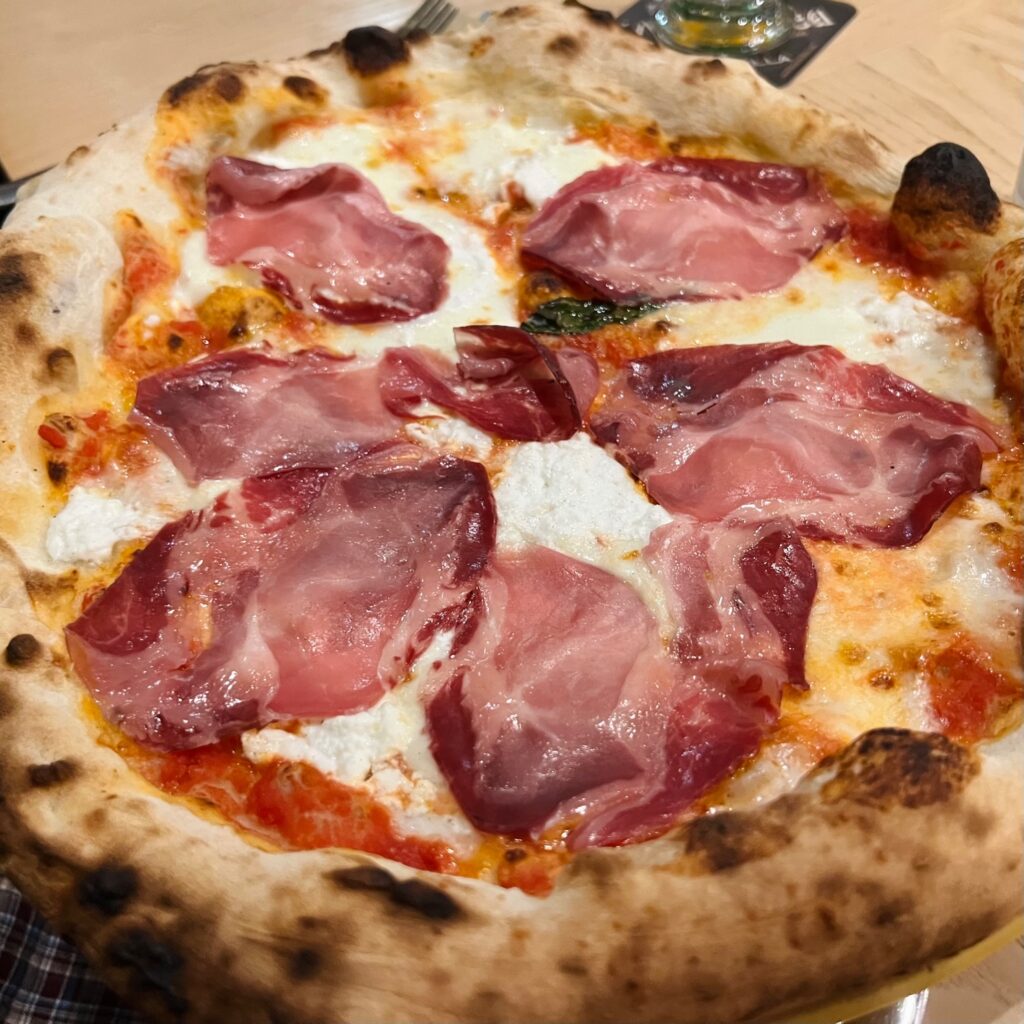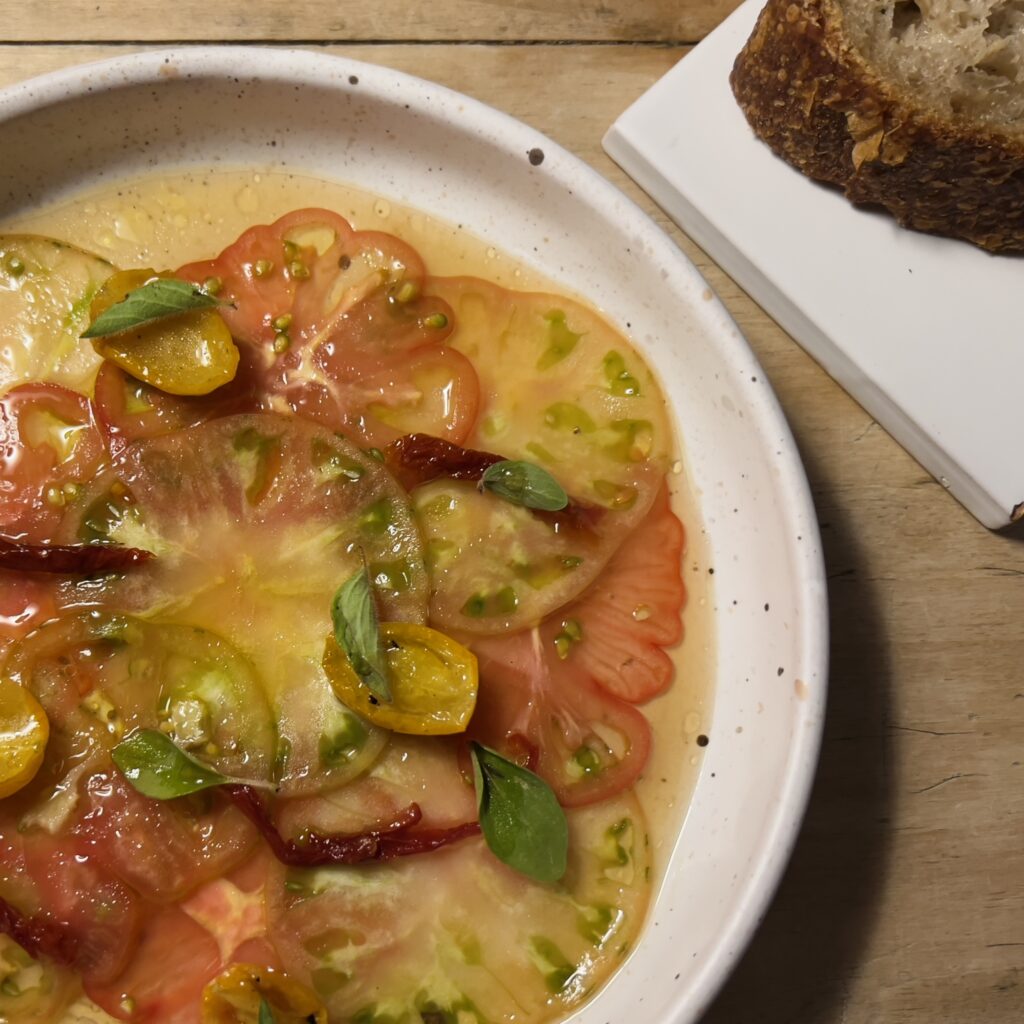 Ostuni bar and restaurant recommendations
Apartment Q40, Ostuni is only a minute's walk from Ostuni's main piazza, Piazza della Libertà. From the front door either turn left then immediately right to continue down onto Corso Guiseppe Mazzini, or turn right and then immediately left to continue down Via Galileo Galilei which will take you out Sant'Oronzo column.
Here you can enjoy lunch, gelato or an aperitivo with stuzzichini (singular stuzzichino, little bites that can be eaten during aperitivo). For lunch we are big fans of Ostuni Bistrot and Caffè Fanelli Bistrot (2 Corso Cavour). Fanelli have a great lasagne and orecchiette al pomodoro, a favourite spot for people watching, and at 4,90€ the cheapest Aperol Spritz on the piazza. Just 10 meters away on the other side of Sant'Oronzo at Casbah Risto Cafè you'll pay 15€ a spritz, more than 3x the price!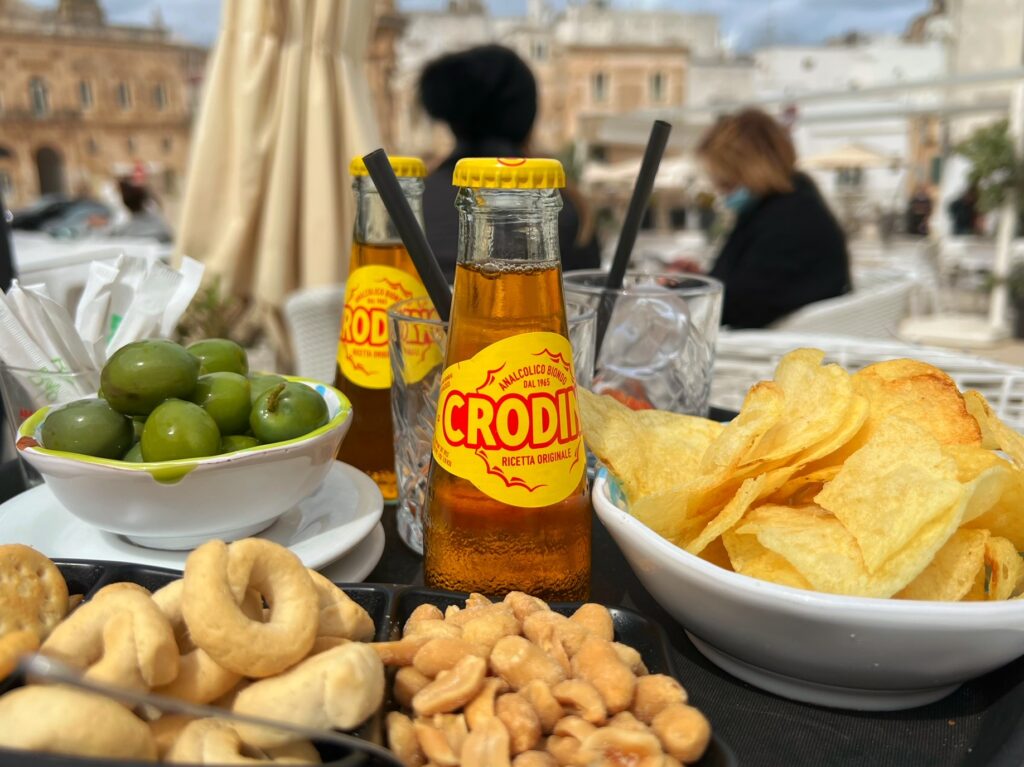 For dinner, we like to stroll into the heart of the old town and eat at Casa San Giacomo or Osteria Monacelle (we recommend booking first). L'Osteria del Tempo Perso is often highly recommended by others, but we found it disappointing and certainly not value for money relative to price and food.
Exceptional dining comes at a price that reflects the cuisine, service and setting at Masseria Moroseta off the SP19. Often booked well in advance, this is a special place for a memorable occasion.
Further recommendations can be found in this guide to eating out in Ostuni.
Further afield
For a change of scenery neighbouring Carovigno and Cisternino come highly recommended. The former certainly punches well above it's weight. Recommendations can be found in this curated guide to Puglia's best bars and restaurants.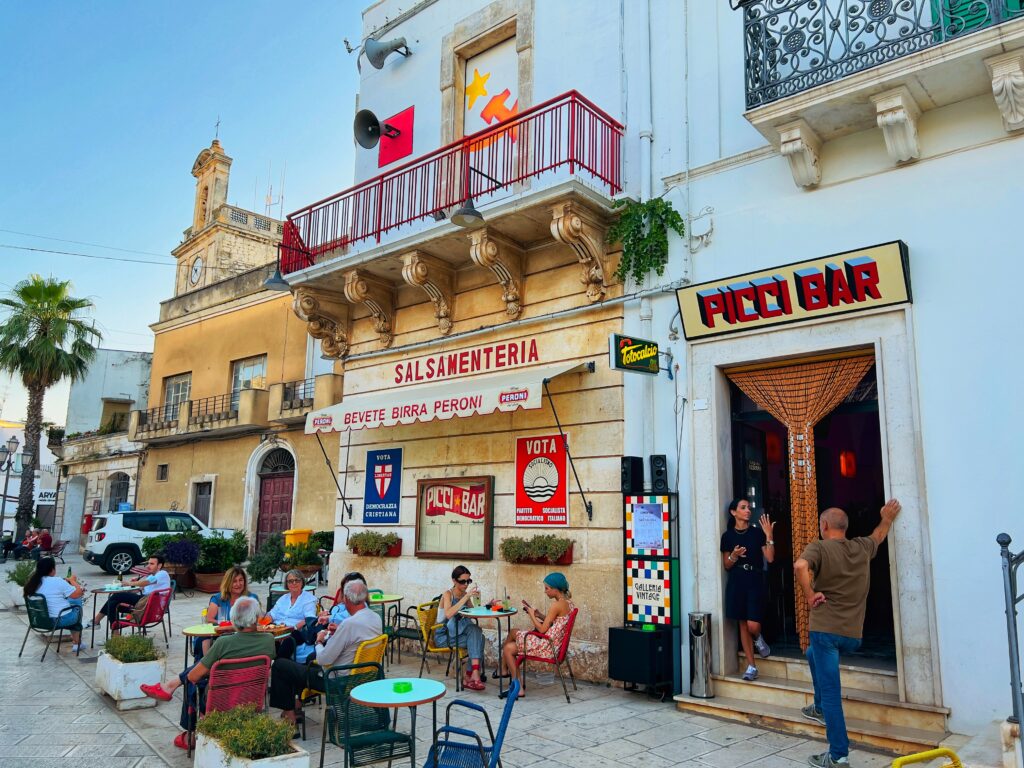 Eating in
Food
The apartment is self catering, but we supply tea, coffee, milk and sugar. The coffee machine is a Bialetti Gioia, Macchina Caffè Espresso taking capsules. We usually have the Roma (strength 9) and Napoli (strength 10) caspules but reserve the right to change these from time to time.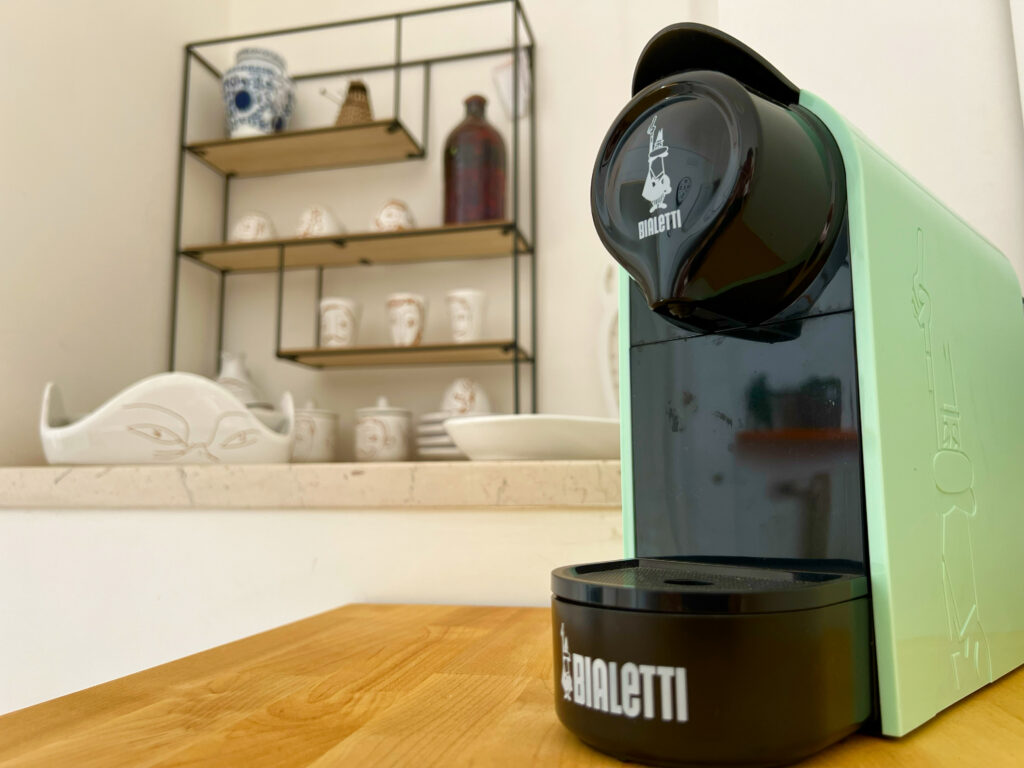 Following guest feedback we remove any food products left by previous guests, including salt, pepper, olive oil, vinegar, herbs and seasonings etc..
A local Despar supermarket is located at Via Armando Diaz, 17. Usually open between 08.00 – 13.30 and 17.00 – 21.00 (Sunday 08.30 -14.00).
If you want to stock up on food we recommend supermercato Famila, Via Pietro de Laurentis (on the main Ostuni ringroad). This is Ostuni's largest supermarket, and a favourite with locals and summer visitors. They have great fresh fruit and vegetable, bread, cheese, fish and meat counters, as well as regular supermarket goods. They stay open during the afternoon.
Wine
An exceptional range of Puglia wines at reasonable prices can be found at Enoteca Vini di Puglia wine store adjacent to the Famila supermarket. It's where we shop for almost all our wines. They are closed during the afternoon pausa. Because they only stock wines from Puglia they don't have Prosecco. Moinetto bio suits us well (around 9€). You will need to get this from Famila.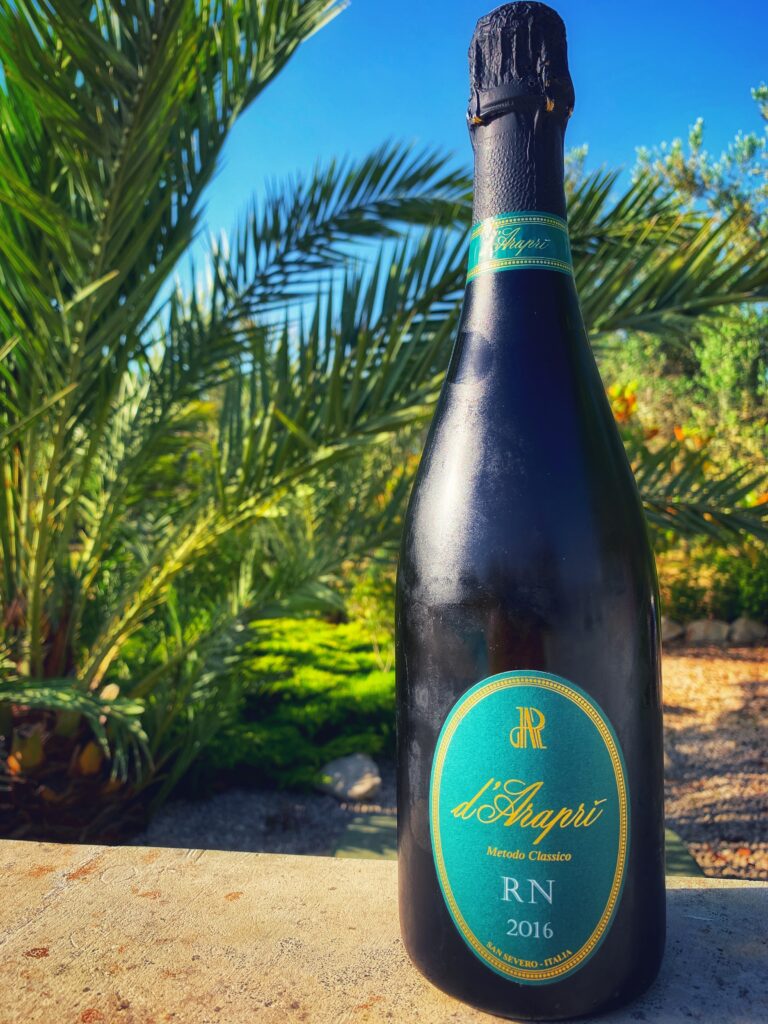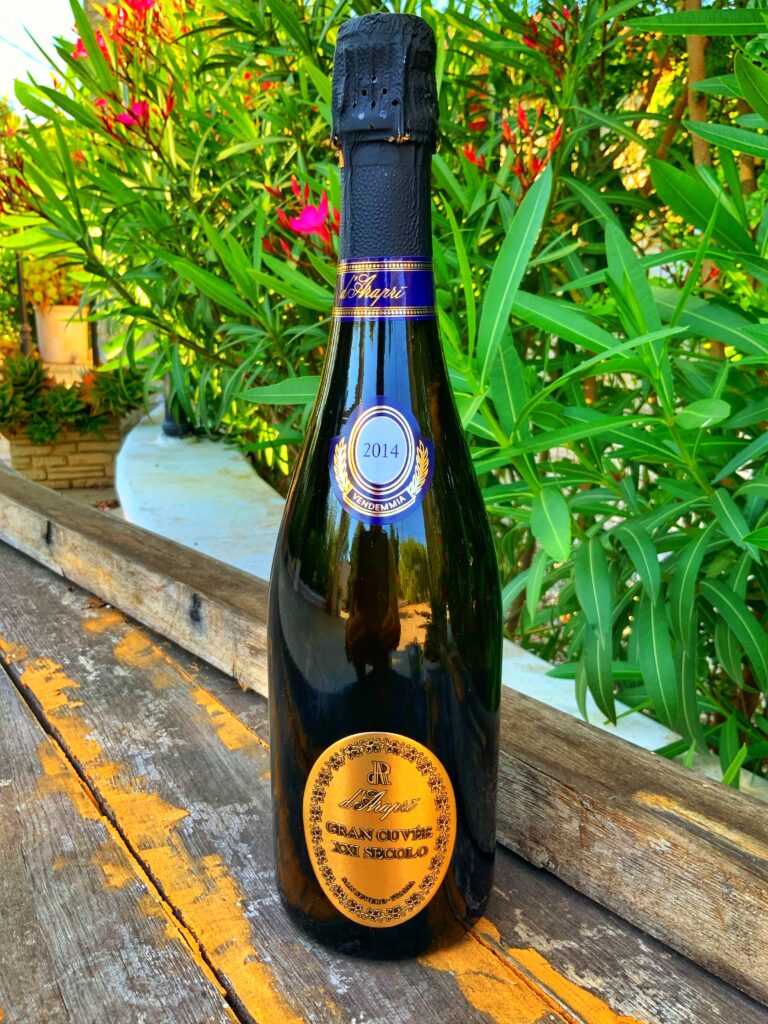 However we recommend d'Arapri spumante from San Severo in Gargano (around 18€). On special occasions we but the Gran Cuvée (28€).
Other wines we regularly buy from there include: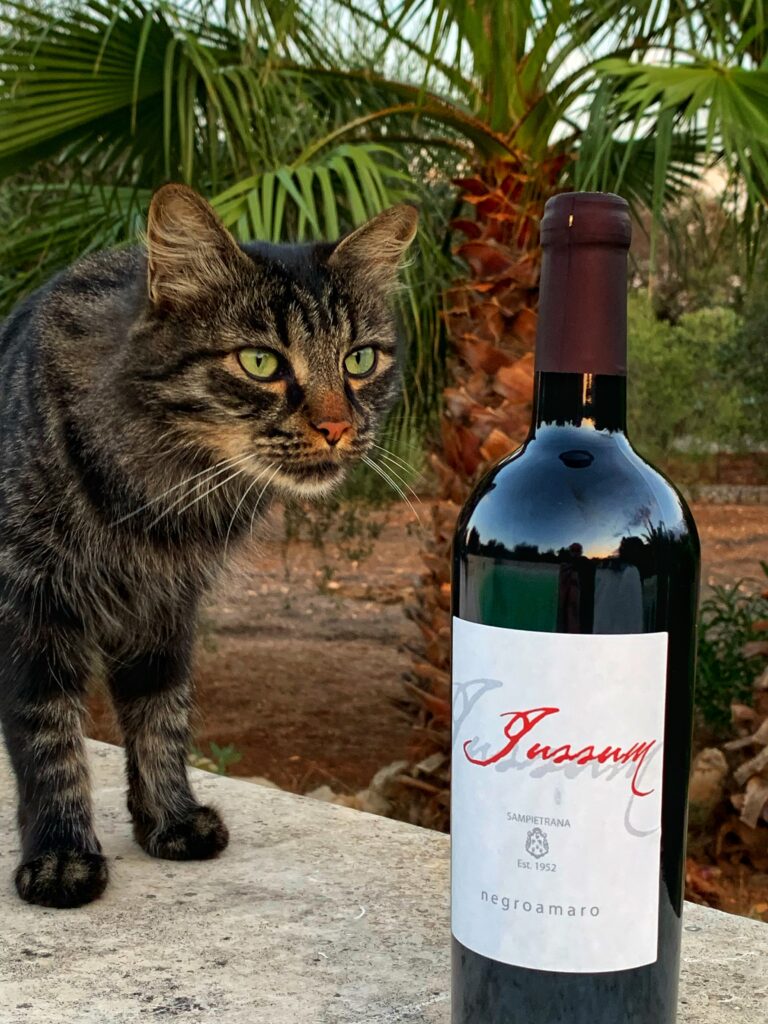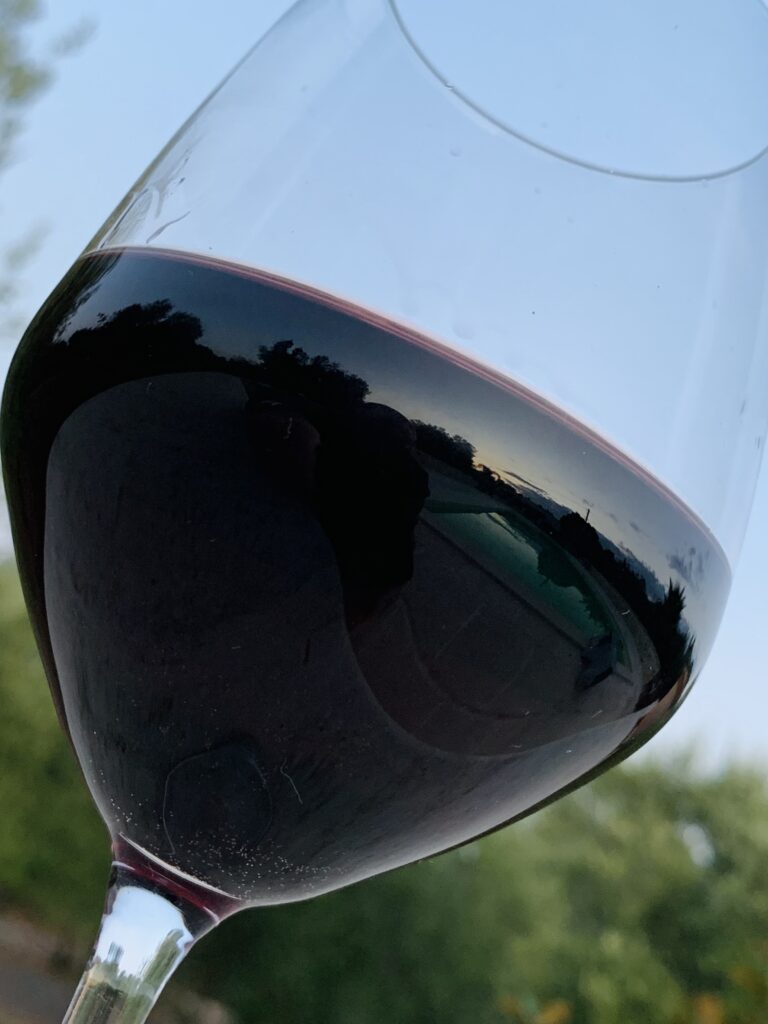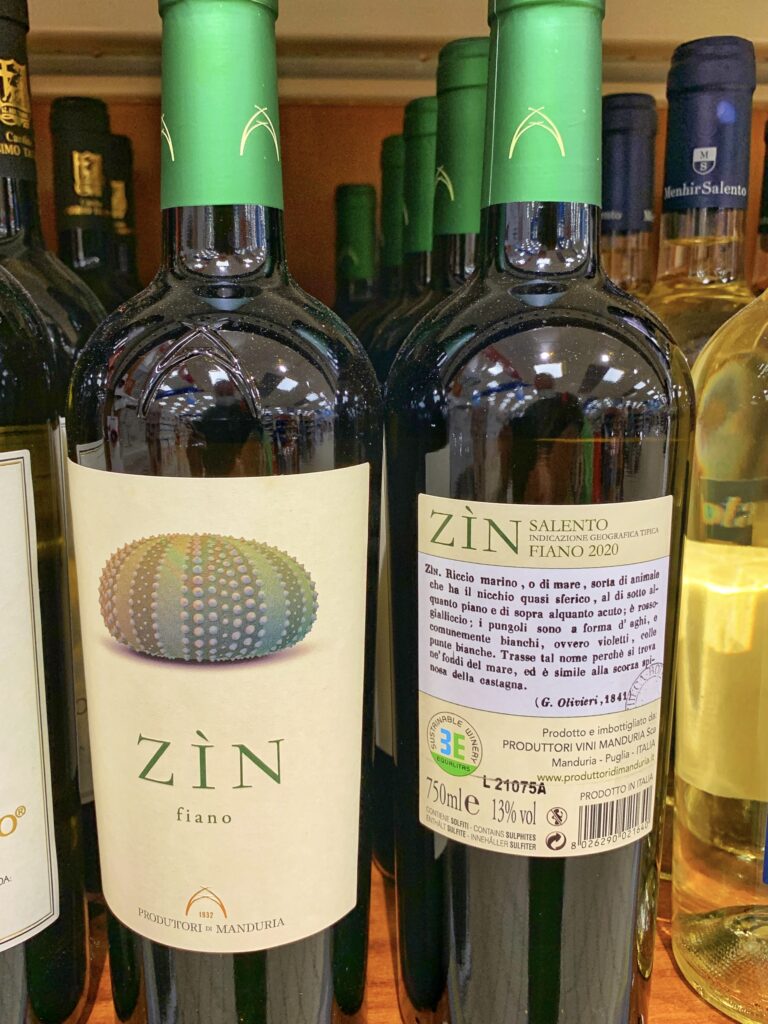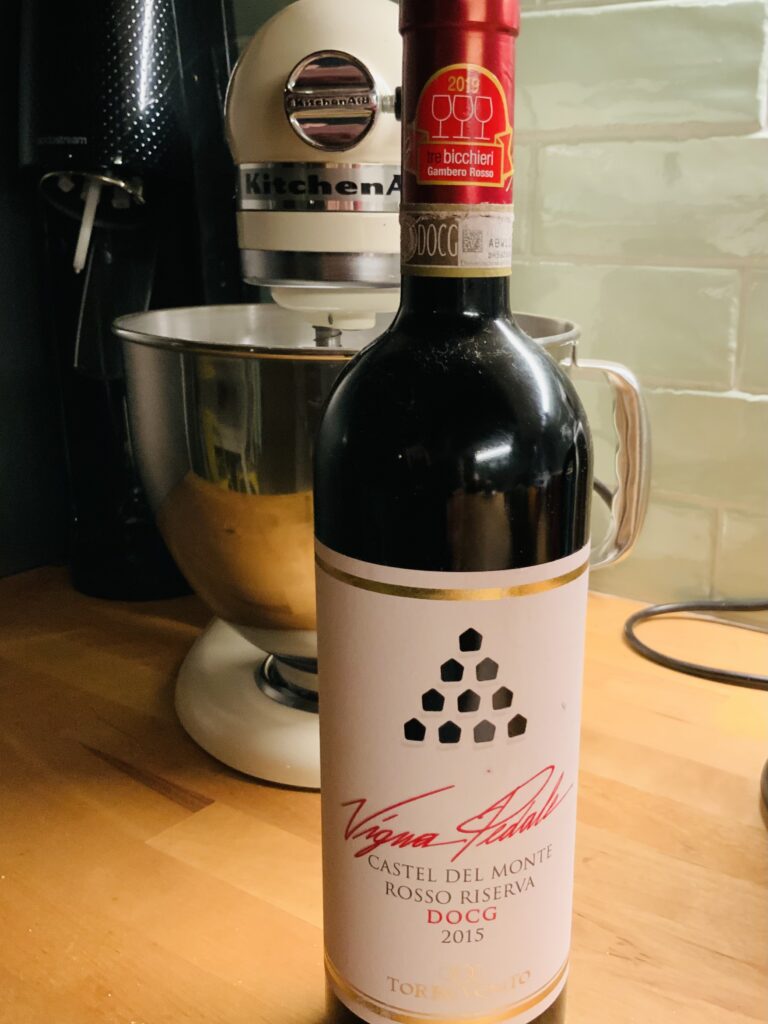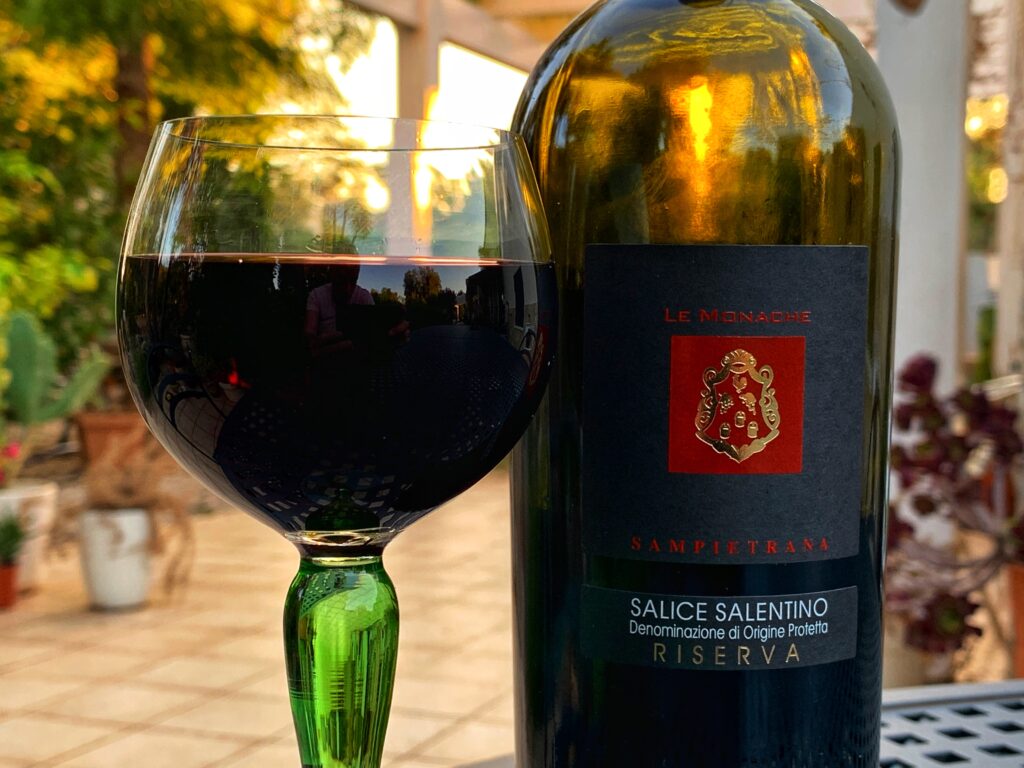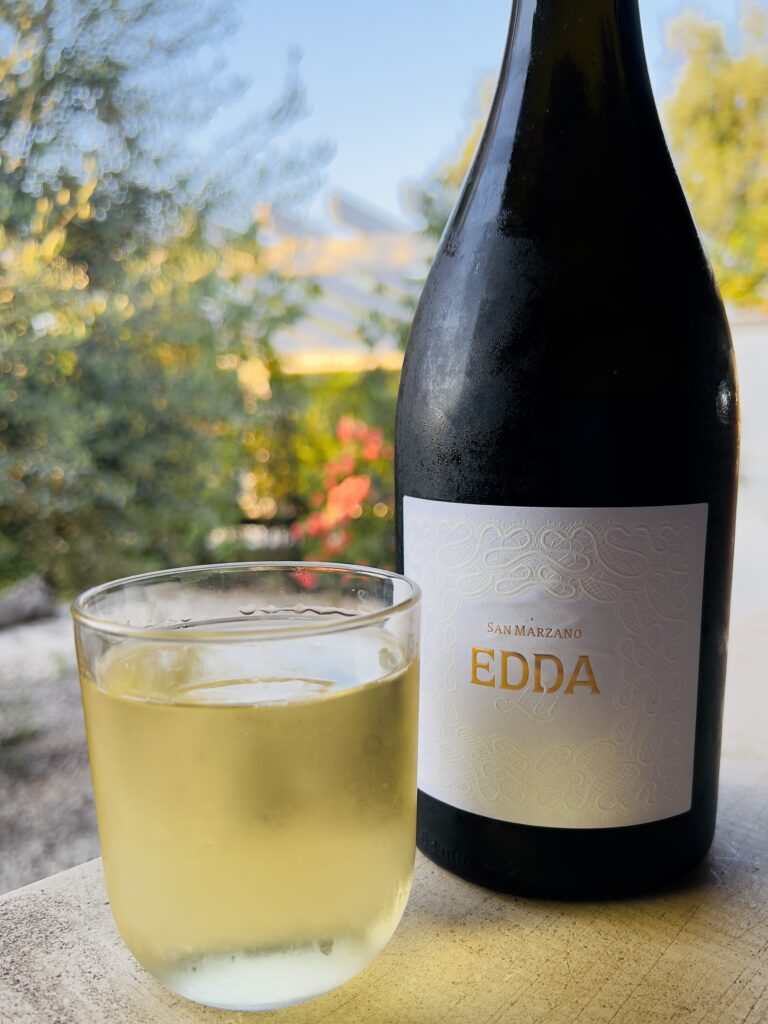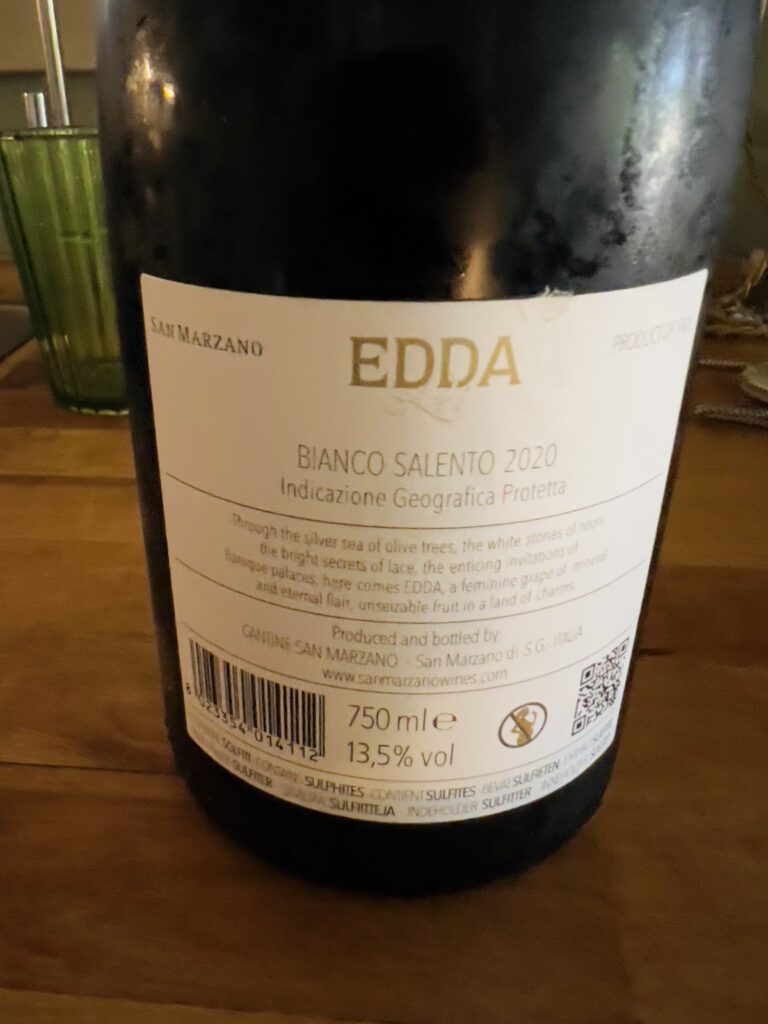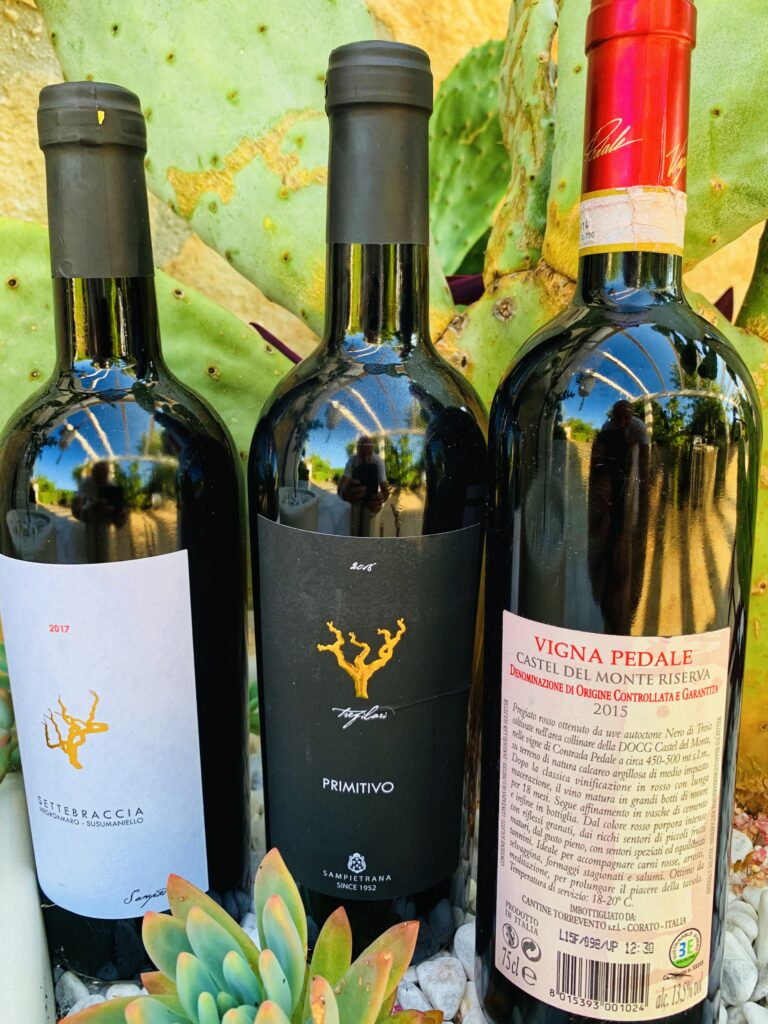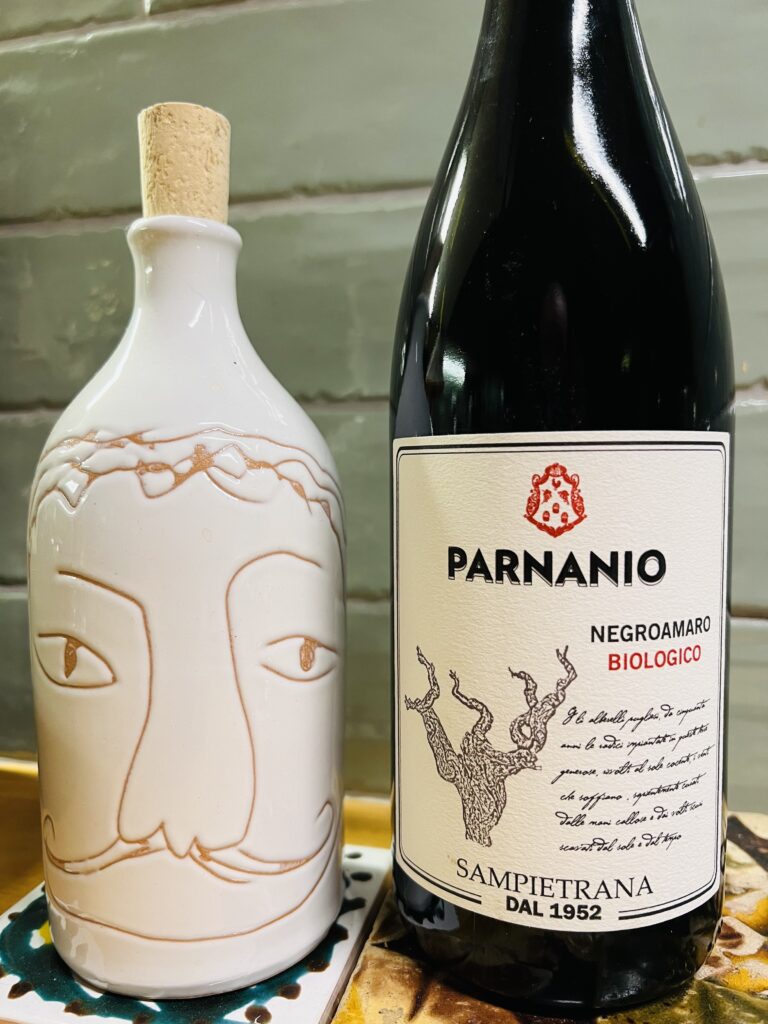 The prices referenced are from Enoteca Vini di Puglia, as at March 2023. All of these wines are very good, and are the wines we have at home. We have never been disappointed.
Nearby beaches
The stretch of the Adriatic coast from Bari south has more rocky coves than the endless strips of sandy beach you will find on the Ionian coast. Nevertheless there are some fine sections to enjoy, especially around Ostuni. Here are some of our favourites.
Savelletri
Long stretches of sandy beach. Many private lidos with loungers, umbrellas, bars and restaurants but fewer free public beaches. Great for seafood.
Torre Canne
Long stretches of public, sandy beaches. Popular with families and sports enthusiasts, there is canoeing and kite surfing.
Pilone
Sandy beach, popular with residents of the camping and touristic villages nearby, who often arrange for residents' beach club activities for kids, so it can get noisy!
Torre Pozzelle | Lamaforca
Small sandy beaches in rocky coves, surrounded by pine forest. Both are popular with the families who stay in the nearby camping touristic villages.
Punta Penna Grossa (Torre Guaceto)
The family friendly end of Torre Guaceto. Extremely popular, but you need to park in the not so nearby pay car park and take the shuttle trolly train (around 4 mins).
More beach
If you want to head further afield, here is a useful guide to the 50 best beaches in Puglia:
Alternatively, if you want to hit the road and have the time, this road trip from Otranto to Santa Maria di Leuca is a must. The route along the coast from Santa Cesare Terme onward is one of the most dramatic in Puglia, sandwiched between prickly pear lined cliffs and shimmering sea.
Tour Guides
We recommend Pietro of Puglialy for small group tours in and around Ostuni, particularly if you are looking for a wine and food tasting tour. Guests have been very complimentary about his highly personalised service (puglialy.com). Pietro can also organise private driver transfers to and from the airport and around Puglia. Just tell him we sent you.
For a tuk tuk tour of Ostuni there's no-one better than Davide 5-star of GoLapa.
Be at home at Apartment Q40
Italian law requires us to take details of each guest and we have to pass these on to the local police office. We also have to collect the city tax which is currently 1€ per person, per night.
We will make sure that you have our contact details, and the Wi-Fi code.
Terraces
The terraces are accessed from the top floor bedroom. When you are on the terrace be sure to push the terrace door all the way open until it clicks against the catch on the wall. If the external terrace door closes then, even with the key, you are unable to open it from the terrace.
Please enjoy the terraces, but be respectful of the neighbours.
Mosquito screens
All the windows, including doors to the terrace and the balconies, have mosquito screens. Take care when using to remember if they are open or closed. Otherwise you risk walking into them (and tearing them open).
Air conditioning
If you are using the air conditioning in summer, and you probably will, we ask that you:
Close the windows and terrace/balcony doors, and keep them closed. The air con units will not function if they are kept open.
Respect Italy's energy saving measures. Please switch off when you go out. So long as the windows and external doors are closed the apartment should stay fresh. The shutters can be closed to keep the apartment dark and cool.
Toiletries
The upstairs shower and toilet and the downstairs toilet both have toiletries supplied if you wish to use them.
We supply disposable soaps and shower gel. In addition we also supply a selection of the following shower gels in recyclable bottles which we fill and replace:
Bulldog vetiver and black pepper, vegan friendly:
Spicy and aromatic fragrance, with notes of fresh orange, black pepper, cloves, vetiver and patchouli
Formulation: contains 100% natural fragrances, does not contain synthetic thickeners, does not contain sulphates (including sles or sls
Approved cruelty-free under the leaping bunny vegan program; all palm-derived materials are sourced from sustainable sources
Packaging: 100% post-consumer recycled amber plastic bottle with flip cap
Olio 31 Erbe Vegan & Organic
Balsamic & Regenerating. AIAB certified organic cosmetic. VEGANOK certified. 98% Ingredients of Natural Origin. Dermatologically Tested.
Please don't throw out empty bottles. Leave them in the cabinet for us to refill.
Please do not flush anything down the toilet other than toilet tissue.
Laundry
The apartment does not have a washing machine, but laundry detergent is kept in the cupboard below the kitchen sink should you want to do a hand wash. There is a small clothes rack on the side terrace to dry and/or air clothes and towels.
There is a nearby laundry at Via Ludovico Pepe, 7. Open from 0:700 to 20:30 each day (7-days a week). See website for more information: Stedor Lavanderia Self Service.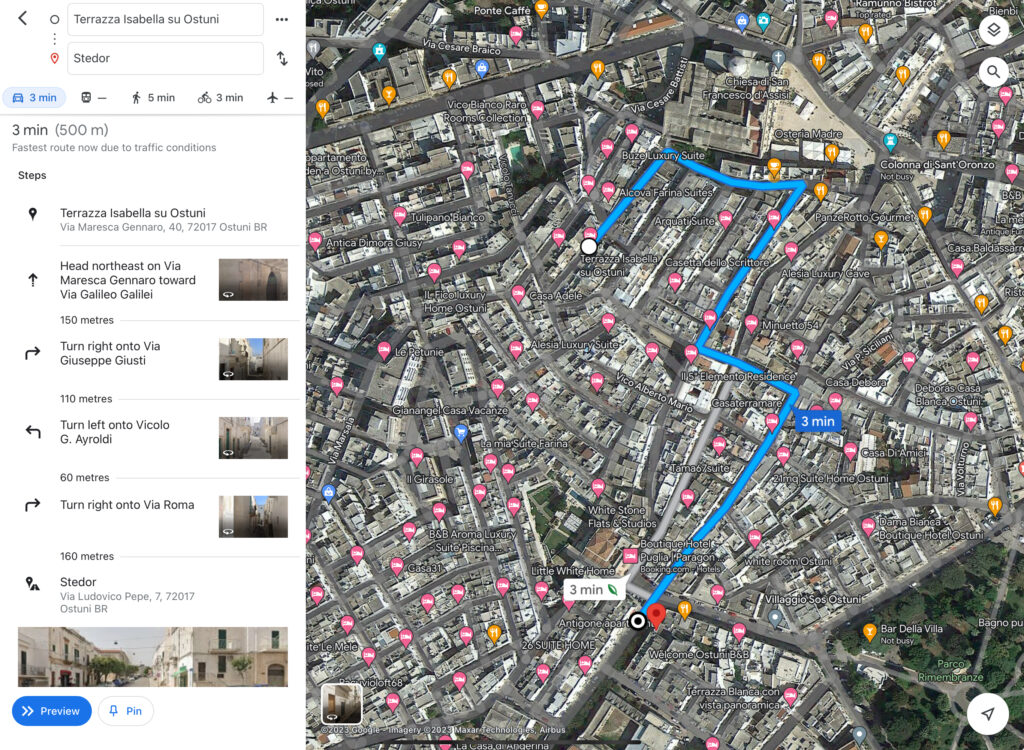 Waste
We recycle in the 3 kitchen bins:
Plastic and metal (together)
Card
Glass
Don't worry about the colours, so long as you keep the waste separate in those groupings.
On the kitchen balcony there are two larger bins. One for food and non-recyclable waste, the other to hold any filled bags from the recycle bins.
We will remove the waste when you leave. If you are staying for 7 days or longer we can arrange to collect it should you wish.
Smoking
For the comfort of guests Apartment Q40, Ostuni is a no-smoking apartment. Please smoke outside on the balconies or on the terraces.
City Tax and Guest ID

Online websites like Booking do not collect the city tax payment. The city tax payment for Ostuni is currently €1 per night per guest and must be paid at the property at check-in. By law we are obliged to charge and collect this.
At check-in we must take a copy of official ID documentation (passport, official Government ID). Again by law we are obliged to complete a return to the Carabinieri (national police) office in Brindisi details of all guests, including name, age, nationality, country of residence and ID number, and whether it is a family group or individuals.
Check-out
Check-out time is 11am. Please leave the keys on the table inside, and when you leave the apartment close the door so the lock clicks shut. If you leave earlier it would be very helpful if you message us when you leave so we can attend to getting the apartment ready for our next guests, as they might have requested an earlier check-in.
If there are no guests booked the same or next day and you would like a later check-out we will try to accommodate you. Please let us know.
Parli Italiano?
We can't stress how much fun and value it adds to your vacation just to try a few words in Italian.
Buongiorno – good morning (good day)
Buonasera – good evening (after 14.00)
Grazie – thank you
Vorrei – I would like
Per me | per lui | per lei – for me | for him | for her
Ciao | salve | arrivederci- hi, bye (informal) | hello (formal) | goodbye (formal). But don't get hung up. People will know you are foreign and not expect you know the formal and no-formal. Remember, it's your vacation. Have fun!
Puglia tips and hacks
All we ask is that you love Puglia and tell your friends what an amazing place it is. Better still, we hope you come back. We hope the following information will help add value to your vacation, and make you fall in love with Puglia.
La pausa
We work a split day from 9am – 1pm and from 5pm – 8pm, more or less. Shops and businesses will close from 1pm and re-open around 4.30pm. Get your groceries, bread, meats early!
Eating out
In Puglia we lunch early but have our dinner late.
Lunch | All year round most workplaces, businesses and shops close for la pausa, la controra, il riposino – an afternoon break that starts from around 12.30-1pm (and continues until round 4.30-5pm). Many restaurants will continue lunch service until around 2.30pm. But be prompt – try to sit down before 2pm if you want to be sure of eating.
Dinner | The only people eating in restaurants at 8pm are British. At 8.30pm the German, Scandinavian and northern Italian visitors join them. We will book our table for 9pm, although we will of course arrive later than planned. Being late is a way of life. See you from 9.30pm onwards!
BUT MOST IMPORTANTLY | Italians enjoy the occasion of dining out. We are not in a rush, neither to eat, nor to finish and leave. If the service gets slower after the food has arrived, that's perfectly normal. Time to enjoy good food, good company and good Salento wine. Slow cooking and a slower life are all part of the Puglia experience that you came here to enjoy.
Tipping
We don't generally tip in Italy. Sometimes we leave the small change up to the nearest €. But don't fret. Restaurants include a cover charge, up to 2,50€ per person which covers bread and service.
Electricity
Power | Italy operates on a 230V supply voltage and 50Hz | there are two main socket plug types: two round pins and three round pins. – take a universal adapter just to be sure.
Mosquitoes
Repellent | we have mosquitoes from around May to September. You can buy repellent here, or before you arrive. Likewise soothing cream or treatment for bites – especially if you don't have them at home.
Accommodation | Apartment Q40, Ostuni has insect screens fitted over the windows.
Live like a local
1. Buy something from the local panificio, caseificio or pastificio and say "buongiorno".
In Puglia people are friendly and polite. When someone of any age enters the local baker, cheeseshop, pasta shop – even the doctor's waiting room – they will typically greet everyone, wishing them a good day. The shopkeeper and other patrons will say "buongiorno" back.
This one comes with the added bonus of purchasing a tasty treat – guaranteed.
2. Wake up and smell the tomatoes.
Buying from any of the many daily fruit and veg stalls on the streets will leave you in awe not only of the variety of tomatoes on offer (each has its purpose) but also the incredible scent that they have.
These aren't just any tomatoes, these are Pugliese tomatoes.
3. Go to "il bar" and order a coffee.
Ask for un caffè. As a non-local you will probably be asked if you want an americano or espresso. Look them in the eye. With a smile, as if surprised, say "normale".
You'll be given a shorter, blacker and stronger than your usual espresso. Offered with some water, still or sparkling, which you should drink before your coffee.
Most Italians drink their coffee standing at the bar. Feel free to do the same, even if you don't understand their conversation. It's not because your Italian is bad but because they will normally be speaking in dialect.
Insider tip | many guides suggest that drinking a coffee at the bar is better value. It is true that sitting down for a coffee (we recommend you have it with a typical pastry, try a pasticciotto or cornetto – a croissant – with la crema. Cornetto 'vuoto' means empty, i.e. plain) will cost a little more. But really it is very little more, perhaps 0,05€ an item taking your 2 coffees and 2 pastries from 2,30€ to 2,50€ for example. We wouldn't loose any sleep over this!
4. The evening starts early…
In Puglia we usually say "buongiorno" (good day) until around 2pm, but from then you are likely to be greeted with good evening – "buona sera", and you should say the same.
5. …but dinner starts late!
Most restaurants don't start their dinner service until 8pm. If you want to blend in like a local don't think about eating out until at least 9pm. The only people to be found eating out at before then are typically British and Northern European visitors.
Security
Personal security | we don't consider Puglia to be an unsafe destination for holidaymakers | be cautious as you would in any other tourist destination | though rare, pick-pocketing and robberies could happen in crowded spots | keep your valuables secure wherever possible, especially on the beach if you are planning to go swimming.
Our experience | we have left our cell phones on display on cafe bar and restaurant tables outside, in a parked car, and in an unguarded backpack on a beach while we swim, along with our wallet, without incident. Nevertheless that does not mean you should do so – and our advice as above stands.
Street crime | the mafia (Sacra Corona Unita) exist in Puglia but it isn't something that should be a concern to travellers | organised crime in Puglia is rarely in the public eye, except in Foggia | there are no public shootings or any obvious form of organised crime on the streets.
Accommodation | ensure shutters are fitted to windows – these are quite common to keep the sun out | many villas are fitted with alarms and benefit from private security. Break-ins do happen; some family members rented an apartment in the countryside with a security gate, alarm, secure doors and shutters and were still broken into. But they are the only visitors that we know of who have had such an experience.
Car security | we regularly read advice against renting cars in Puglia on travel advice forums, because of the risk that hire cars will be a target, and will be stolen and shipped abroad. This is not something we recognise – and in fact, any cars that we have hired have no markings that would identify them as hire cars. We know of no-one who has experienced any such incident.
Contact Us
If you need to contact us during your stay please message using WhatsApp. Due to a hearing disability it is difficult to hold a conversation on the phone. If your message is urgent by all means ring the phone to alert us to your message after sending it.