As foodies and pizza enthusiasts, we're always on the hunt for the next great slice. So when we heard about a "new" pizza that's taking the culinary world by storm, we knew we had to serve some up. Enter Pinsa (pronounced "peen-sa"), a unique hand-pressed pizza that's been a part of Roman artisan baking tradition for over 100 years, but is now gaining popularity beyond the shores of the bel paese.
Unlike traditional pizza, which can be heavy and greasy, Pinsa is a lighter, more sophisticated version that's perfect for a night out or a casual lunch.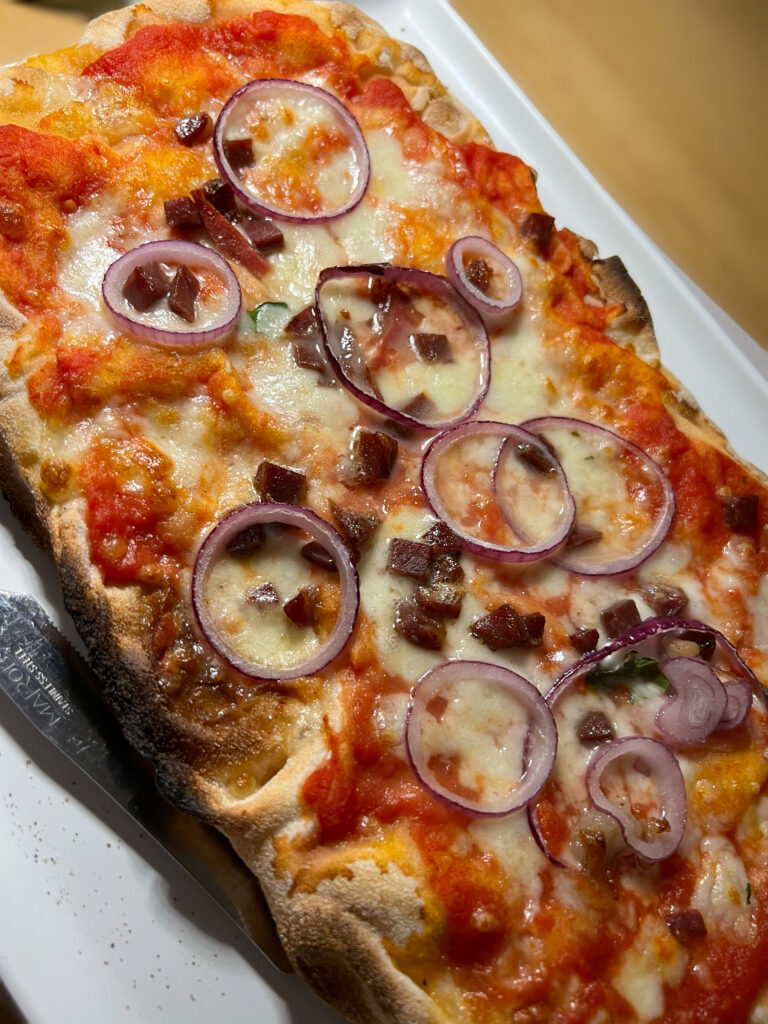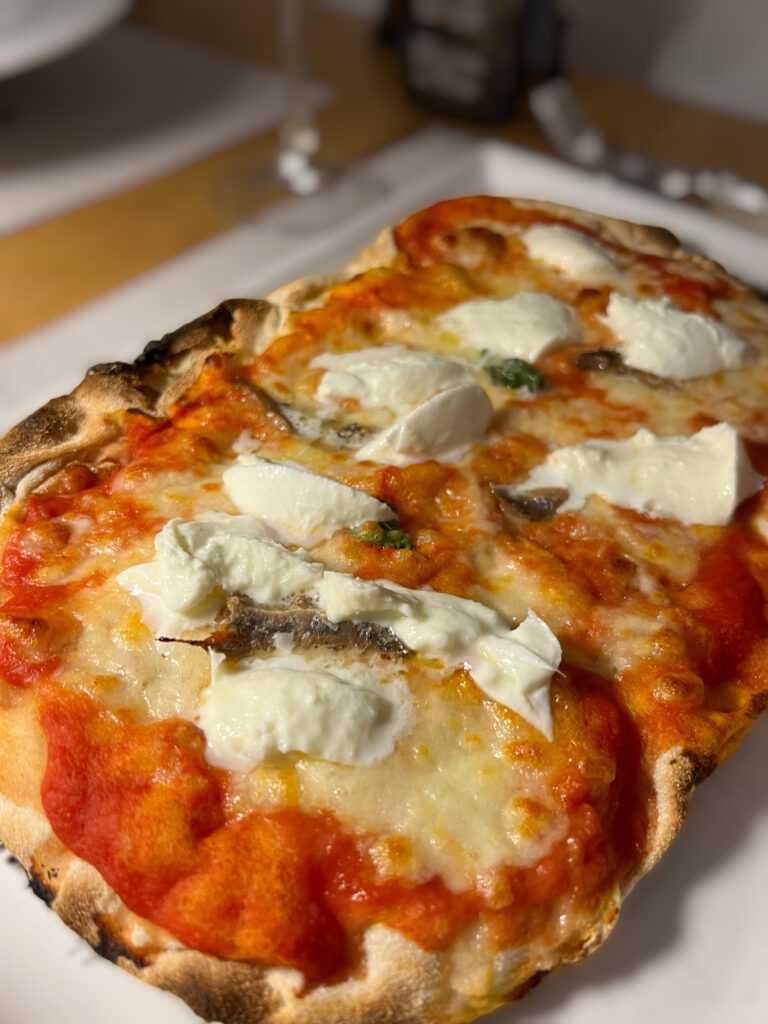 Pinsa vs Pizza
First, let's get one thing straight: Pinsa is not your typical pizza. It's made with a blend of wheat, soy, and rice flours, giving it a light, airy texture and crispy crust that's different from anything you've ever tasted. The dough is left to rise for up to 72 hours, resulting in a flavorful and easy-to-digest base that's perfect for toppings.
Pinsa Differences
Made with all-purpose flour
Served in an oval or rectangular shape
Longer fermentation process a minimum of 48 up to 72 hours
Uses more water than standard pizza dough
Lighter in texture
The dough is pressed and flattened by hand
Pizza Differences
Made using wheat flour
Round in shape
Pizza dough ferments for a minimum of 24 hours
Uses more flour than pinsa dough
Variety of crust thicknesses
Pizza dough is tossed or thrown by hand
Pinsa Toppings
But Pinsa isn't just about the crust. It's also about the toppings, which are traditionally simple and high-quality, featuring ingredients like San Marzano tomatoes, buffalo mozzarella, and fresh basil. The end result is a pizza that's light and crispy, yet bursting with flavor.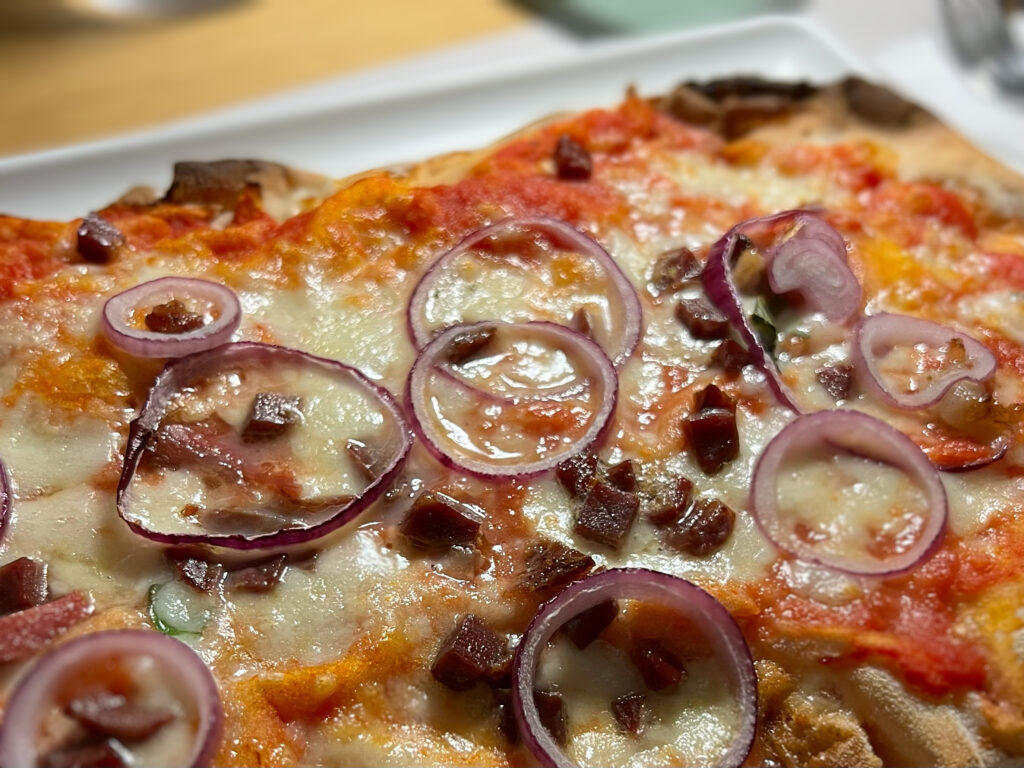 History
The history of Pinsa can be traced back to ancient Rome, where bakers used a similar dough to make bread. The recipe was eventually adapted to make pizza, and it became a staple food in Rome and the surrounding areas. However, as the popularity of traditional pizza grew, Pinsa fell out of favor and was largely forgotten.
That is, until a group of Roman bakers decided to revive the ancient recipe and bring it back to life. They spent years perfecting the dough and experimenting with toppings, and in 2001, they opened the first Pinsa restaurant in Rome. Since then, Pinsa has spread across Italy and around the world, with restaurants popping up in cities like London, New York, and Paris.
So what makes Pinsa so special? According to its fans, it's the combination of the crispy, light crust and the fresh, high-quality toppings. Unlike traditional pizza, which can be heavy and greasy, Pinsa is a lighter, more sophisticated version that's perfect for a night out or a casual lunch.
How to Make Pinsa Dough
Pinsa dough is not hard to make. As long as you have the right ingredients and follow the directions, you can cook up a delicious pizza for your customers. To make the perfect pinsa dough, follow this recipe.
Pinsa Dough Recipe
Ingredients:
500g wheat flour
250g soy flour
250g rice flour
850ml water
25g salt
2g dry yeast
10g extra virgin olive oil
Instructions:
In a large bowl, combine the wheat flour, soy flour, and rice flour. Mix well until evenly combined.
In a separate bowl, dissolve the dry yeast in warm water (around 37°C). Let it rest for a few minutes until the yeast starts to foam.
Add the yeast mixture, salt, and olive oil to the flour mixture. Gradually add water to the mixture while stirring, until a sticky dough forms.
Knead the dough on a floured surface for 10-15 minutes until smooth and elastic.
Place the dough in a lightly oiled bowl and cover it with plastic wrap. Let it rest in a warm place for 24-48 hours, until the dough has doubled in size.
After the first rise, punch down the dough and divide it into small portions (around 200-250g each).
Roll out each portion of dough on a floured surface into a thin oval shape. Transfer the dough to a baking sheet lined with parchment paper.
Add your desired toppings and bake in a preheated oven at 250°C for 8-10 minutes, or until the crust is crispy and golden brown.
Serve hot and enjoy your homemade Pinsa pizza!
Note: This recipe yields approximately 4-6 Pinse, depending on the size of each portion. You can freeze any unused dough for later use.
Recent Posts